NFL Divisional Round Predictions 2012: Who Will Win on Saturday and Sunday
January 13, 2012

Patrick Smith/Getty Images
After somewhat of a letdown during Wild Card weekend for fans who were looking for tight, down-to-the-last-drive types of games, this weekend's Divisional Round looks to offer some much closer match-ups.  Aside from the Denver Broncos' thrilling overtime defeat of Pittsburgh, the other three Wild Card games were settled by an average of roughly 13 points between them (Houston and New York won by three or more TDs).  
Both Saturday and Sunday offer a pair of great games with only one (New England hosting Denver) looks to have the potential of a blow out.  Each separate matchup has its own story lines with two great defenses in San Francisco and New York looking to put the clamps on offensive juggernauts in the Saints and Packers.  Tim Tebow will be looking to avenge his team's regular season loss to the Patriots as he battles one of, if not the greatest, postseason quarterback ever in Tom Brady.  Sunday also promises a matchup of two of the league's best ground games as Baltimore and Ray Rice take on the visiting Texans led by Arian Foster.
No. 3 New Orleans Saints @ No. 2 San Francisco 49ers, Saturday, Jan. 14th 4:30 PM EST
In Saturday's first matchup, Drew Brees leads his scorching hot New Orleans offense into Candlestick Park to take on Patrick Willis and one of the NFL's most complete defenses.  This game promises to be exciting as Drew Brees and his receiving core will be tested much more than they were last weekend against a weak Detroit Lions defense.  The 49ers rank just about middle of the pack in passing yards allowed per game at 230.9 and their secondary will be put to the test against one of the NFL's best gunslingers.  
It will be important for Frank Gore to establish his dominance on the ground to keep the ball out of Brees and the New Orleans offense's hands for large chunks at a time.  There has been much doubt going around about Alex Smith's ability to lead the team during crunch time, but the team's 13-3 record speaks for itself.  Smith was under center for quality wins versus Pittsburgh, Detroit, New York, and a squeaker against Philadelphia.  This will be Smith's biggest challenge by far, but if he can lean on Frank Gore and get the ball into the hands of Vernon Davis on a consistent basis, the 49ers have a chance to move the ball regularly against a lacking Saints defense and put up some points.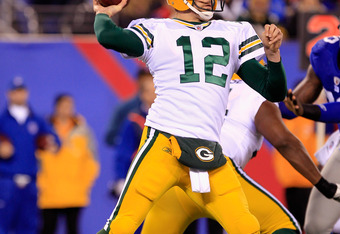 Chris Trotman/Getty Images
Defensively, San Fran has proved that they are extremely tough to run against.  They rank first in the NFL in run defense allowing a lowly 77 yards per game.  
Luckily for New Orleans, their bread and butter is the right arm of Drew Brees.  Still, New Orleans is going to need to be able to count on Pierre Thomas and Darren Sproles, and if they are able have success on the ground it could very well be the reason that they win.  Everyone knows what Drew Brees can do, but a successful running attack against the 49ers could go a long way in vaulting the Saints to victory.  Sproles offers another dimension out of the backfield in his ability to catch the ball, and this may open up more lanes for him to run.
Even with the 49ers vaunted defense, the Saints proved last weekend that they can go on rampant scoring sprees.  Does San Francisco have the offensive fire power to match this attack?  Surely not.  
The fate of a 49ers victory lies in the hands of their defense, and in the end I think the only type of team that can beat the Saints in the playoffs is someone who can score with them and then some. There's only two other offenses like that left in the playoffs and San Fran doesn't boast one.  I expect a close game early on like the Lions provided a week ago, but in the end Drew Brees and the offense is going to flex their might.  
Prediction:  New Orleans 34, San Francisco 21.
No. 4 Denver Broncos @ No. 1 New England Patriots, Saturday, Jan. 14th 8:00 PM EST
After I predicted a Pittsburgh romp last weekend, Tebow and the offense proved me wrong big time.  Can they do it two weeks in a row?  I'm going to say what I said last week and answer no.
Luckily for Denver, New England's defense can't hold a candle to Pittsburgh's.  Unluckily for them, however, the same can be said of Pittsburgh's offense in comparison to New England's.  I think the two teams' regular season matchup is a solid measuring stick for what we can expect from Saturday's late night game and I don't think Bill Belichick will be too keen on making any huge adjustments.  
Defensively weak though they are, New England isn't going to make the same mistakes that Pittsburgh made in playing against Tim Tebow last week.  Expect a safety over the top that was absent last week, taking away any of Tebow's ability to make the big play with his arm.  
I would expect the Pats to let Tebow run all over the joint like they did early on during the regular season and hit him hard any chance they get to try to induce fumbles whenever they can.  Hitting Tebow doesn't completely take away the option offense, but if you watched the BCS National Championship game, you can see the problems that it can cause if it's done right and consistently.
I also expect the Pats to come out and run the ball more than they did during the first matchup. Denver does have a big and talented front seven so this may not last very long, but I do think developing a more complete running game will take time off the clock for the Pats and surprise Denver, who is surely spending a majority of their time on working out ways to cover Rob Gronkowski, Aaron Hernandez, and Wes Welker.  Ben Jarvus Green-Ellis, Stevan Ridley, and Danny Woodhead will need to run the ball consistently to give the Pats another dimension to their offense that hasn't been dominant and may also surprise Denver if implemented correctly.  
I did it once and was proven wrong, but I'm gonna come back out strong and do it again.  Patriots beat Tebow and Denver in a bit of a blowout, 38-20. 
No. 3 Houston Texans @ No. 2 Baltimore Ravens, Sunday, Jan. 15th 1:00 PM EST
This is the game of the weekend that I have probably gone the most back and forth on, and I fully expect a close matchup coming out of Baltimore during Sunday's opener.  Houston boasts a stacked offense and the Ravens have the same dominant, smash mouth defense that they've seemingly had forever.  Both teams also own two of the NFL's best running backs, with Ray Rice and Arian Foster each accounting for a significant portion of their squad's offensive attacks.  It is Ray Rice, however, that has proven that his team cannot win without him touching the ball consistently, and this will again be the case against a strong Houston defense.  
This game has the potential to be a low scoring defensive battle, but the Texans will be looking to flex their offensive muscle like they did against another AFC North opponent in Cincinnati last week.  Much of that offensive muscle will flexed by Arian Foster who headlined the NFL's second best rushing attack this year at 153 YPG.  Putting up 153 yards on the ground will be virtually impossible against  Baltimore, but a 100-yard performance will go a long way in taking the pressure off of TJ Yates.  
Speaking of Yates, his performance this week does have a great deal to do with whether or not the Texans have a chance to live for another week.  He does not need to be dominant, but he does need to outshine Joe Flacco, who hopefully won't read this because he might think I'm being disrespectful.
The Ravens are not what you would call an offensive juggernaut, by any means, but the aforementioned Flacco needs to step up with his best on Sunday.  At home, Baltimore can get by with pummeling opponents with heavy doses of Ray Rice, but against an offense like Houston Flacco will likely need to improve on the 213 passing YPG that ranked him 19th in the league this season.  Baltimore's secondary will be tested by Andre Johnson and Owen Daniels, and if the defense is not able to contain Houston like they do other teams, then the Ravens' offensive unit will need to step up.  Joe Flacco is a large part of that and while he has been consistent his entire career, it would be nice to see him really step up this game, come out with guns firing, and put on a dominating offensive performance together with Rice instead of putting a majority of the offensive load on number 27.
Like I said I have gone back and forth on this game.  I wouldn't be surprised to see either team book a chance to the AFC Championship at all but in the end, I'm giving this matchup to Baltimore due their home field advantage, smothering defense, and Ray Rice.
Prediction:   Baltimore 24, Houston 20. 
No. 4 New York Giants @ No. 1 Green Bay Packers, Sunday, Jan. 15th 4:30 PM EST  
When these two teams played in the regular season, they gave us one of the closest and well-fought match-ups of the year.  Up until the very last few seconds of the game, it looked like New York, not Kansas City, who would put an end to Green Bay's unbeaten run.  
But then the Packers reminded the league yet again that they have Aaron Rodgers, you don't, and you lose.  Much like the Denver-New England matchup, I think that that the regular season meeting between these two squads is a blue print for what we are going to see on Sunday, and much like the Houston-Baltimore game, I wouldn't be surprised with a result going in either team's direction.
What we know for sure is that New York is going to have to put on a better defensive display if they want to return the the NFC Championship game.  They cannot allow Green Bay to put up another 38 points if they expect to knock off the NFC's #1 seed.  
They also can't afford to allow Aaron Rodgers to spout off for well over 300 yards and pick out Greg Jennings and Jordy Nelson at will.  What they need to do is force Green Bay to actually run the ball, something they don't really like to do.  Can they stop Green Bay's juggernaut offense? Yes.  Will they?  That's another matter.  I think they can, and here's why.
I always hesitate to compare things that have happened in previous seasons.  For example, despite the fact that New England has lost their last two playoff home openers, it has nothing to do with the tomorrow's result against Denver.  But in the Giants' case, the point can be made.
They are going to have to enforce the same exact blueprint that they used to defeat the Patriots in their last Super Bowl appearance and they have proved that they can. New England, at the time, had an offense that is superior to what they are going to face on Sunday in Green Bay and their d-line has only improved with the massive breakout of Jason Pierre-Paul.  This d-line is going to have to be dominant on Sunday, and they are going to have to hit Aaron Rodgers, make him uncomfortable, and force him into quicker throws.  
Much easier said that done, of course.  But the Giant's have proved that they have the formula to shut down vaunted offenses in big time playoff games, and there is a very real possibility that they can do it again.  
A lot of people have no doubt about Green Bay in this game.  But I have been saying all season since week one that I just don't see the Packers winning another Super Bowl this year.  I don't really have a legitimate answer as for why, it's just a feeling in my gut.  
I do have a legitimate answer for why I think this is the week Green Bay gets knocked out of the playoffs, though.  As much as Tom Coughlin gets criticized, his team has gotten up and played for him in big time games in the past few years, and this is about as big as it gets.  The Giants know how to stop an offense like Green Bay's, they're coming in hot after dominating Atlanta, and Eli Manning is playing better than anyone ever thought he could.  
I'm going to take the Giants on Sunday, besting the Packers 31-27.