Honoring Alabama Crimson Tide Seniors: William Vlachos
January 14, 2012

Chris Graythen/Getty Images
It's unbelievable what Alabama has done the past few years, but it's the unbelievable players that make it happen. William Vlachos is one of those and this is a tribute to him.  
Over the next few weeks, I will be publishing articles focusing on specific graduating seniors who have exhausted their eligibility and have contributed greatly to the team, honoring what they accomplished on and off the field.  
Tonight's star has been around a while.  He's a fifth-year senior.  His experience and pure talent, despite his deceiving stature (6'1", 294 lbs.), make him ferocious and he is the strongest player on the Tide's offensive line.  
I nicknamed Vlachos the "Battle Dwarf" some time ago.  It never really caught on, but I sure do like it. It's pretty fitting when you look at him standing next to the rest of the offensive linemen.  
He committed to the Tide in September of 2006 after witnessing a 10-win season in 2005.  He stayed committed after a NCAA investigation was launched regarding improper benefits, which resulted in all 2005 wins being vacated.  
He was part of the original 2007 recruiting class under Mike Shula when Nick Saban took over.  Saban honored the offer and kept William Vlachos, a decision that he's certainly glad he made.  
Saban could have easily passed over Vlachos.  Rivals and Scout both rated him as a three-star prospect, and he barely stood at 6'1" and was under 300 lbs.  He was highly ranked for his position, around 10th in the nation, but a three-star is a three-star.  It's tough to know what they're truly capable of.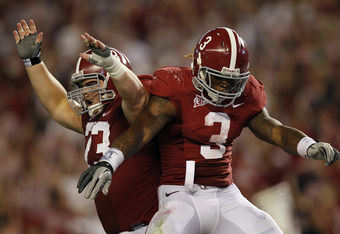 Butch Dill/Getty Images
Saban is/was a renowned head coach with a national championship ring(s), but he really didn't have enough time for recruiting.  He arrived at the Capstone in January of 2007, just a mere month before national signing day.  
He settled with the recruits already committed and decided he would weed them out after seeing who bought into his system and who did not.  
Vlachos bought into it, and put everything he had into making his game better.  
Two short years after he arrived, William Vlachos became the starting center.  He helped create a powerful interior offensive line that sent Mark Ingram to New York as the Heisman Trophy winner, Alabama's first national championship since 1992 and allowed only 17 sacks on their quarterback, which was the best in the SEC.
Two more years later Alabama is in a national championship yet again with Vlachos as the starting center, and running back Trent Richardson also made a trip to New York, but did not bring home the trophy.  Some dude with Superman socks—cape included—won it.  
Throughout his career, Vlachos was a very disciplined player.  He rarely was penalized for holding or false starts.  It was quite a shock when he was called for holding twice in rapid succession early in the 2011 season.  
His snapping ability was nearly flawless as well.  If you saw Vlachos perform a bad snap, you had to look up and make sure no pigs were flying around.  
Nick Saban and crew loved to have him pull on running plays and screen passes as well.  The big guy can book it.  You can see it in the linked video.  Check out the play at 3:08 and look for big number 73 running with Trent Richardson, for a little while at least.
He's had a stellar career.  Two national championship rings, one SEC championship ring and a big box of fond memories are just a few of his rewards.  But what's next for Vlachos?
It's simple; he's headed for the NFL.  Many draft pundits consider him to be around a top-five player at his position, which isn't too shabby.  
I expect he will be taken in the third round and will be quite a steal.  
Many people felt the same way about former Tide player, left tackle James Carpenter.  Instead, he went 25th overall in the 2011 NFL Draft to the Seattle Seahawks coached by Pete Carroll, formerly of the University of Southern California.  It was one of the biggest surprises of the Draft.
I would love to see Vlachos get picked up by the New York Jets.  Why, you say?  It's only a matter of time before ex-Tide quarterback Greg McElroy gets his chance to replace Mark Sanchez as the starting Jets quarterback.  Vlachos and McElroy back together?  Yes, please!  But that probably wont happen, the Jets already have Nick Mangold, probably the best center the NFL has to offer.
William Vlachos has given so much to the University of Alabama and it wont be forgotten by the fans. They'll remember the "Battle Dwarf". 
Greg McWilliams/Getty Images
His absence wont hurt in 2012 when Barrett Jones likely takes over at center, and maybe not in 2013 either.  Vlachos' experience won't be wasted and his successor (who I think will be current red-shirt freshman Chad Lindsay) will capitalize on the mentoring from Vlachos.  
Coming out of high school, William Vlachos was not considered the "cream of the crop", nor will he be as he enters the NFL.  
That doesn't matter, though.  He has two national championship rings and is about to play on Sundays.  
Predictions seem to have meant nothing to Vlachos, as he'd rather do the talking (or pulverizing) on the field.
May William Vlachos' future be just as bright as his past.