The old saying is, "Defense wins Championships." The San Francisco 49ers defense was one of the best in the NFL during the regular season, and will carry them to a victory this weekend against the New Orleans Saints, and to their first NFC Title game since the 1997-98 season.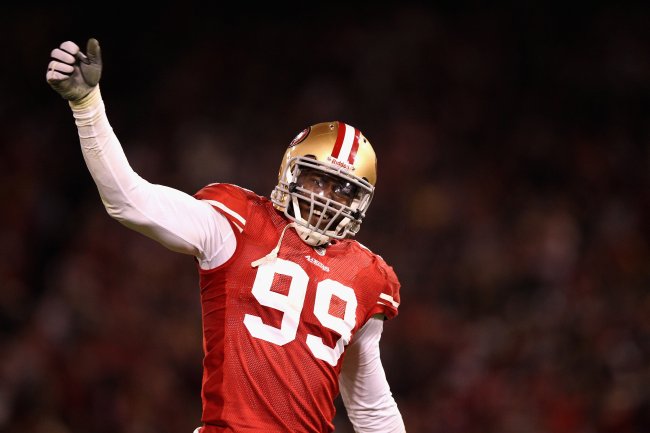 Ezra Shaw/Getty Images
Aldon Smith
The rookie linebacker from Missouri has exploded onto the scene in his first year. Smith was a defensive nightmare for opposing offensive lines that tried to keep him away from their quarterback.
Smith's 13 sacks led the 49ers, and placed him fifth in the NFC. While his sack numbers were impressive, his 37 tackles in only 13 games made him very hard to get away from.
Smith's dominant play towards the end of the season helped the 49ers lock up the No. 2 seed in the NFC. In Smith's final five games, the rookie had 6.5 sacks and 17 tackles. Because of Smith's pass-rushing ability, he will be a huge force in Saturday's game. You can expect the rookie to have two-to-three sacks, while making four tackles.
At least one of Smith's sacks will help clinch a 49ers win.
Carlos Rogers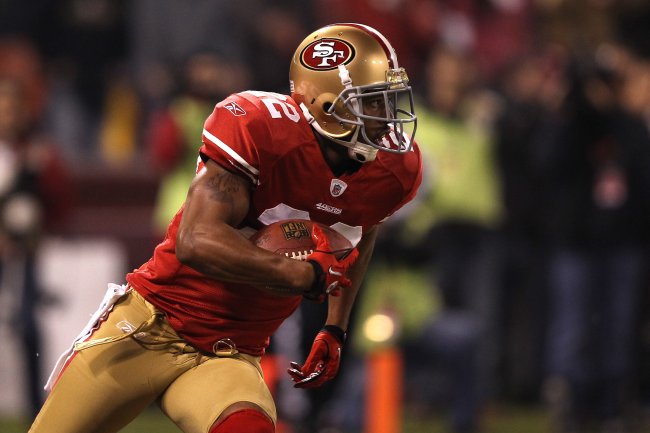 Ezra Shaw/Getty Images
Rogers has been a huge reason why this 49ers team shut down a number of opponents this year. He was tied for the lead in interceptions on the 49ers this year with six, and led the team in defensive touchdowns with one.
To go with the six interceptions, Rogers led the squad in stopping passes from reaching their intended receiver, with 18 deflections.
Rogers will have a big task ahead of him when he will have to stop a Saints passing offense that ranked No. 1 this year. This offense is coming into this playoff game after ripping the Detroit Lions for over 440 yards and three touchdowns.
However, because of Rogers' ability to knock down passes, and intercept them, he will help stop Brees and the Saints and keep this offense from scoring.
Patrick Willis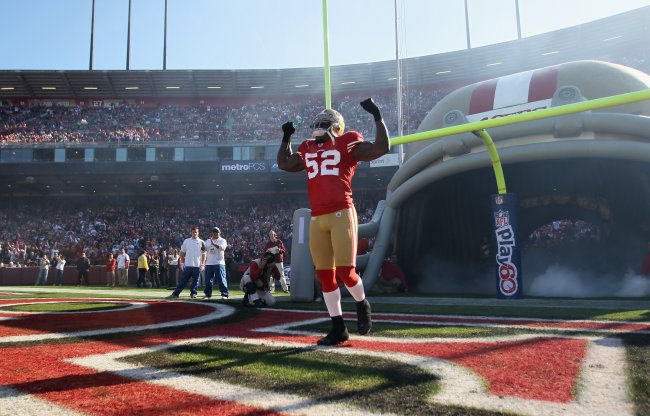 Ezra Shaw/Getty Images
Willis was one of the biggest reasons why this 49ers defense was one of the best in the NFL this year.
On the year, Willis missed three games because of being injured, but still finished second on the 49ers in tackles (97). Despite missing three games, Willis had a career-high in forced fumbles (four), and was picked as a starter for the NFC in the Pro Bowl.
Which defensive player will have the best game?
In Willis' first ever playoff game, he will be a dominant force for the 49ers against the New Orleans Saints. He will finish the game with eight total tackles and a forced fumble, helping this 49ers team advance to the NFC Championship Game.
These three defensive players will help keep this explosive Saints offense off of the scoreboard, while carrying them to their first playoff win since 2002.