Could Both Roy Oswalt and Hiroki Kuroda Be in Pinstripes in 2012?
December 31, 2014
Christian Petersen/Getty Images
The New York Yankees obviously need to improve their rotation. Pitchers such as C.J. Wilson, Mark Buehrle, Trevor Cahill, Gio Gonzalez, Mat Latos, Yu Darvish and John Danks are already off the table. Matt Garza and Edwin Jackson seem to both have price tags Cashman is unwilling to pay and, although people still talk about it, Felix Hernandez is staying in Seattle.
What can the Yankees do to help their rotation?
There is always next season because pitchers such as Cole Hamels, Matt Cain, Zack Greinke and Anibal Sanchez are free agents. But for the time being, who should Brian Cashman bring in to help the rotation for 2012?
There are a few trade possibilities out there, such as Matt Garza and Brandon McCarthy, but Cashman seems unwilling to part with any top prospects, and I do not blame him. Manny Banuelos and Dellin Betances seem to be coming along nicely and I think another year in Triple-A will help their development in the long run; there is no need to rush them.
That only leaves free agency and particularly one-year deals. If the Yankees truly want to cut payroll their to $189 million by 2014 then they cannot afford to give Edwin Jackson the five-year $60 million deal he was reportedly looking for or even a more reasonable deal, which is still probably a multi-year deal, if they want to sign Cole Hamels or Matt Cain next offseason.
That leaves Hiroki Kuroda and Roy Oswalt, who have also reportedly lowered their asking price to $10-$11 million for Kuroda and $8 million for Oswalt on one-year deals.
Those both sound like great values to me. Yes, Oswalt has back issues and Kuroda turns 37 years old in less than a month, but on one-year deals the Yankees can afford to a little risk in order to improve their rotation. If either of them fail it only hurts the Yankees for one season and then they can turn their attention to Cain and Hamels. No harm done.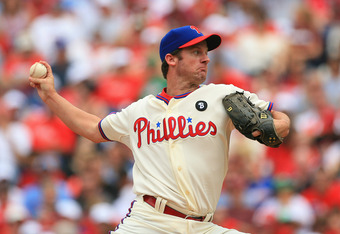 Hunter Martin/Getty Images
You may ask, if the Yankees plan on cutting payroll to $189 million how they could afford to add $19 million to their payroll. According to Andrew Marchand of ESPN New York, the Yankees are "60-40" on adding payroll.
How much would these deals add to their payroll compared to 2011?
In 2011 the New York Yankees had a $207 million payroll and it peaked at $213 million in 2010. So far the Yankees already have $179 million towards their 2012 payroll. They then have a projected $17.8 million in arbitration salaries to pay for Russell Martin, Brett Gardner, Phil Hughes, Boone Logan, David Robertson and Joba Chamberlain. That brings their payroll to $196.8 million.
If you then add in a one-year $8 million contract for Roy Oswalt and one-year $11 million contract for Hiroki Kuroda then that brings the Yankees' payroll to $215.8 million. That seems insanely high for most teams, but the fact is that is only $2.8 million higher than their payroll just two years ago.
After 2012, that $19 million would come off the books, along with $10.25 million for Nick Swisher, $4 million for Freddy Garcia and possibly $15 million for Mariano Rivera if he decides to hang up the cleats after the season. That is a total of $48.25 million coming off the books.
I know some Yankees will be getting a raise if they have back-loaded contracts and some players will be getting higher arbitration salaries, but this puts the Yankees in a great situation to sign Cole Hamels or Matt Cain and still get under $200 million for 2013.
After the 2013 season Rafael Soriano and A.J. Burnett will be gone and a payroll under $189 million is obtainable.
How would a Yankees rotation look with Roy Oswalt and Hiroki Kuroda in it? Pretty good.
1. CC Sabathia
2. Ivan Nova
3. Hiroki Kuroda
4. Freddy Garcia
5. Roy Oswalt
All five of those starters could have an ERA in the 3.00's, or in CC Sabathia's case, maybe lower. Not many teams can say they have five starters with ERAs below 4.00.
You could then move Phil Hughes and A.J. Burnett to the bullpen/spot starters. Don't tell me the Yankees can't afford to pay a reliever $16.5 million because the San Francisco Giants did the same with Barry Zito, he pitched only 53.2 innings in 2011.
I think A.J. Burnett would do well in the bullpen, he normally starts games off very nicely and then he gives up back-to-back hits and it's over, he loses his confidence. If Joe Girardi can learn when those collapses will happen he could be a serviceable long reliever.
Will this happen? Maybe, maybe not, but Brian Cashman and the New York Yankees should be interested in signing at least one of these guys to a one-year deal in order to improve the rotation for 2012.
BREAKING NEWS:
The Yankees just signed Hiroki Kuroda to a one-year deal between $10 and $11 million.
They also traded Jesus Montero for Michael Pineda.