UFC 142: What Makes This Card Worth Watching?
January 13, 2012

UFC's return to Rio back at UFC 134 marked yet another big event in the company's history. The card was hyped up with big-name Brazilians on the card, especially headlined by Anderson Silva. The event was a big success, and the Brazilian community especially had a lot to celebrate. 
Now UFC 142 is upon us, and for different reasons, this event does not live up to its predecessors in Rio. The most likely reason is that this time the card is not stacked with big-name Brazilian legends. But one can argue that Jose Aldo, Vitor Belfort, and the return of Gabriel Gonzaga would suffice for attention. The difference may just be the lack of fans for these particular fighters stateside. 
This card though has all the makings to be a great night of fights. To start, you have a championship main event with one of the top pound-for-pound fighters in the world. Jose Aldo is an impressive striker who will be pitted against the great wrestler that is Chad Mendes. 
Jose Aldo has been very successful in the WEC, and now in the UFC, and many people are looking to see him prove himself as one of the best. Chad Mendes is undefeated, and it is always interesting to see an undefeated fighter fight for the title. Either he loses and takes his first loss, or beats the champ. Both situations create some level on anxiousness. 
Another reason, and arguably just as important as the title bout, is the co-main event. Anthony Johnson will be making his middleweight debut against Vitor Belfort. This fight has all the potential to be a great knockout. Fight of the night could go to these guys, but Aldo vs. Mendes might steal it. 
Vitor Belfort will be looking to get back into the title shot and avenge his only loss in the past seven fights, which came by the foot of Anderson Silva. He bounced back and beat Akiyama, and is now looking to challenge "The Spider" before he retires or jumps weight.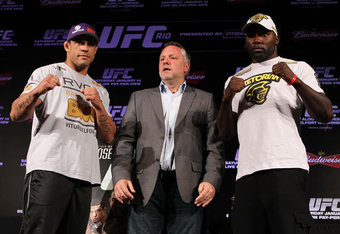 Probably more significant, is to see how Anthony Johnson will fare in the new weight class. He is coming off of two great wins, but they were at 170. Many want to see how he will do, and being a great striker, many also are starting to fantasize about a matchup between him and Silva. But just like Cung Le, his first challenge is a tough striker, and the first hurdle toward the number one contender spot. 
Also on the card: Rousimar Palhares vs Mike Massenzio could be good fight, as long as Palhares doesn't think it's over before it's over. Erick Silva vs. Carlo Prater has all the makings to be Submission of the night, and Edson Barboza vs. Terry Etim could easily challenge Silva vs. Prater for that award. 
As an undercard note, Gabriel Gonzaga's return is enticing since he will either knock someone out, or get knocked out, along with the fact it is his return from 2010 and in front of his home country.
UFC 142 has great potential to be a really great night of fights, without having the all-star roster. This is a proving grounds fight, and could result in some rankings being significantly changed by the next morning.
Brazilians are on each match naturally, and a couple that put two of them against each other. For the last three fights of the night, it will be USA vs. Brazil, and everyone loves a good country showdown.
Join the MMA Facebook Page! and follow the @FightersCreed on Twitter!