2012 NFL Draft: The Pittsburgh Steelers' First-Round Options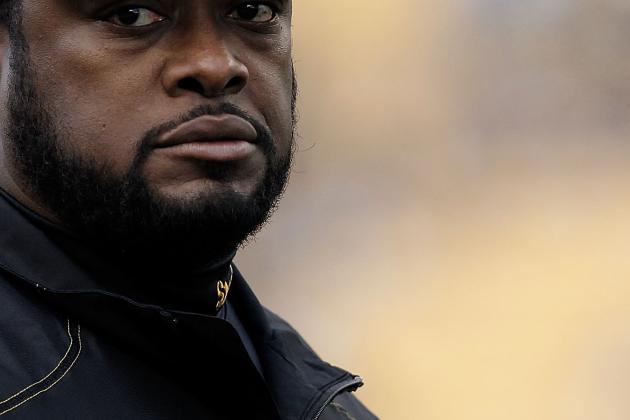 Jared Wickerham/Getty Images

While most in the media are focused on naming the play that ended Pittsburgh's season, Steelers fans have already begun looking forward to the NFL draft on April 26.
It's easy to point to one play as the cause of Pittsburgh's abrupt ousting from the playoffs and say that if it weren't for that play, we'd still be playing.
The truth is, this team had holes.
Yes, they were decimated by injuries all year long, but that isn't much different than any other year. They didn't have the depth, and at the end of the day, they didn't have the talent needed to get back to the Super Bowl.
Now with an aging core and glaring holes on the roster for the first time in years, Pittsburgh will be at a crossroads in April's draft. Do they look to replace some of their aging stars with younger, cheaper alternatives, or do they patch their holes with young players in hopes they will be ready for a deep playoff run next season?
Their first selection on April 26 will likely have a lot to say about which direction the team is going to move this offseason. So, with that in mind, I wanted to take a look at the options that may be available to them when they are officially on the clock with the 24th pick in the draft.
Begin Slideshow

»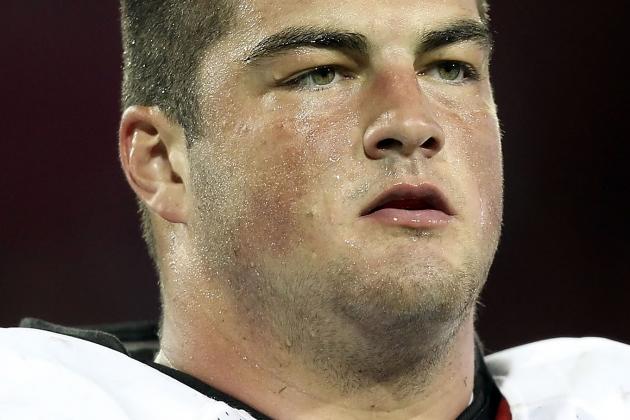 Christian Petersen/Getty Images

Clearly, the Steelers' biggest need is on the offensive line; more specifically, the guard position.
Chris Kemoeau, Trai Essex, Ramon Foster and Doug Legursky had their opportunities this season, and all proved to be backup-quality players, at best. Pittsburgh needs to address the offensive line in this year's draft—something they will likely do multiple times in the first few rounds.
Below are the players whom I believe would be the best fit for the team in 2012:
David DeCastro, Stanford
DeCastro is a mauler who has drawn comparisons to Steve Hutchinson. He is very strong and surprisingly athletic for a man his size.
Though much could change between now and April's draft, it seems very unlikely that DeCastro would be available for the Steelers at No. 24. The possibility of them trading up exists, though it is remote.
DeCastro would look great in a Steelers uniform and would fill their greatest need, but drafting him appears to be more of a pipe dream than reality at this point.
Cordy Glenn, Georgia
Though he played LT at Georgia, Glenn looks to be a much better fit as a guard at the NFL level. He is a massive human being (listed at 6'5", 348 pounds) and lacks the foot-speed to protect against speed-rushers in the NFL.
Glenn has the strength to be a dominant force in the running game and would be a terrific fit for the Steelers if he is available at pick No. 24.
Kelechi Osemele, Iowa State
Similar to Glenn, Osemele played LT in college, but projects more as a LG in the NFL. Osemele is listed at 6'5" and 347 pounds, and he has the ability to dominate the opposition in the run game as well.
Though he is viewed as a potential second-round pick now, Osemele's stock could rise during workouts and at the combine. He is someone to keep an eye on as the draft nears.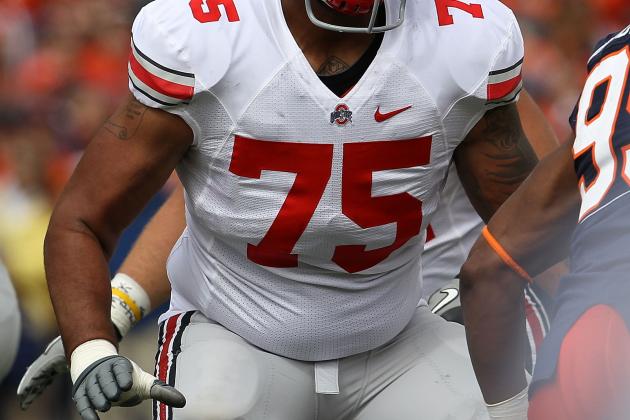 Jonathan Daniel/Getty Images

The Steelers seem content letting 2011 second-round pick Marcus Gilbert take over at RT in 2012, and while Max Starks played surprisingly well this season, a repeat for the 30-year-old doesn't appear likely.
The team could certainly use an upgrade at LT this season, and overall depth must be improved as well.
Top LT prospects Matt Kalil, Jonathan Martin and Riley Reiff all figure to be long gone by the time Pittsburgh makes its selection, which means they may have to consider the second-tier of LTs in the draft:
Mike Adams, Ohio State
Adams is a 6'8", 320-pound mountain of a man who may see his stock rise before the draft. He is quick, agile and has great footwork for a man his size, as well as the long arms and big hands scouts dream of for left tackles.
It isn't out of the realm of possibility that Adams could do well enough in the combine to ensure that he is drafted in the middle of the first round, but he is certainly someone for Steelers fans to keep an eye on come draft day.
Zebrie Sanders, Florida State
Though he played mostly RT in college, Sanders did play LT at times and may be able to move back to the left side in the NFL. He still has some work to do to solidify a spot in the first round, but at 6'6" and 310 pounds, and with long arms and quick feet, Sanders certainly looks the part of an NFL left tackle.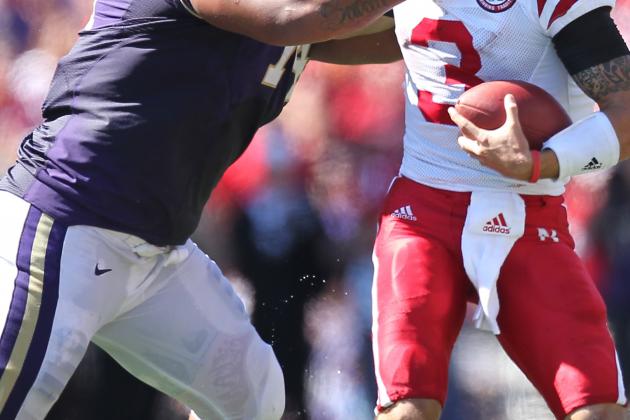 Otto Greule Jr/Getty Images

Long-time starting nose tackle Casey Hampton injured his ACL in the playoffs and could be looking at a lengthy recovery. Whether or not he is ready for the start of the 2012 season, Pittsburgh has no doubt realized they must have a contingency plan in place for life after Hampton.
Hampton may even be cut due to his high cap number this year (scheduled to be north of $8 million in 2012), so Pittsburgh is sure to make getting younger and cheaper at the position a priority this offseason:
Dontari Poe, Memphis
At 6'5" and 350 lbs, Poe may be the only nose tackle selected in the draft's first round. He is an immovable force in the middle of a 3-4 defense and has already drawn comparisons to New England's Vince Wilfork and Pittsburgh's Casey Hampton.
With Hampton recovering from a knee injury and facing the possibility of being a cap casualty at age 34, Pittsburgh has come to the realization that they need to find his successor sooner rather than later. If they don't like the offensive linemen on the board when it is their turn to make a pick in April, the Steelers may turn to the defensive side of the ball and select Poe.
Alameda Ta'amu, Washington
Once regarded as a likely first-round pick, Ta'amu has seen his stock fall in recent weeks and may be more of a second-round option for Pittsburgh.
However, at 6'3" and 337 pounds, he may "wow" scouts at the combine and improve his stock enough to sneak back into Round 1. He is someone Steelers fans should keep an eye on as the combine approaches.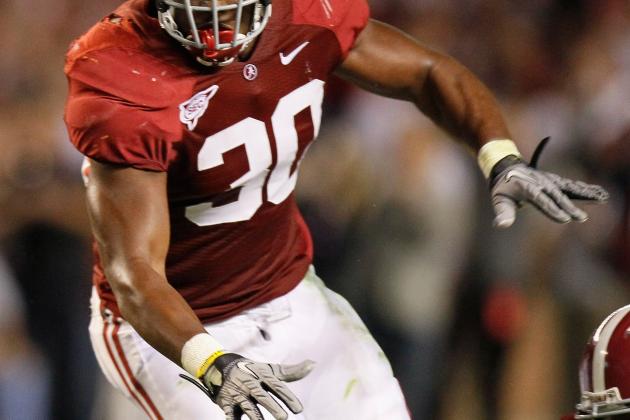 Kevin C. Cox/Getty Images

Though upgrading the inside linebacker position would seem to be more of a luxury for Pittsburgh than a need—as compared to their gaping holes on the offensive line and at nose tackle—the fact remains that, at some point, they are going to need to inject some youth at linebacker.
Starter James Farrior just turned 37 and has clearly lost a step. Larry Foote has stepped in when needed and provided insurance for the Steelers, but he isn't a starting-caliber player at this point in his career either.
If the Steelers aren't enamored with the offensive line options available at No. 24, they have to be prepared to upgrade somewhere else. The selection of one of this year's elite run-stuffers would make a great deal of sense:
Dont'a Hightower, Alabama
Hightower would be a great complement to Lawrence Timmons on the inside and would allow Pittsburgh to part ways with the aging and expensive Farrior. Hightower could be a dynamic playmaker in the Steelers' 3-4 defense while learning the ropes from the solid corps around him.
Vontaze Burfict, Arizona State
Persistent questions about his attitude and temper have hampered Burfict's stock to this point, but he is a freak athlete and a terrific playmaker. A team with a veteran locker room and established veterans to learn from would be a recipe for success for this former Sun Devil.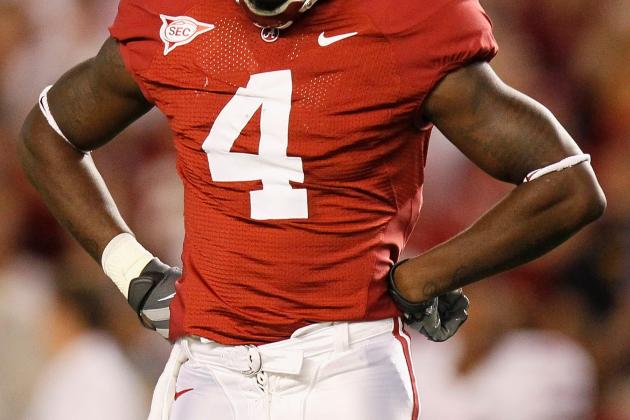 Kevin C. Cox/Getty Images

Similar to ILB, Pittsburgh would do well to inject some youth into its aging secondary in April's draft.
Incumbent starting safeties Troy Polamalu and Ryan Clark will be 31 and 32, respectively, by the start of next season. Though it likely isn't their top-priority, Pittsburgh will have to consider younger and cheaper options in the future. Polamalu will certainly remain with the team, while Clark's days with the team may be coming to an end.
Wild Card weekend not withstanding, CB Ike Taylor played very well this season and will be back in 2012. However, the Steelers likely wouldn't mind an upgrade over starting right cornerback William Gay and will certainly look for one in the draft:
Mark Barron, Alabama
The only safety worth a first-round selection in this draft, Barron will likely be a hot commodity on draft day. He is a ball-hawking defensive back who isn't afraid to mix it up in the running game—something Steelers safeties are required to do as well.
Though he may be a luxury, Barron's name should not be dismissed by Steelers fans.
Alfonzo Dennard, Nebraska
Overshadowed for most of his college career by teammate Prince Amukamara, Dennard was finally given a chance to shine this season, and he did just that.
Despite a subpar performance that saw him ejected for fighting in the team's bowl game, Dennard appears locked in as the third-best CB in this year's draft (behind Morris Claiborne and Dre Kirkpatrick) and will almost certainly be a first-round pick.
There is no guarantee he will be available at No. 24, but he would make for a fine selection if he were.
Janoris Jenkins, Northern Alabama
Viewed as a character risk because of a few run-ins with the law during his time at Florida, Jenkins will likely slide further than his talent would suggest he should in the draft. Assuming his legal troubles are behind him, Jenkins would make for a nice late first-round selection.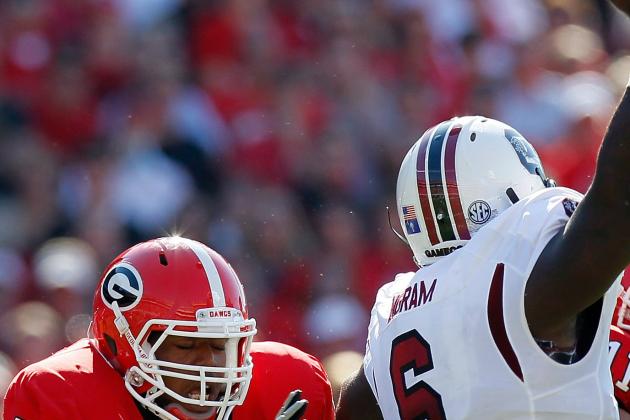 Kevin C. Cox/Getty Images

In an ideal world, David DeCastro would fall to the Steelers at No. 24 and plug the hole at guard once filled by Alan Faneca for the next 12 years or so.
That scenario is highly unlikely—as is the possibility of them trading up to select him—so Pittsburgh will just have to take the best player available when they are on the clock.
Though his stock may rise and he may be off the board at No. 24, my hope is that Georgia OT/OG Cordy Glenn is the pick.
Glenn is a gigantic presence and would immediately make life easier on the inside for Maurkice Pouncey. Adding a dominant run-blocker to the line would also help alleviate some of the pressure on Ben Roethlisberger and would hopefully minimize some of the shots he takes throughout the course of the season. More running lanes for Rashard Mendenhall (when he returns) and Isaac Redman can only mean good things for the Steelers in 2012.
If Glenn is off the board, I would still like to see them draft a lineman. Mike Adams or Zebrie Sanders could help bring stability to the offensive line, as everything is seemingly easier when the blind side is protected.
People have pointed out the Steelers' lack of depth in the secondary at linebacker and at nose tackle, but is there really any more glaring need than help up front on offense?
Barring something unforeseen, Pittsburgh will only have one first-round pick in April's draft. This class appears loaded at talent on the offensive line, which happens to be the Steelers' greatest need. While other options may be sexier or more enticing, the void up front must be filled in order for Pittsburgh to make a deep run in the postseason in 2012.