UFC 142 Predictions: Which Fight Will Steal the Show?
January 13, 2012

Knowing that Jose Aldo is heading the show almost makes the fight of the night a lock before it happens. The man is a vicious striker who beats his opponents in one-sided affairs that are just exciting enough to make fans not want to blink.
His affair with Mark Hominick is a great example.
Aldo just has that special mix of being a fighter who can win on the highest levels, do it consistently and do it in a way that fans enjoy. If he was a heavyweight, he would have already become a pay-per-view star and be headlining every show he appeared on.
As a featherweight champion, it has taken him longer. However, if UFC 142 is any indication, it would appear that his time has come.
It would be only fitting that, in headlining a card in Brazil, he would also win the fight of the night—as he has in the past—right?
While it is possible, there is one other fight that screams out being a possible fight of the night just a little bit more than his match with Chad Mendes.
That is, the opening bout on the main card.
Edson Barboza going in against Terry Etim sees a standard striker go in against a grappler. Barboza is best known for his Muay Thai striking, which he used while competing in that discipline professionally. Meanwhile, Etim has 12 submission victories in 15 wins.
Obviously, by 2012, both men will have at least some skill in every field. However, they still have their specialties, with Barboza's striking having won him fight of the night twice in a row now and Etim having won submission of the night four times in his UFC career.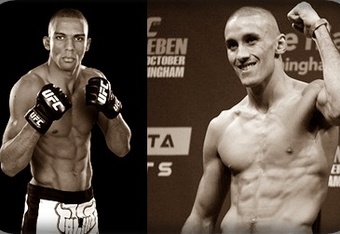 Not only have they proven to be proficient in two different fields of martial arts during their UFC tenure, they have done it while being fun to watch.
Plus, as lightweights, it means that they are able to bring a pace that should be able to come close to matching the one that Aldo and the other featherweights are known for setting in their fights.
While Aldo might beat Mendes in their fight come Saturday, he could still lose if Etim and Barboza can display their skills to the best of their abilities.
If they can do that and put on a dazzling display of striking and grappling, they could steal fight of the night right from under the champion's nose.