Jeff Green: Boston Celtics Made Right Move Pulling Qualifying Offer off Table
January 13, 2012

Mike Ehrmann/Getty Images
Last month, in move made a bit under the radar of the normal media hoopla associated with nearly every sports transaction, the Boston Celtics basically cut Jeff Green loose. 
Green has now been a Celtic twice—once in the immediate aftermath of him being selected with the No. 5 pick in the 2007 NBA draft by the Celtics; he never entered a game in that stint since he was traded to the then-Seattle SuperSonics and now Oklahoma City Thunder as part of the Ray Allen trade.
Green then reappeared in Boston last February as the main piece in the controversial midseason deal that sent Kendrick Perkins to Oklahoma City. Green was expected to be a part of the rebuilding movement as the Celtics and Danny Ainge were trying to bridge the gap between the rapidly aging Big Three and the eventual next generation of Celtics. 
It now appears that Green's second stint in Boston is over as well. 
Green, who is a restricted free agent, had initially received a qualifying offer from the Celtics in advance of the shortened 2011-2012 season. That offer was meant to block potential suitors from pursuing Green, something that became far less likely once it was discovered that Green would miss the entire season recovering from surgery to correct an aortic aneurysm.
Green's diagnosis for a full recovery is quite good. There is more to this move, though, than just concern over Green's ability to recover from the surgery. While Green's potential as an above-average NBA player is quite good, he never looked comfortable wearing a Celtic uniform last season.
By pulling their offer, Green will become an unrestricted free agent upon his recovery and eventual NBA return. That could end up netting him more money since he'll be able to offer his services to any NBA team. It could also end up costing him some money if teams have health concerns and are hesitant to make a decent offer to Green.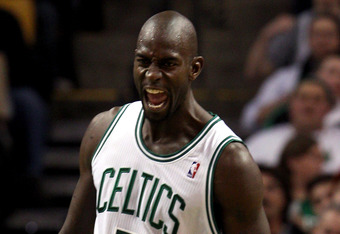 Elsa/Getty Images
For the Celtics, this was simply a decision they had to make.
It was one thing for Boston to invest in a player who hadn't looked great in limited time in Boston. Green still was young, still has potential and could still be a solid all-around forward in the NBA. There was, of course, risk in signing him but there's risk in nearly every contract.
The heart condition may have tilted the scales too heavily in the "risk" direction.
Yes, players such as Etan Thomas and Ronny Turiaf have had similar surgeries and returned as productive NBA players.
Green is a bit different though. Had Green returned to Boston, he'd be considered more than just a role player. Green was slated to be a key part of the Celtics' rebuilding process. That rebuilding process might not go as smoothly as Celtic fans would like.
The Celtics are going to have some money to spend this coming offseason. There will be free agents that the Celtics will want to pursue and some of them will be costly. In addition, the Celtics have two first-round picks in the upcoming 2012 NBA draft.
This June's draft will in all likelihood be one of the deeper ones in recent memory. Two first-round picks will cost money to sign. Free agents cost money as well. The Celtics basically determined that the questions about Green's ability to play in Boston plus the questions about his health all added up to a sum of money needed to retain him (one year, $9 million) that was too much of a salary cap hit in what is looking like a critical offseason in determining the long-term future of the Celtics.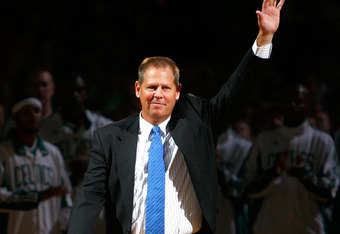 Jim Rogash/Getty Images
Allowing Green to become an unrestricted free agent may keep the door open to signing him to a longer-term deal at a lower annual salary or it will allow Green to get that type of deal from another team.
It's also not the worst thing for Green. Had Green come back to Boston on a one-year deal he would have been under enormous pressure to perform with only a short-term window in which to do it. Coming up short would have resulted in a litany of questions about his ability to play in the league following the surgery.
In addition, there appears to be very little in the way of animosity over the decision by Boston to rescind the initial offer from the Green camp. His agent, David Falk, expressed a bit of surprise over it but also seemed to understand the metrics of the salary cap and how it may impact the Celtics' offseason decisions. Falk also did not in any way rule out a return to the Celtics when Green is well enough to play.
"I think Jeff has an important future value to the Celtics. He has a very positive feeling about Boston. I think that it will be one of a short list of teams that he will talk to when the time comes." 
Of course, there's the potential that this doesn't work out the way Boston intends. Maybe Green goes to another team and is not only healthy but also begins to become an All-Star-caliber forward. Perhaps the Celtics end up striking out in the trade and free-agent market, resulting in a fragmented team that sits under the salary cap.
Those are risks that the Celtics have elected to take though, and for now, the decision seems to make sense.