Philadelphia Eagles: Top 5 Free Agents Who Must Move on in 2012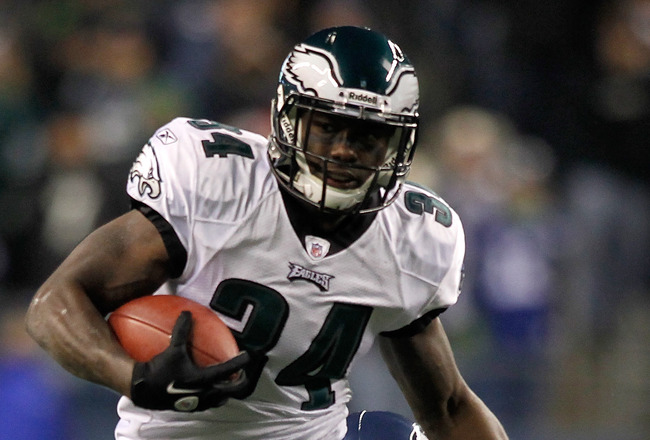 Jonathan Ferrey/Getty Images
The Eagles have 12 free agents this offseason, with the most notable being DeSean Jackson, who I think most Eagles fans would agree should be re-signed.
However, they also have to make decisions on Juqua Parker, King Dunlap, Trevor Laws, Derek Landri, Vince Young, Steve Smith, Ronnie Brown, Owen Schmitt, Evan Mathis and Victor Abiamiri.
The free agents that I would definitely like to see the Eagles retain are Desean Jackson, Derek Landri, and Evan Mathis. Of the remaining players, who are the top five that should definitely be leaving town?
Let's find out.
5. Trevor Laws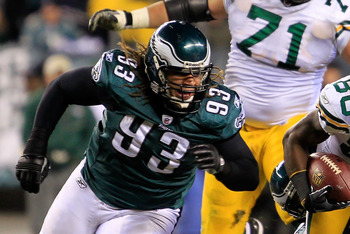 Chris Trotman/Getty Images
Trevor Laws is a decent player, but in my opinion, the Eagles do not have room for both Landri and Laws. Landri was very productive last season on a per-snap basis, and I was very impressed with Landri.
For that reason, I hope it's Laws that they let go. If they let go of Laws, that still leaves them with Landri, Patterson, Jenkins and a returning A. Dixon as their defensive tackles. That would be a solid unit.
Laws would not cost much to re-sign, but I would rather that money go someplace else.
4. Vince Young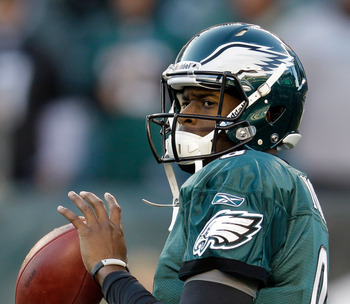 Rob Carr/Getty Images
Vince Young was paid well for a backup QB last season and got a chance to play a few games. He was not awful, but he definitely was not great.
The reality is I am confident that Mike Kafka could fill that role next year if need be, so I do not see why you would bring Young back. If the Eagles are not confident in Kafka, bring a cheaper veteran in, but I do not want to spend a few million on Young next season.
If there was going to be a veteran backup, I have to admit, Donovan McNabb would be an intriguing name to me.
Vince Young is an average quarterback, but I would sooner see the Eagles roll with Kafka and draft a quarterback in the later rounds to be the third string.
3. Juqua Parker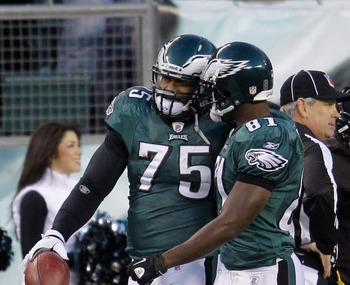 Rob Carr/Getty Images
Parker has always been an average defensive lineman, and he has been an Eagle a long time. His time should run out this offseason.
The Eagles are very deep at end, with Babin, Cole, Hunt and a returning Brandon Graham. I just don't see any benefit to keeping Juqua Parker for another season. He adds little to the rotation and as a veteran will demand more money than drafting a rookie.
I also would part ways with Victor Abiamiri at DE too, but if I had to choose between the two, Abiamiri would be the cheaper option.
Either way, I am hoping they are both gone next season.
2. Ronnie Brown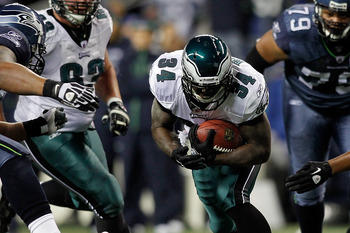 Jonathan Ferrey/Getty Images
When your biggest contribution of the season was a strange fumble option play at the 1-yard line vs the 49ers, it's time to go.
Brown was horrendous pretty much all season, and there is no way he should be brought back in 2012.
The Eagles have young Dion Lewis and they will either draft a running back to be the third string or sign a veteran free agent who is better than Brown, which won't be hard, because Brown stinks.
1. Steve Smith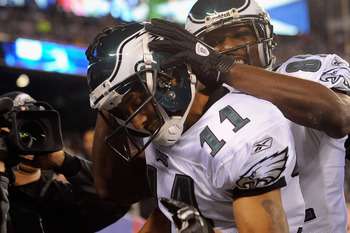 Patrick McDermott/Getty Images
Steve Smith did nothing this year; he could not even get on the field late in the season. Smith went down to avoid getting hit on a big play in one game.
All of his contributions were negative. It was not a bad signing—the Eagles took a risk on a guy who once caught over 100 passes a couple years ago—but Smith showed that he is done. I would be shocked if they bring him back.
Actually, odds are he may not be in the league at all next year, so this could have been his swan song. If it was, it was a lousy way to end a decent career, but Smith was awful in 2011 and I don't see things getting any better for him in 2012.
Keep Reading

Philadelphia Eagles: Like this team?