Philadelphia Flyers: Sergei Bobrovsky Denied Shutout by Defensive Breakdowns
January 13, 2012

Grant Halverson/Getty Images
Sergei Bobrovsky should have had an NHL shutout last night. Instead, his Philadelphia Flyer teammates decided to take the foot off the gas in the third period, leading to two Islander goals.
This time, you can't point a finger at the questionable play of Ilya Bryzgalov. Now the real culprit has no one to shift the blame to.
That culprit is the the Flyers' inability to maintain a defensive effort—not only for a full game, but also when they have a lead.
Philadelphia Flyers coach Peter Laviolette acknowledged that the team has issues in their own zone and that he intends to get these issues fixed. Evidently, his players are not getting the message.
Just focusing on last night's game, the Flyers allowed Kyle Okposo to stand idle at the top of their crease for a good five seconds while he waited for the puck to conveniently land on his stick for a tap into the net.
From the replay, it looked as though Jaromir Jagr missed that assignment.
The last goal came with seconds remaining on the clock, as John Tavares drove hard through the Flyers zone, splitting their defensemen and capitalizing on a prime scoring chance.
The Flyers have seen similar instances too many times this season.
These incidents have popped up more frequently since midway through December, and have continued through the Winter Classic until now.
Sure, defensive breakdowns happen, and the goalie has to be there to stop them. That is not to say the goalie should be asked to do this throughout the game.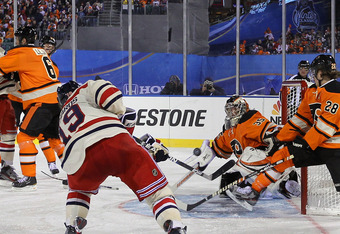 Bruce Bennett/Getty Images
Both goalies have answered the bell on such occasions. But when you roll the dice too many times by allowing the other team prime scoring chances—like those that registered goals on Bobrovsky last night—you're asking for trouble.
Sure, the team is missing Chris Pronger, but that doesn't excuse each player to a man from playing fundamental hockey.
Yes, mega-million-dollar goalie Ilya Bryzgalov has not looked great at times, either, but he and Bobrovsky are not quite good enough to backstop such a defensively careless team as the Flyers are.
In fact, I don't think Tim Thomas could carry this team to a Cup at this point.
The problems I am pointing out could be alleviated by a trade before the impending deadline. However, they will still hamper the team, as one or two players isn't enough.
Defense in hockey is a team effort, no matter what position one plays.
Perhaps sitting Jaromir Jagr until his groin strain is fully healed is a start. After all, he hasn't looked great since returning from injury and was way out of position on the Okposo goal.
In addition to that, James van Riemsdyk has not looked anything like what he showed us in the playoffs last year.
Rumor has it that JVR is playing with some kind of injury. If this is the case, and it is hampering his play, it is time this was addressed—especially with the All-Star break around the corner.
By address, I mean that the Flyers should seriously considering shutting JVR down so that he is healthy for the playoffs. If we can get the JVR from last year's playoffs back, that would be huge.
For now, this year's version seems at times to be a dead weight—one that could make room for players like Zac Rinaldo to get into the game and make an impact on a regular basis.
Unless the Flyers are, in fact, planning on trading JVR, then I can understand why they allow him to play. Otherwise, I think its a no-brainer to get him healthy, unless they are OK with letting him be last year's Kris Versteeg—a player whose time here was hampered by an injury needing surgery.
Let me know what you guys think.
I recently set up a Twitter account you can follow me on: @jriding4evr.