Jonathan Martin, O-Linemen the Philadelphia Eagles Should Consider for NFL Draft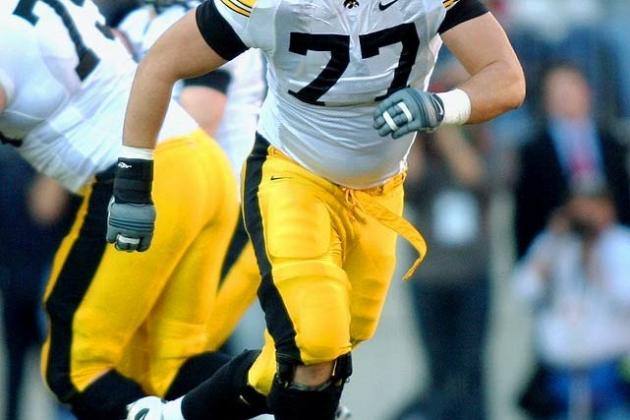 Riley Reiff- SiKids.com
The NFL has evolved into a high-octane offensive showcase. The old quote, "Offense sells tickets, but defense wins championships," doesn't particularly hold true anymore.
Looking back over the last decade's Super Bowl champions, all but three of the champions were defined by their explosive offenses.
The player that has made those offenses fly is the quarterback. The Eagles have a quarterback in Michael Vick that might be the most dynamic and explosive quarterback in the league.
They also have one of the top running backs in the league in LeSean "Shady" McCoy. For those two to continue their success and lead the Eagles to their first Lombardi Trophy, they are going to need an offensive line to keep them both upright and healthy.
Now, don't get me wrong, I feel that the Eagles' offensive line is not the Eagles' biggest need, but I feel that an explosive offense can overcome a flawed defense. Isn't that right, Green Bay Packers?
The Eagles line played well overall this season finishing 10th in sacks allowed and third in average yards per carry. But there is room for improvement in Howard Mudd's second season as the offensive line coach.
The uncertainty with Evan Mathis' contract situation could leave a hole at the guard position. Jason Kelce played admirably for a rookie this past season, but there could be some room for improvement.
The following slides will feature offensive linemen who I feel could improve the Eagles line and help the offense put up video game-like numbers.
Begin Slideshow

»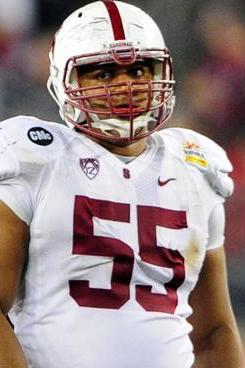 Jonathan Martin
One way that the Eagles could address upgrading the offensive line is to go ahead and draft an offensive tackle, allowing Todd Herremans to move back to his natural guard position.
The first offensive tackle of interest could be Stanford OT Jonathan Martin. Martin was the crucial left tackle that kept consensus first-overall pick Andrew Luck upright. Martin is a potential top-ten pick, and it might require the Eagles to move up in order to land him.
His 6'6", 304-pound frame give him the prototypical size to be an NFL tackle. He is a tremendous edge blocker in pass protection. He possesses great athleticism that shines in both pass protection and on run protection. He does a great job getting to the second and third levels with proper angles. He also displays great awareness in picking up stunts and the blitz.
The only knock on Martin is that at times his toughness and aggressiveness has been questioned.
Another thing to consider is that Martin has never played right tackle. It would require a lot of work and dedication on his part to grasp switching to the opposite end of the line. But Martin has shown that he is able to handle the pressures of protecting his quarterback's blindside.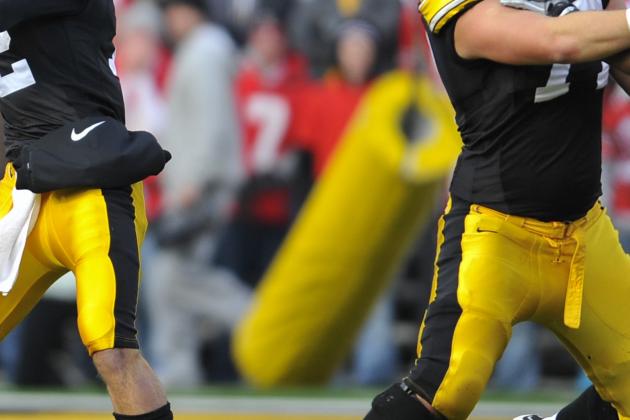 David Purdy/Getty Images
Riley Reiff
If the Eagles decide to move in the offensive tackle direction, another great choice would be Iowa offensive tackle Riley Reiff. If you're going to draft an offensive lineman, you go to the Big Ten, particularly Wisconsin and Iowa. Reiff projects to be the next Iowa lineman to be taken in the first round joining the likes of Bryan Bulaga, Robert Gallery and company.
Depending on where you look, Reiff projects anywhere from a top-ten pick to a late first-round pick. Reiff has prototypical size, 6'6'', 300 lbs, and has been a dominant performer throughout his college career. Reiff moves well in space and does a good job setting up the end of line in pass protection. Reiff does a great job in all aspects of run blocking as well.
Reiff has experience at right tackle but spent the majority of his college career as the blind-side protector at Iowa. He would be a great addition and he would be teaming backup with his Iowa linemate Julian Vandervelde.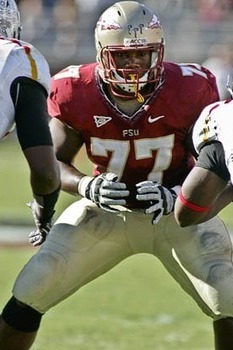 Zebrie Sanders
Staying with the offensive tackle position, another prospect of intrigue is Florida State offensive tackle Zebrie Sanders.
Sanders is possibly the most versatile offensive tackle prospect in the draft because of the fact that he excelled at right tackle for most of his career at Florida State until he was required to move to left tackle midway through his senior season due to injury.
He then excelled at left tackle, but his natural position is on the right side. This is big because the Eagles wouldn't have to ask a rookie to learn an entire playbook while re-learning the technique required to switch sides.
Sanders has prototypical size at just under 6'6" and a recorded weight of 295 pounds. Sanders is a powerful player that uses his long arms to his benefit when it comes to pass protection.
The only real knock on his pass protection is that he isn't a natural bender and has some inflexibility in his hips that can cause him to play high and have to absorb the bull-rush. But with proper strength and flexibility training, that all can be overcome.
Sanders excels in run blocking and does a great job getting to the second level and eating up linebackers. Sanders is an extremely intelligent individual on and off of the field. On the field, you can see his intelligence by his awareness and ability to analyze and adjust to the blitz.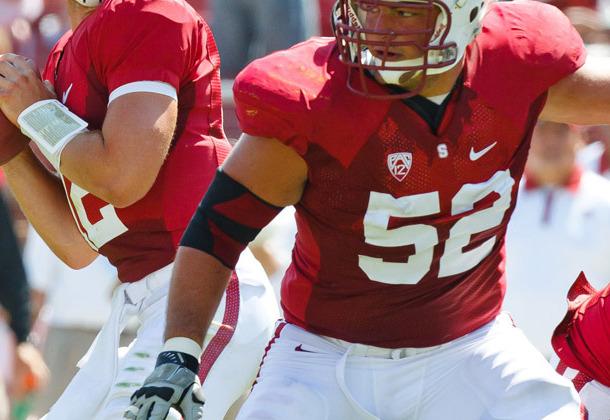 Standford Guard David DeCastro
Andrew Luck was pretty lucky...insert irony here...to have the linemen he had at Stanford. His blindside guard David DeCastro is a another prospect worth a look from the Eagles.
DeCastro is a complete package and is going to be an excellent guard at the NFL level. He is smart, athletic, tough, durable and physical; all traits pointing to great success no matter what offensive scheme he plays in. Offensive guards generally don't generate hype like offensive tackles do when it comes to the draft, but DeCastro has early-to-mid-first round potential.
DeCastro was a crucial part in the Stanford rushing attack, dominating defensive linemen as well as getting up on to linebackers in the second level. He has a great first step and strong punch in his pass protection, enabling him to stone-wall bigger defensive tackles and blitzing linebackers. He has decent lateral movement skills that enable him to move and pick up linebackers in space. He shows great awareness in pass protection, assisting the center while keeping his eyes up for blitzing linebackers and stunts.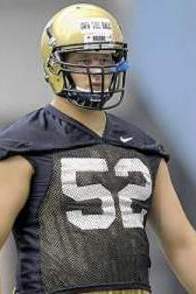 Pitt Guard Lucas Nix
Coming into the 2011 season, Mel Kiper had Pitt's Lucas Nix rated as the top senior guard prospect for the 2012 draft. A lot of that hype has disappeared because Nix was moved to offensive tackle during camp and he missed a few games due to injury. Nix could be a middle-round steal for the Eagles, and they could acquire a prototypical Howard Mudd lineman.
Nix is a lean guard at 6'6', 305 pounds. He plays with good strength and has dominated defensive linemen and linebackers throughout the Big East. Nix does a good job getting off the ball whether it's setting for pass protection or gaining ground in run blocking. Nix has adequate lateral movement and plays well in space for a guard. He brings good overall athleticism also at the guard position and does a great job pulling and leading through holes.
Nix is a low-risk guy that has a high ceiling.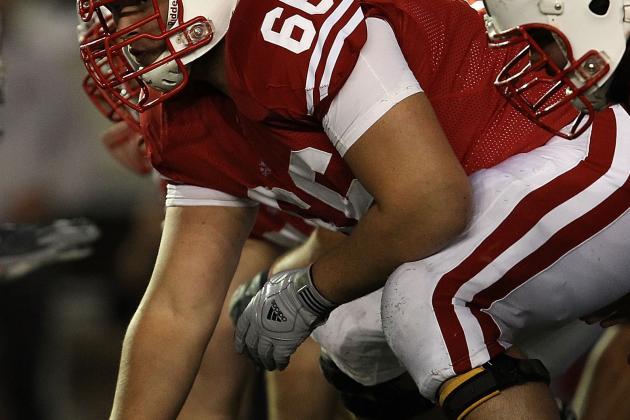 Jonathan Daniel/Getty Images
Wisconsin Center Peter Konz
One player that would be an upgrade over current center Jason Kelce would be Wisconsin center and Rimington award finalist Peter Konz.
Konz's draft rose so high this season that he decided to forgo his senior season to enter the draft, something that rarely happens with centers. Konz was an integral part in the explosive Wisconsin offense and he served as a road-grader for the run and a brick wall in pass protection. Konz performed well against excellent Big Ten competition including an outstanding performance against Nebraska's Jared Crick.
Konz has excellent size for the center position at 6'5'' and 315 pounds, giving him enough bulk to handle larger 3-4 nose guards. But he also possesses the quickness to beat quicker 1-techniques from the 4-3 scheme.
He has excellent awareness and does an excellent job of finding any blitzing linebackers releasing from a double-team and excels at sliding into position to make a block. He plays with exceptional technique and pad level. Konz was the leader of Wisconsin's offensive line. He did his job as a center to analyze the defense quickly leading the Wisconsin line to always be prepared.
Centers on a rare occasion push into the first round even when they are exceptional prospects like Konz. Look for him to be a late first-round early second-round pick. He would be a major upgrade and worth using that extra Cardinals pick to maybe move up into the late first to grab him.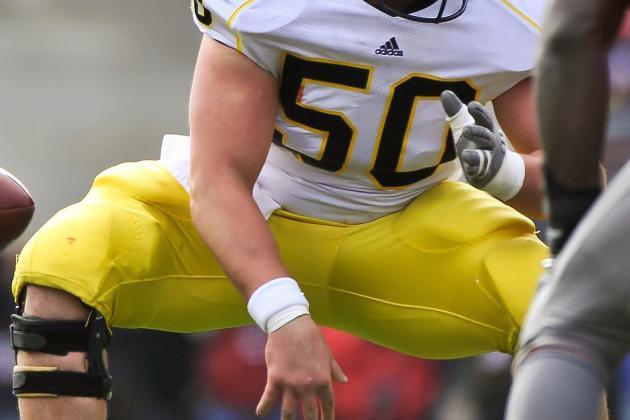 Jamie Sabau/Getty Images
Michigan Center David Molk
Following the theme of Big Ten centers, the next center that could upgrade the Eagles' offensive line would be Rimington award winner and Michigan center David Molk.
Molk is the type of center built perfectly for Howard Mudd's zone-blocking scheme. He is undersized to play in a power-running scheme at 6'2'' and 285 pounds.
Molk is an true leader and isn't afraid to get in the faces of his teammates to get them motivated. He is a athletic prospect who shows good speed vertically and horizontally. His build and agility allow him to reach the second level quickly and stick with linebackers when run blocking. He also holds his own against larger nose tackles in the pass rush and doesn't easily give up ground to bull rushers.
Molk has had some health concerns over his college career but went his entire senior season without missing a game. He will be a second-to-third-day prospect and could be a sleeper in the draft. If the Eagles are unable to land Konz, Molk would be a cheaper, more athletic option to play center.
Patrick McDermott/Getty Images

If I was in charge, which luckily Eagles fans I'm not, this is how my 2012-and beyond offensive line would look like for the Eagles.
LT- Jason Peters
LG- David DeCastro
C- Peter Konz
RG- Danny Watkins
RT- Todd Herremans
DeCastro should be available when the Eagles make their first selection at No. 15 so acquiring him wouldn't be an issue. With a surplus of extra picks, the Eagles could move into the late second round and acquire Konz.