NFL Playoff Picks: Green Bay Packers and Favorites Who Will Cover
March 28, 2017
Al Bello/Getty Images
The NFL playoffs are a time where it is hard to pick games correctly because of how even the talent level is. However, last week, three of the four favorites won.
Expect this week to be like last week, with three of the four favorites not only winning, but covering. 
Green Bay Packers, Minus-7.5 Points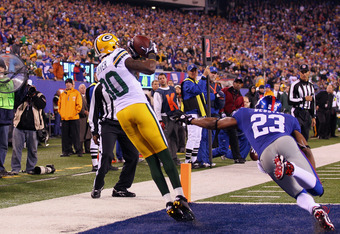 Al Bello/Getty Images
The Packers, at home, have been dominant. At Lambeau field this year, they are a perfect 8-0 and have scored more than 40 points on five occasions in those eight games. Furthermore, they have won by a double-digit margin on five occasions.
When these two teams met earlier this year, in Week 13, Green Bay was able to do whatever it wanted against the Giants defense. Rodgers went off on the Giants secondary, throwing for 369 yards and four touchdowns for a quarterback rating of 106.2.
In that game, Rodgers led the Packers to a touchdown and a field goal with less than five minutes left in the contest with the team down in two different situations
This week, Rodgers will be able to find his speedy receivers as the Packers easily cover their spread.
New England Patriots, Minus-13.5 Points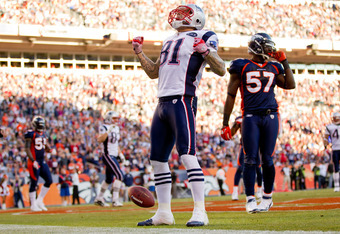 Justin Edmonds/Getty Images
The Patriots have had a week off to get healthy and prepare for their divisional round game against the Broncos. New England saw what the Steelers did wrong last week against Tim Tebow and company and it will help the Patriots do what Pittsburgh couldn't this week.
Plus, the Patriots have already proved they can take down the Broncos. They defeated them in Week 15 by a score of 41-23. In that game, the New England shut down Tebow's passing attack and allowed only 194 yards and no touchdowns.  
While Tebow was ineffective, Patriots QB Tom Brady shredded the Broncos secondary for 320 yards and two touchdowns for a rating of 117.3. 
In the divisional round, at home, where Brady is 7-1 on the season with 16 touchdowns and a quarterback rating of 100.5, he will dominate the Broncos defense. 
Denver will not be able to keep up with the Patriots again, resulting in a 20-point victory for New England this week. 
Baltimore Ravens, Minus-7.5 Points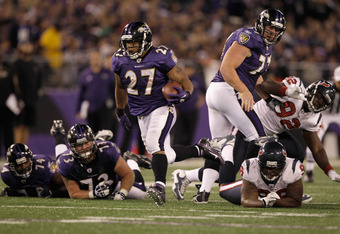 Rob Carr/Getty Images
The Ravens play a Houston Texans team that they blew out earlier this year in Baltimore by a score of 29-14. 
However, that home victory against the Texans in Week 6 wasn't just a fluke. The Ravens were perfect at home this year, going 8-0 and winning by a combined score of 201-119. 
In their Week 6 matchup, the Texans couldn't run the ball and could barely move it through the air, either. While the offense struggled, the defense couldn't stop Ravens running back Ray Rice.
That being said, the Rutgers product didn't make it to the end zone. However, he still had a total of 161 yards from scrimmage, 101 of which came from rushing the ball. 
Rice's 101 rushing yards were more than the entire Texans running game (93 yards) could muster.
This week, expect the 24-year-old to run all over the Texans defense again as he leads Baltimore to win their playoff game by more than a touchdown.
You should feel comfortable in picking these three teams this weekend. They will all cover their point-spreads and will move onto the following weekend for their respected championship games.