NFL Draft 2012: Highly-Touted Stars Bound to Bust in the Pros
January 13, 2012

Streeter Lecka/Getty Images
The NFL draft is a crapshoot. You do not know what you are getting when teams select these kids from college. Some players pan out to be a future Hall of Fame player, while some never live up to their potential. 
However, these players, who have a ton of hype surrounding them, will be drafted high in this year's draft and will join the ranks as big draft busts. 
Alshon Jeffery
Jeffery has the talent to be one of the best receivers in the league. However, Jeffery showed a short fuse when he was ejected in South Carolina's bowl game this year. 
When Jeffery can build some continuity with a quarterback and isn't looked upon as the main offensive weapon, as he did in the '10 season, he will be successful. 
However, this year, he had to deal with being the main guy in the Carolina offense since Garcia was kicked off the team, a new quarterback halfway through the season and running back Marcus Lattimore having his season end due to an injury. This resulted in Jeffery having a major drop-off from his production from last year. 
Jeffery saw his receptions go from 88 to 46, his yards go from 1,517 to 762 and his touchdowns go from nine to eight.
Alshon will get selected early in the draft, to a team like Buffalo or Jacksonville, and will prove that he cannot handle being the main guy in his new offense. 
Dont'a Hightower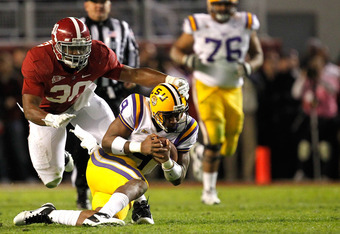 Streeter Lecka/Getty Images
While Hightower played at Alabama, he was a menacing defender who was able to change games with his punishing hits. However, he played on the best defense in college football and benefited from playing weaker SEC teams like Tennessee, Ole Miss and Vanderbilt. 
Hightower had his best season last year, recording four sacks, 83 tackles and one interception. However, one season with good stats, on a great college defense, does not guarantee a long career in the NFL. 
Still, Hightower will earn a ton of hype surrounding him because he was a leader on Alabama's championship team. He will get selected early to a team like Philadelphia at No. 15 and struggle against the better competition in the NFL. 
Lamar Miller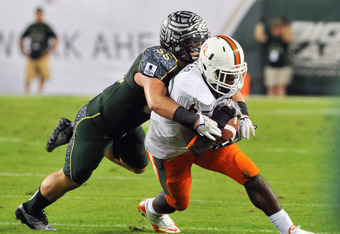 Al Messerschmidt/Getty Images
Miller is looked upon as the second-best running back in this draft, behind Alabama's Trent Richardson. However, being the second-best running back in the draft is more of a testament of how weak this draft pool is on running backs more than how good Miller is. 
Miller has breakaway speed, which he put on display playing against weak opponents in the ACC. He will shine at the NFL combine, where he will run a low time in his 40-yard dash. 
This will make him get drafted early by a team that needs a running back, like the Cincinnati Bengals at No. 17 or No. 21. 
Miller will not be able to showcase his speed with the Bengals, as their offensive line was only able to help Cedric Benson rush for 3.9 yards per carry, with their longest carry being 42 yards. 
Miller will prove that he only has speed and will flame out quickly in the league. 
Maybe these three players will prove me wrong and have long careers in the NFL. However, looking at their resume of work now, it looks bad for the potential teams who draft these men.