For Joe Paterno, Morality Was a Weapon of Mass Destruction
January 13, 2012

Kevin C. Cox/Getty Images
A day after the disturbing details of the Penn State sex scandal rocked the nation, the nation's sports media demanded Joe Paterno's firing. Mostly ignored were the victims and the legality of Paterno's actions.
Commentators instead excused the Paterno-centric coverage as the natural result of Paterno's big name, and then tore down the legend they spent decades creating.  
But the sports-media-turned-mob screwed up when it turned a story about criminal abuse into a story about a secondary actor's morality. It doubled down by drawing moral conclusions without satisfactory information.
It's not unfair to say the sports media raced to judge Joe Pa. A rapid one-day attack reached a destructive crescendo by the evening news. 
The later in the day a Paterno opinion was published or aired, the more defiant and indignant were its contents. The cautious opinions of the morning turned strident and broad by the afternoon. Each raised the moral bar.
By the end of the day, some on the airwaves publicly opined Paterno's actions were worse than Sandusky's.
But the sports media buried a quiet and uncomfortable truth when it built a moral case against Paterno. It didn't have all the facts. Much of what Paterno knew and when he knew it was a gaping mystery.
In a normal case, this would have ended the Paterno story. But this story was never normal.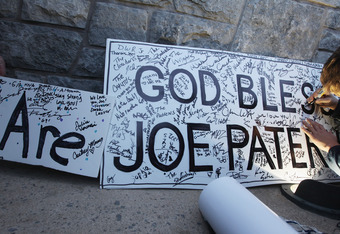 Mario Tama/Getty Images
Instead of waiting for more information, the sports media took the extraordinary measure of brushing aside the lack of data regarding Paterno.
Employing classic straw-man tactics, the media created arguments designed to make the information that was available enough to indict. 
It was as if the sports media wanted to go no place it had ever gone before, or perhaps felt it had to. The outrage was based on the questionable premise that morality changes for each person.
We were told, for instance, that Paterno should be held to a higher moral standard because he held himself out to be an ethical person. Or because he was a leader of men. Or because he was the true king of Penn State. Therefore, he could be judged more harshly than others.
These arguments allowed many in the sports media to ignore the deep-rooted question in all of us: What would we have done confronted with a similar situation at our work? 
Of course, nuanced and complicated stories don't enrage, sell copy or entertain. So in fueling the story for immediate blast-off, the sports media also developed a simplified narrative. 
Out of the spotlight were the real-life villains, into it the famous person. Pliable moral law swapped for real law. Speed and opinion trumped precision and fact.
A failure in important ways, it was also shining success. 
We often forget that the sports media's job is to entertain, cultivate listeners, and make money. This is especially true of outlets like ESPN, whose ultimate goal is to keep eyeballs and ear drums tuned in to its stories at all costs, and who can't afford to be on the wrong side of public opinion. The Paterno coverage satisfied this objective.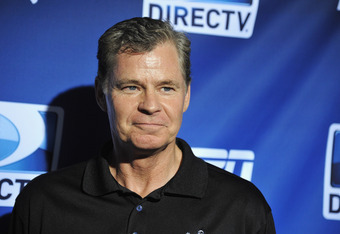 Mike Coppola/Getty Images
So when the Pennsylvania police commissioner charging Sandusky went off script to open the moral case on Paterno, you almost couldn't blame the sports media for taking the bait. 
It was a good business decision.
But Paterno's job turned out to be the cost of entertaining.
It's fair to ask how high that cost actually was, and some could contend it was pretty low. But it's just as likely that the costs were high. 
It's just not often that someone is fired for doing no more than the law requires. And that's a good thing.
Our nation's laws are based in part on moral codes. But they also smooth out moral variability and demand factual showings before a violation may be proved. Those are bed-rock principles of criminal justice.
Which is why Penn State's Board of Trustees originally gave no reason for firing Paterno. They couldn't say he was fired for not reporting up the chain as the law required, because Paterno did that. He followed the law we normally care about.
And they couldn't say he was fired for refusing to do more than the law required because such justification was both legally suspect and factually questionable then and now. 
So in a display that was equal parts understandable and blameworthy, Penn State's Board said nothing.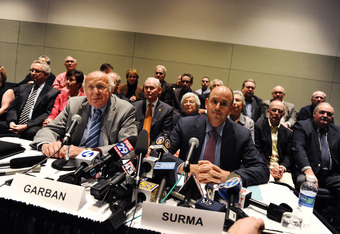 Patrick Smith/Getty Images
Until now.
Caving to local pressure the board finally explained the firing Thursday, noting that it fired Paterno because he "could not be expected to continue to effectively perform his duties," and because "it was in the best interests of the University to make an immediate change."     
But the Penn State Board's tardy explanation only confirms what we knew already. It fired Paterno because an impossibly emotional story about kids created such moral outrage that university administrators had to act.
Don't entirely blame the university. At its core it is made up of people, and people are imperfect. People want to protect their jobs. People want to be moral and be remembered as such.
At the same time, Penn State wasted a teachable moment by doing what the uneducated nation asked it to do. We all knew critical missing information existed. But on the strength of the sports media's moral rabble-rousing, Penn State's Board couldn't resist swinging the axe.
Now, months after the story broke, the sport's media is still asking, "What if it was your child?" to drive home moral points and opinions. That is a fair and understandable sentiment, and a question that should be asked.
But it's unnerving that no one is asking another question as well: What if you were fired because of public outrage based on strikingly incomplete information? 
Would you understand?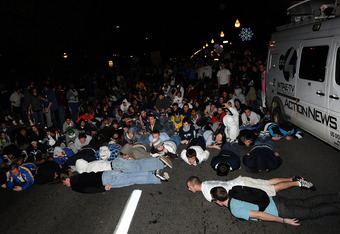 Patrick Smith/Getty Images
Strip away the arguments premised on the higher moral standard to which Paterno should be held and ask yourself whether this kind of firing is a good idea. 
Should gays or lesbians be fired because their superiors or the public find it immoral? What about members of unpopular religions? 
Should you be fired for supporting or rallying against abortion?
In answering these questions, fight the urge to look for laws that might require certain answers. No one provided that courtesy to Paterno.
Nearly a decade ago, the news media trumpeted what seemed like a guarantee that weapons of mass destruction existed in Iraq. But news reporters later ate crow for moving too fast and for blindly following a consensus opinion.
It's possible that what Paterno knew and when he knew it could turn out to be the sports media's version of nonexistent weapons of mass destruction. That's the risk you take when you follow.
Bob Firpo is an attorney and sports and outdoors writer.  He lives in Boise, Idaho.  Follow him @knockingitout.