Kyle Orton: Kansas City Chiefs Would Get Compensatory Pick If They Let Him Walk
January 13, 2012

Doug Pensinger/Getty Images
When Kansas City Chief fans learned that their team had just claimed recently released quarterback Kyle Orton, many wondered why? The Chiefs were heading into Week 12 with a 4-6 record, after taking a 34-3 beating at the hands of the New England Patriots in front of a nationally televised audience on Monday Night Football. 
Realistically, what was Kyle Orton, who previously went 1-4 before getting benched, going to do to help them with the Chicago Bears, Pittsburgh Steelers, New York Jets and Green Bay Packers still on the schedule?
Well maybe, Orton wasn't brought in to help the Chiefs this season, even though that is exactly what he did.  Scott Pioli may have been thinking that by claiming Orton from the Denver Broncos and picking up the remaining $2.5 million of his salary, he could parlay him into a future compensatory draft pick, potentially as high as the third round.
NFL.com explains that compensatory draft picks are awarded to:
A team losing more or better compensatory free agents than it acquires in the previous year is eligible to receive compensatory draft picks…up to a maximum of four…positioned within the third through seventh rounds based on the value of the compensatory free agents lost.
While the NFL probably could have explained this better, it's safe to say that if you lose more free agents than you gain, you earn a compensatory pick and the value of the player, based on "salary, playing time and postseason honors" determines the round the pick is awarded in.
Lets make this clear right now: The Kansas City Chiefs will lose Kyle Orton this offseason. There is just no reason from a team or player perspective for Orton returning for a second season.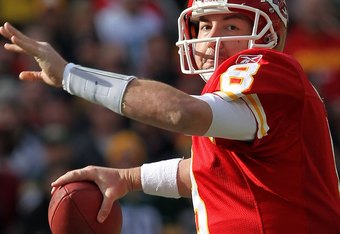 Jamie Squire/Getty Images
While I'm sure Scott Pioli would like to bring Orton back to provide some training camp competition for currently injured Matt Cassel, Pioli simply has more important jobs to do. With former Pro Bowlers Dwayne Bowe and Le'Ron McClain both unrestricted free agents, Pioli will be too busy to overpay for an average, inconsistent quarterback.
For Orton, there just aren't too many reasons for him to stay.  First, he has no intention of riding the bench behind Cassel for a whole season when he can take his talents to a quarterback-needy team with a higher chance to start.
More importantly, to say the free agent quarterback class is weak is a drastic understatement. One season removed from consecutive 3,500 yard plus passing seasons, Orton seems primed to cash in on a weak market that contains the recently injured Chad Henne and Jason Campbell, the incredibly average Alex Smith, Rex Grossman and inexperienced Matt Flynn.
All in all, it looks as if Kyle Orton will not have an encore in Kansas City. Having said that, the $2.5 million that the Chiefs paid to rent Orton could easily turn into a third-round draft pick. If you ask me, that's money well spent.