2012 NFL Mock Draft: Tank Carder and the Most Underrated Linebackers
January 15, 2012

Kevork Djansezian/Getty Images
In the 2012 NFL Draft, there's definitely some stud linebackers, such as Alabama's Courtney Upshaw and Dont'a Hightower, Arizona State's Vontaze Burfict and Boston College's Luke Kuechly. But, there's some solid linebacker talent later in the draft as well.
So, let's give some props to the 'backers that'll likely go in the mid or late rounds this spring.
Nigel Bradham, Florida State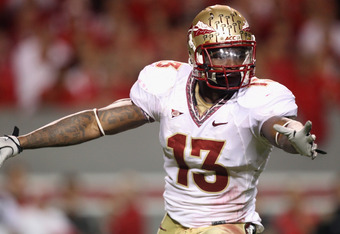 Streeter Lecka/Getty Images
One of the top defenders on one of the nation's best defenses that allowed only 15 points per game (ranked No. 4), Florida State's Nigel Bradham is slated to be a late third or early fourth round pick. 2009 was his breakout year; recording 93 tackles, two sacks and one pick.
He then upped his performance in 2010 with 97 tackles, five sacks and five passes defended. 2011 was somewhat down as offenses focused on isolating him. Still, Bradham recorded 83 tackles, two sacks, two interceptions and defended seven passes.
Bradham has the ability to make plays, is a sure tackler and is your prototypical outside linebacker. The ability to cover, blitz and stop the run off tackle and/or on the outside is what he brings to the table and whoever drafts him is getting close to the complete package.
Emmanuel Acho, Texas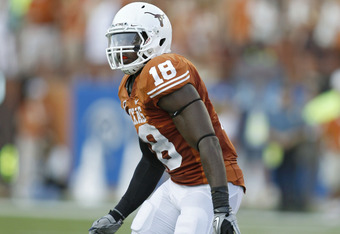 Erich Schlegel/Getty Images
A standout player on a weak defense, Texas' Emmanuel Acho accounted for 110 tackles, three sacks and six defended passes in 2011.
It was a breakout performance and along with his versatility, Acho is an expected mid-to-late fourth round pick. His lateral agility, speed and quickness allows him to play either inside or outside, as his physical toughness helps in stopping the run, while the athleticism helps against the pass.
Acho simply has a knack for getting to the ball and delivering a hit. He'll thrive against offenses that love to consistently hit receivers on crossing patterns as awareness is arguably Acho's best attribute.
Tank Carder, TCU
Although Tank Carder may be more well known than most other underrated linebackers because of TCU's recent success, the expected late fifth-round pick is certainly much better than indicated. For one, Tank has great instincts and ball skills.
Despite only intercepting four passes in his career, three were returned for TDs. And being in the rare 4-2-5 defense, Carder's chances to make tackles were scarce so he was more of a take-on-blocks kind of backer.
Despite this, he still managed to record 219 tackles combined between 2009-11 because of his great football IQ and better than advertised athleticism. In the NFL, Carder would be a great fit for any 4-3, 3-4 or 1-5-5 scheme.
Chris Marve, Vanderbilt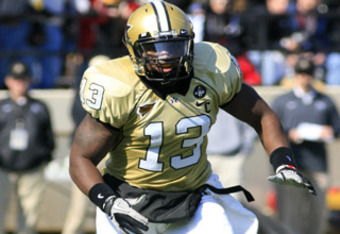 Unless you're really into watching SEC football, chances are you've never heard of Vanderbilt's Chris Marve. Well, Marve played on a solid defense with a good corner in Casey Hayward, and was the leader of the front seven.
For his career, Marve forced eight fumbles, seven in his first two seasons and recorded almost 400 tackles. He's an underrated and yet dynamic athlete that can get solid QB pressure (8.5 career sacks) despite not being a true pass-rusher.
Now, Marve isn't going to be a mid-round pick and at the highest a late sixth-rounder. He is somewhat undersized but makes it up by having a nose for the football. He'll fit a 3-4 scheme perfectly in the NFL as and inside or outside backer that can help stuff the run and cause turnovers.  
2012 First-Round NFL Mock Draft
| | |
| --- | --- |
| 1. Indianapolis Colts: Andrew Luck, QB (Stanford) | 17. Cincinnati (From OAK): Riley Reiff, OT (Iowa) |
| 2. St. Louis Rams: Justin Blackmon, WR (Oklahoma State) | 18. San Diego Chargers: Courtney Upshaw, LB (Alabama) |
| 3. Minnesota Vikings: Matt Kalil, OT (USC) | 19. Chicago Bears: Alshon Jeffery, WR (South Carolina) |
| 4. Cleveland Browns: Morris Claiborne, CB (LSU)  | 20. Tennessee Titans: Mohamed Sanu, WR (Rutgers) |
| 5. Tampa Bay Buccaneers: Trent Richardson, RB (Alabama) | 21. Cincinnati Bengals: Cordy Glenn, OG (Georgia) |
| 6. Washington Redskins: Robert Griffin III, QB (Baylor) | 22. Cleveland (From ATL): Vontaze Burfict, LB (ASU) |
| 7. Jacksonville Jaguars: Michael Floyd, WR (Notre Dame) | 23. Detroit Lions: Zach Brown, LB (UNC)   |
| 8. Miami Dolphins: Kendall Wright, WR (Baylor) | 24. Pittsburgh Steelers: Zebrie Sanders, OT (Florida State)  |
| 9. Carolina Panthers: Dre Kirkpatrick, CB (Alabama) | 25. Denver Broncos: Chase Minnifield, CB (UVA) |
| 10. Buffalo Bills: Alfonzo Dennard, CB (Nebraska) | 26. New York Giants: Devon Still, DT (Penn State)  |
| 11. Kansas City Chiefs: David DeCastro, G (Stanford) | 27. Houston Texans: Jerel Worthy, DT (Michigan State) |
| 12. Seattle Seahawks: Quinton Coples, DE (UNC) | 28. San Francisco 49ers: Mark Barron, S (Alabama)  |
| 13. Arizona Cardinals: Jonathan Martin, OT (Stanford) | 29. Baltimore Ravens: Dont'a Hightower, LB (Alabama) |
| 14. Dallas Cowboys: Janoris Jenkins, CB (North Alabama)  | 30. New England Patriots (From NO): Stephon Gilmore, CB (South Carolina) |
| 15. Philadelphia Eagles: Luke Kuechly, LB (Boston College) | 31. New England Patriots: Sam Montgomery, DE (LSU) |
| 16. New York Jets: Brandon Thompson, DE (Clemson) | 32. Green Bay Packers: Melvin Ingram, DE (South Carolina) |
Follow John Rozum on Twitter