Peyton Manning Rumors: Redskins Must Stay Away from Colts QB
January 13, 2012

Andy Lyons/Getty Images
Redskins fans, how many times have you heard that your team is going after an aging superstar, only to see it blow up in their faces?  
Well, it may happen again, as the Redskins have been tied to Indianapolis Colts quarterback Peyton Manning.
UPDATE: Redskins insider David Elfin responded to Weinstein's tweet saying, "It makes no sense." He gave these detailed reasons as to why it would not work saying:
1) Mike Shanahan already struck out with a 30-something quarterback who had been in one system for 11 years, Donovan McNabb. Why repeat history by going after Manning who has been in one system for all 13 of his seasons and will be 36 in March, three years older than McNabb was when he arrived in Washington in 2010? Plus Manning, unlike McNabb, is coming off a career-threatening injury that has prevented him from throwing a football for a year.

 

2) Manning and Shanahan are both control freaks. No modern-day quarterback has ever called more audibles than Manning. Shanahan hated it that McNabb wouldn't bend to his will. Manning and Shanny is a marriage made in hell.

 

3) The Redskins have lost at least 10 games three straight seasons. They haven't made the playoffs since 2007, won a playoff game since 2005 or won the NFC East since Manning was in his second year, 1999. Manning has a gazillion records, a Super Bowl ring and many millions. If he's going to play again, it's going to be for a team with a chance to win the Super Bowl and one that has a much better offensive line than Washington, whose top blocker, left tackle Trent Williams, is one failed drug test from a year-long suspension.

 

4) If Manning rehabs all the way and plays again, my hunch is it will be with San Francisco, a team that's two victories from the Super Bowl, has a terrific defense and a fine running back, but whose quarterback, Alex Smith, is a free agent after a checkered career with the 49ers. It doesn't hurt that Niners coach Jim Harbaugh was Manning's predecessor as Indy's quarterback and so knows a lot of the same people and has been through many of the same experiences.
According to ESPN.com Insider: 
One of the other teams we've been hearing mentioned a lot as a potential Peyton pursuer is the Washington Redskins. A source close to Rumor Central has even classified the Redskins as "the ideal fit" for Manning if the Colts elect not to retain him.

On Friday, ESPN's Bram Weinstein passed along some additional intel: "One of the people who's opinion at ESPN I trust the most says Peyton + Saturday to Redskins is VERY likely," he tweeted.

Is it logical for Peyton to want his long-time center Jeff Saturday to come with him wherever he goes? Of course. (And check out this cover story from ESPN the Magazine if you don't believe us). With Saturday hitting unrestricted free agency this offseason, a package deal for the two doesn't seem all that crazy.
That tweet from Weinstein sent this rumor into the stratosphere.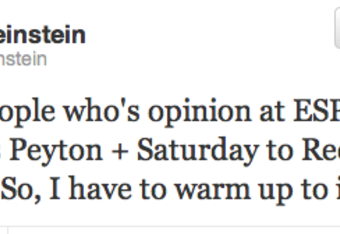 However, why would the Colts let Manning and Saturday, two people that have been a fixture of the Colts franchise for so long, walk to the Redskins?
More so, why would the Redskins want Manning at 36 years old and after a neck surgery that he isn't fully healed from?   
Would Manning be an upgrade over Rex Grossman and John Beck? Of course he would be. However, the Redskins should stay away from the 36-year-old broken quarterback and try their luck with the young, mobile, second-best quarterback in the NFL draft, last year's Heisman Trophy winner Robert Griffin III. 
With Griffin III, the Redskins have a quarterback they can build a future around. Instead, going with Manning would be like when Washington traded for Donovan McNabb. It would be a flashy acquisition that would get the fans excited, but it wouldn't fix anything.  
With the No. 6 pick in the NFL draft, the Redskins can take their next franchise quarterback in Griffin III. They must go that route, and not the same path they have gone down before. Because, the path of signing free agents to fix their problems has not worked.  
Washington should stay away from Manning and draft the talented quarterback from Baylor, Griffin III.