Ohio State Football Recruiting: Predicting the Finish
January 13, 2012

Jamie Sabau/Getty Images
Wednesday February 1, 2012 is around the corner. National signing day offers fans of college football a glimpse into the fate of their teams' future. Current AP and BCS national champion Alabama had the No. 1 recruiting class in 2008 according to Rivals.com, which translated into a championship four years later. Recruiting is destiny (see also OSUSilverBullet.com). 
Ohio State started out the 2012 recruiting season strong, but with the forced retirement of Jim Tressel and tattoo-gate, recruiting took a nosedive. Top ranked offensive lineman Kyle Kalis de-committed from Ohio State and then pledged to Michigan. Top recruits Se'von Pittman, Kyle Dodson, Taylor Decker, and Greg McMullen—all considered OSU locks—decided to go elsewhere.  
Ohio State was not even in the top 30 at one point of the recruiting rankings, with few premiere recruits and little to no interest from recruits outside of Ohio. Even 10 days before the hiring of Urban Meyer, recruiting guru Bill Kurelic would not have put Ohio State's class in the top 20.
But things changed. Adolphus Washington, Ohio's top player, pledged to Ohio State on Nov. 21, 2011, and then one week later, Urban Meyer was officially named head coach of Ohio State. Since then, Meyer has taken a once less than stellar recruiting class by Ohio State standards to a top ten recruiting class in the opinion of most recruiting services.  
Currently, Rivals.com lists Ohio State as having the No. 7 class, Scout.com lists OSU at No. 8, as does 247Sports.com, while ESPN has Ohio State at No. 10. These rankings will likely change in the near future, as Ohio State is in on a lot of top prospects.
---
With three weeks left until national signing day, who are the final pieces to Ohio State's recruiting class?  Rather than offer my predictions, I will look at the predictions from others on who are the final five or six recruits that will fill out the 2012 recruiting class and likely propel Ohio State into the top five recruiting class ranking.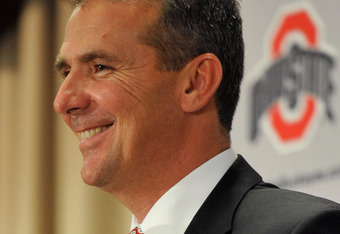 Jamie Sabau/Getty Images
First, here is a rundown of who is left by Drew Thurman of THE SILVER BULLET. He lists the remaining targets with commentary as:
Quarterback:
*Jameis Winston - Hasn't scheduled his official visit yet. If he ever does get on campus, then fans can get excited.
Offensive Line:
*Kyle Dodson - He seems loyal to Wisconsin. With the massive exodus on their staff, I think Urban pulls him in.
*Jordan Diamond - Very up in the air, and with visits still remaining it's still hard to get a read on where things stand.
*Joey O'Connor - He will be on campus this weekend, and if he receives an offer will definitely be in the class.
*Taylor Decker - With Hinton and Warinner leaving Notre Dame's staff to join Meyer's, many expected that to swing things for Decker. The kid seems loyal to the Irish, and I don't see him switching.
*Alex Kozan - The staff is in contact with him, but is nothing more than a back-up plan at this point.
Athletes:
*Davonte Neal - He's visiting this weekend. Urban's need for a playmaker and his OSU roots should seal the deal.
*Joel Caleb - I think he likes Ohio State, but I don't think he's the first option for the staff with the limited remaining scholarships. Just not sure we see him in this class unless Neal heads elsewhere.
*Brian Kimbrow - RB/DB speedster currently committed to Vanderbilt. He's looking around and the staff is in hot pursuit.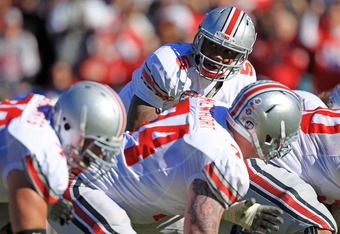 Scott Halleran/Getty Images
Linebacker:
*David Perkins - He's visiting this weekend, and the staff seems to have him as a major priority. Meyer has already shown his recruiting powers with prospects on campus and I think we may see that again.
*Camren Williams - He will be back on campus at the end of the month with teammate Armani Reeves. I think his heart is with Penn State, but the uncertainty and the recent offer for Reeves may turn the tide.
*Dalton Santos - He's committed to Tennessee, but is still looking around. He will be on campus at the end of this month, and may be a surprise addition to the class.
*Keilin Rayner - This is a recent name that has surfaced via Everett Withers. The staff will only put on the full court press if other guys head elsewhere.
*Jamal Marcus - He's a popular name in Buckeye recruiting circles, but he isn't coming to Ohio State.
*Joe Jackson - Jackson committed to coach Withers at UNC. He is now looking around and the interest is still mutual with Withers now with the Buckeyes. Still unclear of whether he visits or not, so stay tuned.
Defensive Backs:
*Armani Reeves - Camren Williams' teammate and current PSU commit. He's just recently received an offer and the staff does appear to want to add a corner in this class. I think they pull him in.
*Demetrous Cox - Cancelled his OSU visit this weekend for PSU. That's the writing on the wall.
*Bam Bradley - He delayed his decision, and is still looking around. If he was going to pick the Buckeyes I think he would have done it by now.
*De'Vante Harris - Former Oklahoma commit that has Ohio State in his top three. The Buckeyes have some work to do to reel him in, but he does seem to like the possibility of jumping on the Urban bandwagon.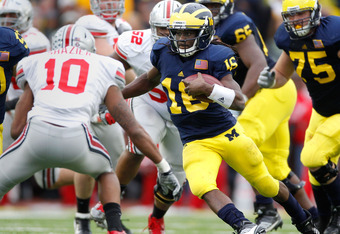 Gregory Shamus/Getty Images
What are Drew's final predictions on who ends up at OSU? 
OL - Kyle Dodson
OL - Joey O'Connor
LB - Camren Williams
LB - David Perkins
DB - Armani Reeves
ATH - Davonte Neal
To compare, here is what some other bloggers have predicted in recent weeks.
Which one of these four will be most right?  Each has an impressive list, and if any one of the four authors is correct, Ohio State will end strong.  Unlike the past when many recruits OSU was in on would not commit to the Bucks in January and national signing day, this year promises to be different.
All four guys are in agreement that OSU will land OT Kyle Dodson, LB Camren Williams and ATH Davonte' Neal. Getting those three and any combination of the other aforementioned recruiting targets would make Ohio States' 2012 class one of the best in the land.