NFL Playoffs: Why Tom Brady's Skill Will Be Too Much for Tim Tebow's Gimmicks
January 13, 2012

Elsa/Getty Images
This whole Tim Tebow story has been fun to watch unfold since he took over as Denver's starting quarterback.
Whether you love him or hate him, he is a polarizing character and a unique athlete. Tebow has managed to overcome his lack of natural talent as a passer and continue to beat teams no one has given him a chance against. Regardless of your explanation for his success, it has all been incredibly entertaining.
However, reality is going to set in on Saturday.
Tebow and the Broncos travel to New England to take on Tom Brady and his Patriots for the second time. They met already this season Week 15 and the Patriots rolled Denver 41-23 after a hot start by the Broncos.
Bill Belichick is one of the best in the league at making adjustments in the middle of a game. He recognized during their first matchup against the Broncos what was working and what wasn't. Denver's rushing attack was torching the Patriots defense early, but all of that changed midway through the second quarter. After putting up 16 points by the beginning of the second quarter, the Broncos didn't score again until the middle of the fourth quarter.
This wasn't due to anything more than the Patriots playing stay-at-home defense.
Belichick has always preached to his players on both sides of the ball to simply "do your job." That message is even more important with a quarterback like Tim Tebow.
The Tebow offense is built to give whoever is rushing the ball a head start through play actions and fakes. The goal is to get the defense to over-commit to one of the rushers. This strategy matched with solid blocking schemes leads to the No. 1 rushing attack the Broncos earned this season.
We saw the Steelers over-commit to stopping the Broncos' rushing attack last weekend. They put so many defenders in the box they were essentially daring Tebow to throw against one-on-one coverage. When you make it that easy even a quarterback who isn't polished as a passer will be able to make plays.
The Patriots have one of the worst secondaries in the league this year, but they managed to hold Tebow to just 194 passing yards with a 50 percent completion rate in their first meeting. Tebow had success on the ground with 93 yards rushing and two touchdowns, but that rushing attack is not able to score at the same clip Brady and company can on offense.
New England's game plan will be simple coming into this game. 
Contain Denver's rushing attack and force Tim Tebow to make good throws, not just the easy ones. The Broncos will move the ball, there is no doubt about that. The Patriots defense isn't good enough to shut anyone completely down.
However, the Patriots defense also isn't going to take risks. 
New England would much rather play conservatively and allow teams to chip their way down the field than play aggressively, giving up huge plays. The Patriots defense dramatically improves when it shortens the field and the front seven gets more involved in pass coverage. 
One of the biggest factors of the first matchup was the ability for the Patriots to force turnovers. The Broncos fumbled the ball three times, which gave excellent field position to an already dangerous offense. That is simply something you can't afford to do against an offense like New England's.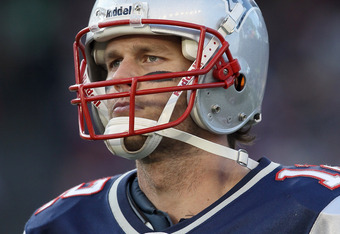 Elsa/Getty Images
In order for Tebow to find success against the Patriots he will need to be able to find success in both the passing and rushing game. Even then he will need to do so at the same rate Tom Brady is finding success against Denver's defense.
Tom Brady torched the Broncos defense for 320 yards and two touchdowns in their first meeting this season. He also used his famous quarterback sneak to pick up a rushing touchdown. It was clear Brady and his weapons on offense were too much for the Broncos to contain. There is no reason to believe the Broncos would have any more success stopping Brady this time around. 
If anything, Denver played over its head against the Patriots offense in their first meeting. The Broncos managed to contain both Rob Gronkowski and Wes Welker in that game. Both are equally deadly against opposing defenses and teams have a hard enough time to containing them once, let alone twice. I expect both to have a much bigger impact this time around.
The bottom line is this game isn't about the Patriots stopping Tebow. They have done that. We know it is possible for this defense to pull it off. 
The bottom line will be do the Broncos have an answer for Tom Brady defensively? 
The Tim Tebow hype has swept over the NFL and most of the media. Everyone is so busy talking about how amazing he is and all of his accomplishments thus far that they seem to forget he is matching up against possibly the greatest quarterback of all time. 
When it is all said and done on Saturday, the skill of Tom Brady will be too much for "Tebow Time" and the Denver Broncos.