Thursday night was suppose to be about two great rivals renewing acquaintances when the Montreal Canadiens and Boston Bruins faced off against each other for the fifth time this season.
Instead, it turned into another episode of the Canadiens ongoing soap opera thanks to the way general manager Pierre Gauthier handled the Michael Cammalleri trade.
Gauthier decided it would be a wise idea to finalize a trade and inform Cammalleri of the deal by pulling him off the ice in the middle of the game and sending him to a hotel room for further instructions.
Who does that?
Pierre Gauthier, the general manager of Montreal Canadiens. That's who.
After all, they wouldn't be the Canadiens if they did things like everybody else. It has to be a spectacle.
If the 30 NHL teams were all students in high school, the Canadiens would be considered the class drama queen.
First, Gauthier fires his assistant coach just hours before a game. Then, he does the same thing to his head coach.
To add more drama to the situation, he hires a coach that doesn't speak French and then throws him to the Quebec nationalist wolves by agreeing with their assessment that he should speak French.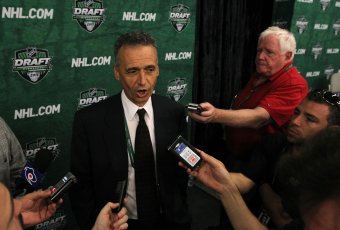 Bruce Bennett/Getty Images
When you take into account how Gauthier wilted under pressure from the French nationalists so quickly when it came to his new coach, along with all of his other knee-jerk decisions, should we really be surprised that he dealt arguably his best offensive player based on one comment?
Not only was it one comment, it was a refreshingly honest comment that really shouldn't come as a surprise since the Habs were 3-8 in their last 11 games.
I can't accept that we will display a losing attitude as we're doing this year. We prepare for our games like losers. We play like losers. So it's no wonder why we lose.
Fair enough. Cammalleri doesn't like losing and he was aggravated with his team's lack of preparation. Perhaps he shouldn't have aired his grievances publicly, but the statement itself was nothing more than the frustration of a passionate athlete.
Well, apparently that was enough for Gauthier to stop everything and pull him out of game action.
This sounds like a decision based out of sheer panic.
On the bright side, the Canadiens actually got a decent return for a player they dealt on a whim based on the raw emotion of their general manager.
Rene Bourque is a solid talent, albeit an inconsistent one, with good size and a good set of hands. He brings something to the table that the Habs current top-six forward group lacks and that's a net presence.
Combine that with a second-round draft pick and a 19-year-old prospect that has 57 points in just 40 games in the WHL this season in exchange for just a fifth-round pick and a goaltender that will likely never play for them, and it sounds like a fair deal considering the circumstances.
But wait. Apparently this deal had actually been in the works for quite a while before Cammalleri's criticism of the team.
Calgary Flames general manager Jay Feaster revealed this to the media upon the finalization of the trade last night. Gauthier then confirmed this after the Canadiens-Bruins games was finished.
We've been trying for all those weeks to try to get bigger up front. We felt as the season started that was one of the things [we needed]. We have a lot of young players that have joined the team in the last year or so, and then Mr. [Raphael] Diaz this year, that are not very big. We felt that if we want to improve the club, we need to be bigger up front.
Forgive me for being incredulous, but I find it just a little too coincidental that Gauthier had been trying to trade Cammalleri for a month and he just happened to work out a deal the day after his star forward made an eyebrow-raising comment that made newspaper headlines.
However, if you are naive enough to believe that it was just another hockey trade without any ulterior motive, then you have to look at it from a different perspective.
Despite the Canadiens receiving a higher draft pick and a prospect that appears to have a better chance of actually playing for them, the Flames got the best player in this deal by far.
Cammalleri might only have 22 points so far this season, but he is a potential top-line forward with leadership and star qualities. He was a stud in the playoffs during his time in Montreal and he still has the capability of being a 30-goal scorer.
Bourque, on the other hand, might be bigger than Cammalleri, but what good is size without the finish?
Sure, Bourque is capable of putting up 50 or more points in a season, but that's if he is motivated enough to do it, which is a big question mark. He has been incredible inconsistent over the last two seasons for the Flames and even though the change of scenario might give him a boost of energy, how long will that boost last?
At the end of the day, the biggest positive to come out of this bizarre mess for Montreal is that they do get some salary cap relief. Even if Bourque doesn't produce, his $3.33 million cap hit won't be as hard to stomach as Cammalleri's $6 million annual salary was.
So perhaps the silver lining can give Habs fans a small sense of hope for the future, but does the good really make up for bad, as well as the ugly?
After all, whether it was conceived out of panic or not, this trade brought Montreal the lesser of the two NHL players involved. It was also finalized under a bizarre and ugly set of circumstances that made the 2011-12 season for the Canadiens look like a daytime Emmy-winning soap opera yet again.