UFC 142: Prediction for Every Fight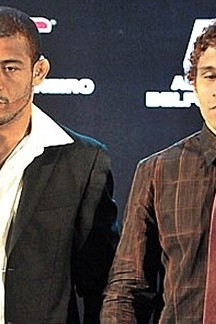 The Ultimate Fighting Championship returns to Rio de Janiero, Brazil, for UFC 142.
Like many UFC events outside the United States, Dana White tried to load the card up with hometown stars. For this particular event, every single fight has at least one fighter from Brazil participating in it. This will lead to major crowd support for one fighter over the other.
This event has been plagued by injuries. Four fighters needed to pull out of their fights with various injuries, but luckily all of them were replaced by new fighters, who had ample time to prepare for their upcoming battles.
This event features multiple future Hall of Famers, as well as many undefeated, rising stars in the UFC. I expect many exciting fights, with most of them being decided by the fighters and not the judge's scorecards.
Here is my prediction for each fight at UFC 142.
Begin Slideshow

»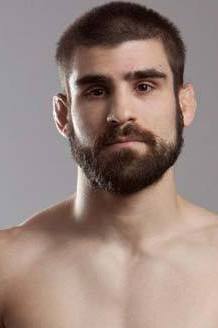 Both of these fighters will be looking for their first UFC win in this fight.
After seven straight wins and a no-contest decision, Arantes lost his octagon debut against Yuri Alcantara back at UFC 134 and will look to bounce back during this next fight
Carvalho, on the other hand, has won three straight fights entering his octagon debut, with the majority of the wins in his career coming by way of knockout.
I see Carvalho making a successful debut and Arantes getting cut from the promotion after starting his UFC career off 0-2.
Prediction: Carvalho via TKO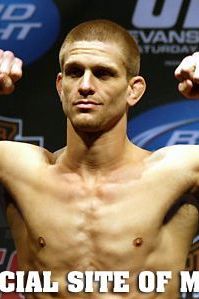 This is a pretty lopsided fight in my opinion.
Pyle has been fighting very well recently. He's 4-2 in his last six fights, with the losses coming to Jake Ellenberger and Rory MacDonald, two rising stars in the Welterweight Division.
Funch is returning to the UFC for the second time, where he lost both of his fights in his first tour and got cut from the promotion. I give Funch respect for stepping into this difficult fight on short notice to replace the injured Paulo Thiago, but it will prove to be the wrong decision. He will earn his third straight loss in the UFC.
Prediction: Pyle via Submission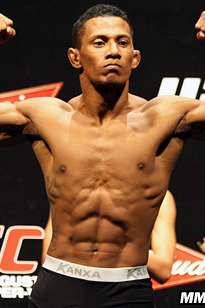 Yuri Alcantara currently holds one of the best records (26-3) and winning streaks (12 fights) out of any fighter in the UFC. Most of these fights have come in much smaller promotions though with only two coming in either the WEC or UFC.
Omigawa will be the toughest opponent Alcantara has ever faced and only his third fight outside of his home country, Brazil. He only has a 13-10 career record, but has fought tough competition his entire career, including wins over Nam Phan, Hatsu Hioki and Cole Escovedo.
To prove just how hard the competition has always been for Omigawa, his first career fight was against UFC veteran Aaron Riley, while he was in the prime of his career.
I believe this will be a very close fight with Alacantara taking the narrow decision.
Prediction: Alcantara via Split Decision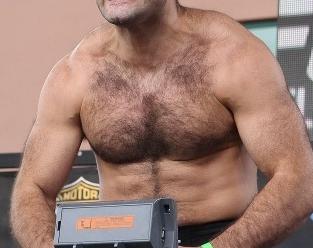 Gabriel Gonzaga is making his much anticipated return to the octagon when he replaces the injured Rob Broughton to face Ednaldo Oliveira.
Gonzaga is a UFC veteran, who has fought many of the top contenders in the Heavyweight Division, such as Junior Dos Santos, Shane Carwin and even fought in a title fight against Randy Couture. He only posted a 7-5 record though and was cut from the UFC over a year ago.
Oliveira, on the other hand, is a rising star that has never lost in 15 career matches. He has won over half his fights by way of knockout, and I expect him to be looking to do the same in his octagon debut.
I believe the young Oliveira will spoil Gonzaga's return to the UFC.
Prediction: Oliveira via Unanimous Decision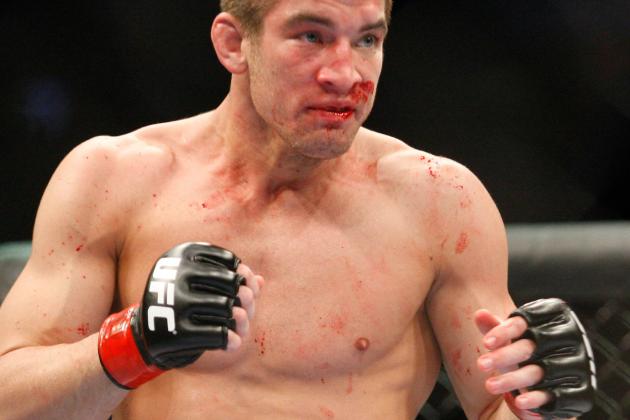 Richard Wolowicz/Getty Images

This fight represents the last preliminary fight on the card and pins two UFC veterans against each other who have both won Fight of the Night three times.
Tavares has had a very up-and-down career so far in the UFC. After winning his first two fights, he has not been able to put together back-to-back victories, giving him a 6-4-1 record. He is a submission specialist who definitely has the advantage on the ground in this fight.
Stout showed why his nickname is "Hands of Stone" in his last fight with his vicious knockout of Yves Edwards. Stout has been on a tear lately, winning four of his last five fights.
Both of these fighters are always looking to finish the fight, so I don't see this one lasting the entire three rounds.
Prediction: Stout via KO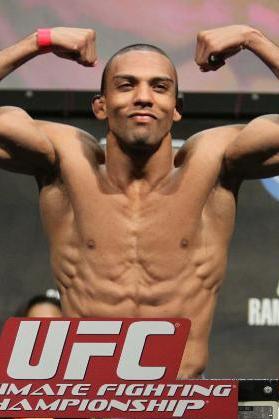 This is my prediction for Fight of the Night.
Barboza is an undefeated newcomer and unquestioned fan favorite when he returns home to fight in his home country of Brazil. He proved he is one of the most exciting strikers in the UFC when he defeated Mike Lullo in his octagon debut via leg kicks. Since then, he has won his next two fights and now has a 9-0 record.
Terry Etim is a submission specialist and will pose the biggest threat of Barboza's career so far. He will try and utilize his advantage on the ground to add another submission victory to the 12 he already has in his career.
I think Barboza has a better ground game than he is given credit for and will outlast Etim in this fight.
Prediction: Barboza via Unanimous Decision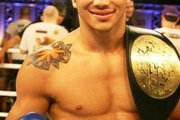 This is probably the most interesting matchup on the card.
Erick Silva has a very impressive 13-1 record, but has never fought anywhere outside of Brazil. He has made one appearance in the UFC so far in his career, the last time the UFC was held in Rio, Brazil. Silva had an impressive 40-second knockout of Luis Ramos in that fight and will look to continue that success in his second UFC fight.
Prater stepped into this fight late to replace the injured Siyar Bahadurzada. Prater has had 40 fights in his MMA career, but this will be his first one in the UFC. He is a submission specialist who has 16 submission victories in his career using a variety of chokes.
I think Silva should handle Prater easily in this fight and keep his winning streak alive.
Prediction: Silva via Submission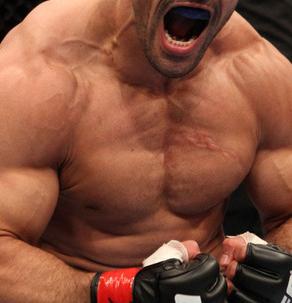 I think this will be a very lopsided fight and doesn't deserve to be on the main card.
Palhares is in another class than Massenzio at this point in their careers. Palhares has had much success in the UFC and has fought some of the toughest fighters it has to offer, like Dan Henderson and Nate Marquardt. He has a 6-2 record in the UFC and has won four of those fights by submission.
Massenzio has had five fights in the UFC, but against lesser competition. He only has a 2-3 record in the UFC, but is coming off a decision win of Steve Cantwell in his last fight.
Massenzio will try and use the momentum he gained from his last win to defeat Palhares, but will be very unsuccessful and probably get stopped in the first round.
Prediction: Palhares via Submission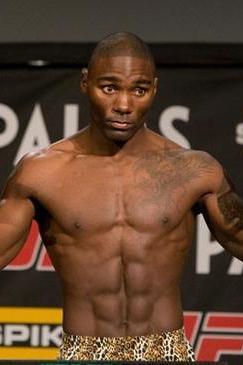 This is the fight I'm most looking forward to on the card.
Vitor Belfort is a UFC legend. He has fought the best fighters the UFC has to offer. Belfort is known for his lighting-fast hands and relentless pace. Unfortunately for him, he's slowed down a lot in his old age and can't strike like he used to when he was crowned UFC Light Heavyweight Champion.
Anthony "Rumble" Johnson will be making his much-anticipated Middleweight debut in this fight. This transition should be easy for him, since he has always been known as one of the biggest welterweights in the division.
Many stories have come out about Rumble's vigorous training routine, in which he needed to cut as much as 60 pounds at times to meet the 170-pound weight limit. Johnson claims he feels much more comfortable at 185, though, which is bad news for the rest of the division.
I'm calling for the upset and see Johnson finishing Belfort at some point during this fight.
Prediction: Johnson via KO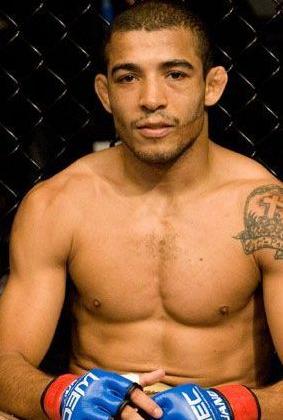 The combined record of the two fighters in this Main Event Title fight is 31-1.
José Aldo has defeated any fighter in his path the past five years. In 2009, he won the WEC Featherweight Championship from Mike Brown and has held it ever since. Aldo has defeated some of the toughest fighters in the UFC during this streak, including Urijah Faber, Mark Hominick and Kenny Florian.
He is one of the toughest fighters in the world because he has superb Muay Thai, as well as some of the best jiu-jitsu skills in the division.
This will be by far the toughest fight of young Chad "Money" Mendes' career. He will also be the best wrestler Aldo has ever faced in his career. Mendes is currently undefeated and will look to earn his first UFC Title.
This will be a very tricky fight Mendes because he will want to use his superior wrestling ability to keep Aldo on the ground for most of the fight, but he has never faced anyone with Aldo's jiu-jitsu abilities before.
Mendes will put up a good fight, but Aldo will again prove he's one of the pound-for-pound greats when he retains his UFC Featherweight Championship.
Prediction: Aldo via Unanimous Decision