Purdue Boilermakers: A Productive Lewis Jackson Means More Victories
January 13, 2012

Jamie Squire/Getty Images
Purdue is coming off their first home loss in 26 games after being dismantled by the Wisconsin Badgers 67-62 on a night when Purdue couldn't get it going offensively.
With the loss, a lot of pondering was done, and finally, it clicked.
Lewis Jackson is the key to this team's success.
Although a lot of the attention will go to guys who light it up from beyond the arc like Ryne Smith and Robbie Hummel, Purdue's biggest underdog is the key.
Purdue has now dropped five games this season, and the stats are mind-boggling.
Against Wisconsin, Jackson had just two points and one assist, although he did do a great job keeping track of Jordan Taylor most of the night. 
In losses, Lewis Jackson averages just seven points a game, while Jackson scores 10.8 during wins. Although this number doesn't sound great, look at this: in the two losses against conference opponents, Jackson averages one point per game, while he averages 11.3 in conference play victories.
Although scoring is what a lot of people look at for main stats, Jackson plays the point guard role, which requires a lot of other things such as great defense, assists, and lack of turnovers.
In winning games this season, Jackson averages just 1.3 turnovers per game, while in losses he averages 2.2. 
In terms of assists, Jackson averages six assists per game in winning efforts, while just 3.2 in losses.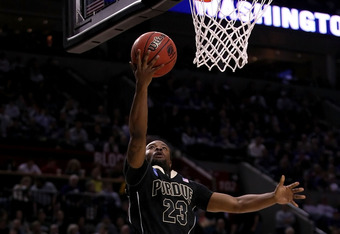 Jonathan Ferrey/Getty Images
Getting to the line is also a huge factor. Lewis gets to the line around 4.5 times per game in wins while just 2.5 in losses. In the two Big Ten losses this season, Jackson hasn't attempted a free throw. 
His steals remain about average for wins and losses, as Jackson excels on the defensive side of the ball, but his bad defense against Xavier comes into mind, which wasn't a great game for him or the Boilermakers.
The fact of the matter is, by the numbers this team lives by Lew-Jack. 
He is the heart and soul of this squad and when he plays well, the team plays well.
It would be nice to see Lewis Jackson step up and take charge of the offense. Although he is a great general, it seems to help Purdue a lot offensively when he drives through the lane and chops up defenses, in a role Terone Johnson tried to take over against Wisconsin. 
A lot of factors can be contributed to the losses this season and this one especially, but one just can't help but notice how big of a difference maker the 5'9" Lewis Jackson can make for this team.