Duke Blue Devils Hold off Virginia Cavaliers to Extend Streaks
January 13, 2012

Grant Halverson/Getty Images
Virginia's formula for success versus Duke on the defensive end last night was pretty simple:  Limit Duke's fast-break points, beat them on the boards while limiting their second-chance points and finally, harass their three-point shooters. Let's see...check, check, check and check.
The Cavaliers' problem this year is the plan on the offensive end isn't so easily defined.  Basically it's ride the big horse, Mike Scott, get a good contribution from Joe Harris and hope that someone steps up among the other three perimeter players who get most of the playing time and has a solid game. Let's see...check, check and uh oh.
UVA came tantalizingly close to ending a 17-year drought at Cameron Indoor Stadium before falling to Duke, 61-58.
Mike Scott had game highs of 23 points and nine rebounds, and Joe Harris chipped in with 14 points for the Cavs.
Duke received a balanced scoring effort with five players scoring between nine and 12 points, led by Mason Plumlee. 
For the most part, Virginia controlled the tempo and limited the number of possessions in the game.
But there was a 5:20 stretch early in the second half in which they allowed Duke one of its patented runs, in this case a 15-2 burst that had observers thinking back to last year's game at Cameron. In that one, Virginia led 42-33 with just over 16 minutes to go before getting blown out of the gym by a Blue Devils run of 43-18 to close it out.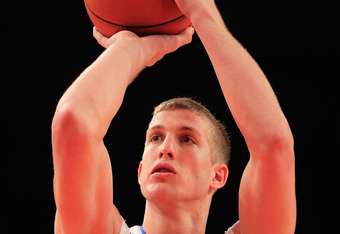 Chris Trotman/Getty Images
This Cavaliers bunch, however, is cut from a different cloth.
After a timeout by coach Tony Bennett to break Duke's momentum, Virginia managed to play the Blue Devils evenly for the ensuing eight-plus minutes before a Seth Curry layup gave Duke a 57-48 lead with 4:53 to play.
With the 'Hoos having managed just 16 points over the first 15 minutes of the second half, the nine-point lead may have looked insurmountable. But with Duke up 59-53 with just under three minutes to play, Jontel Evans hit a cutting Akil Mitchell for one of his six assists (without a turnover) to drop the margin to four. 
After two free throws by Duke's Ryan Kelly and one by UVA's Joe Harris made it 61-56 with under a minute to go, Mitchell and Evans hooked up again, this time after Mitchell set a screen at the top of the key to shake Evans loose for a layup that bounced off the rim but was slammed back by a trailing Mitchell to make the score 61-58 with 47 seconds to go.
Duke used most of the shot clock before Seth Curry drove and had his shot deflected by Mike Scott. Scott corralled the rebound with 15 seconds to go, and Bennett elected to let them play on. Evans found Scott in the right corner with six seconds to play.
With eight seconds to go in the first half, Zeglinski found Scott in the same spot and he buried a three to give Virginia a four point half time lead. This one, however, missed badly and bounded all the way back out to Evans, who had one last game-tying attempt with one second to go. Evans' shot clanked off the rim and Duke escaped with a three-point win.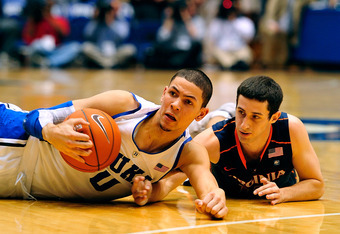 Grant Halverson/Getty Images
The victory extended Duke's winning streak over Virginia to 15 straight in Cameron Indoor Stadium. It also was the Blue Devils' 44th straight home win, second only to Kentucky in Division I.
On the other side of the slate, the loss brings to an end Virginia's longest winning streak (12) in 30 years.
A look at the box score gives you all the clues you need to why the Cavs are coming home 1-1 in ACC play.
A team that usually gets just under 23 points a game from its No. 3 through No. 5 scorers got only five, all from Malcolm Brogdon. Sammy Zeglinski and Jontel Evans both went scoreless, shooting 0-for-14 from the field. 
Virginia as a team was 0-of-11 from beyond the arc in the second half.
On the flip side, the 'Hoos held Duke to just 5-of-20 from downtown, but the Blue Devils were 19-for-26 from inside the arc.
Virginia gets a week off before traveling to Georgia Tech next Thursday. Duke is at Clemson on Sunday.