A Look at the Braves' Inter-League Schedule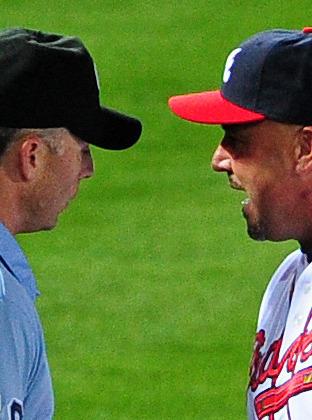 Scott Cunningham/Getty Images
The Braves certainly received a tough inter-league draw in 2012.
While some people consider inter-league play to be interesting, and a way to check out different teams from another league, it's also extremely unfair. Inter-league play does not balance out an equal schedule for all teams, instead being fairly random with some teams getting stuck with a tough draw and others getting an easy schedule.
The Braves were one of the teams stuck with a tough schedule, as they have to face the Yankees twice, along with the Rays, Red Sox, Blue Jays and Orioles.
The Phillies get the Red Sox, Rays, Twins, Blue Jays and Orioles, for example.
When it comes down to the end of the season, the result of these 18 games for the Braves and 15 for the Phillies could have an impact upon the division race.
The 2012 season is the last season with limited inter-league play, as the move by the Houston Astros to the American League will give both leagues a total of 15 teams apiece. That means that for at least every set of series there will be one inter-league series, due to an uneven number of teams in each league.
Begin Slideshow

»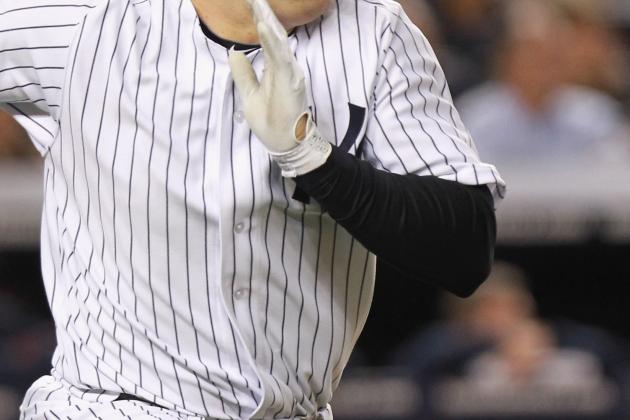 Nick Laham/Getty Images
Former Brave Mark Teixeira gets to face off against his old team twice this year.
This team may not look like Murderers' Row, but the Yankees are still the Yankees. Playing them once in inter-league play is always tough, but playing a home-and-home is extremely hard. That's right, the Braves will be heading to the Bronx for the second series
The New York lineup is strong again, with Mark Teixeira, Robinson Cano, Alex Rodriguez, Curtis Granderson, Brett Gardner and Derek Jeter leading the way and promising prospect Jesus Montero ready to assume a bigger role.
The pitching staff is where the issues are for the Yankees.
Obviously C.C. Sabathia is an ace, but behind him there are questions. Ivan Nova has some health concerns, Phil Hughes battled injury and inconsistency last year, A.J. Burnett is well below-average and the aging duo of Freddy Garcia and Bartolo Colon isn't likely to pitch as well as they did last season.
The bullpen is strong, especially at the back, where Mariano Rivera is still the best closer in the game and David Robertson is on the same level as Jonny Venters. Former Brave Rafael Soriano is also a good arm, used to pitching in pressure situations.
The Yankees may not be the best team in baseball, but they are strong enough to win the loaded AL East.
This will be a tough six game stretch for the Braves.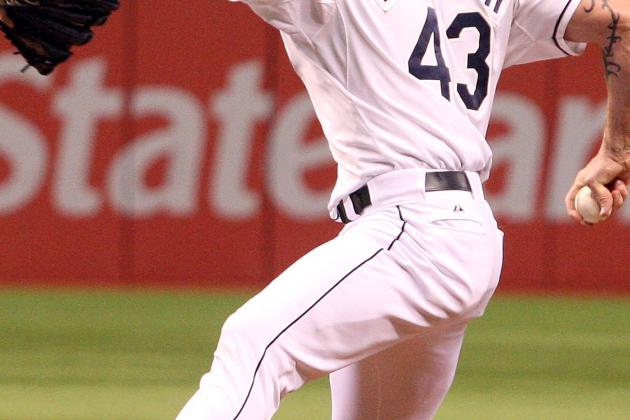 Charles Sonnenblick/Getty Images
Ex-Brave Kyle Farnsworth had a strong 2011 with Tampa.
The Rays are a talented team and pesky team that is tough to put away. They are the type of team that no matter what happens to them, from losing Carl Crawford and Matt Garza, to a bad start to the year to facing a large deficit they needed to make up in September, they never gave up and eventually made the playoffs last year.
The Rays' lineup has some questions right now, but some things will be constant. AL MVP candidate Evan Longoria is a middle-of-the-order force, Ben Zobrist is a scrappy winner, Desmond Jennings is a leadoff hitter with a great power and speed combination, Matt Joyce has some nice pop and B.J. Upton is another power-and-speed combination player.
The rotation is among the deepest in the game. Young David Price nearly won the 2010 AL Cy Young Award, James Shields had a monster year last year, Jeremy Hellickson was the AL Rookie of the Year last year and Matt Moore is the top pitching prospect in baseball and had some key performances down the stretch last year—including the first game of the ALDS.
The bullpen has some questions right now, and is led by a former Brave in closer Kyle Farnsworth. Farnsworth may have struggled in his last appearance with the Braves in 2010, but he was very good last season in Tampa.
Joel Peralta and Fernando are a pair of veteran arms that will help mix with youngsters Jake McGee and Josh Lueke to form the pen.
The Rays may not have the overall talent of the Yankees and Red Sox, but they are built to compete. This will be a tough series for the Braves, especially considering it is in Tampa.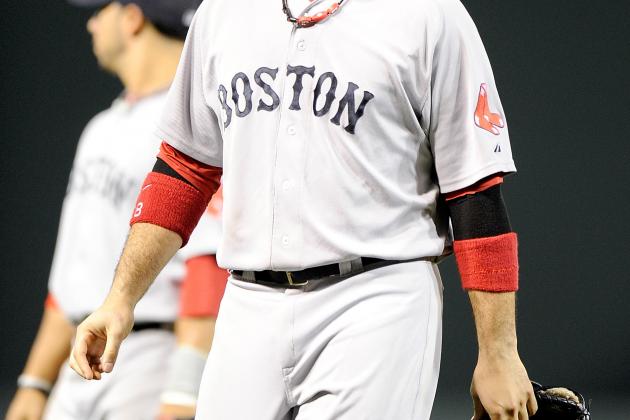 Greg Fiume/Getty Images
Adrian Gonzalez had a huge year in his first season in Boston.
The Red Sox are among the most talented teams in the game, but at the same time are also filled with questions. The team is expected to compete with the Yankees and Rays in the AL East, but that assumes that the pitching staff can hold up for a full season.
One place there are no questions for the Red Sox is the lineup.
Adrian Gonzalez was one of the best players in baseball last season, Dustin Pedroia is a former AL MVP in his prime, Kevin Youkilis is a middle-of-the-order hitter known for getting on base, David Ortiz can still crush the ball, Jacoby Ellsbury is a leadoff hitter with great power and speed and Carl Crawford has the potential to bounce back from a career-worst season in 2011.
The rotation has some questions.
Jon Lester is the best pitcher the Sox have, with Josh Beckett a close second. Clay Buchholz was very strong in 2010, and started last year strong before ending his season early with injury.
After that is where the questions start, as Daniel Bard is expected to move from setup man to starter this season. As of now, the final spot may belong to Alfredo Aceves, a reliever that made a few spot starts last season.
The bullpen is being re-made. Closer Jonathan Papelbon has moved on and setup man Daniel Bard is now a starter. The new closer is former Oakland Athletics' All-Star Andrew Bailey. The new setup man will be former Astros' closer Mark Melancon, who was solid as a rookie last year.
If Aceves doesn't start, he will likely pitch in a high-leverage role, and another former starter, Andrew Miller, could be the long man. Bobby Jenks is a wild card, because if healthy, the former White Sox closer could be a key piece of the pen.
The Red Sox have plenty of issues, but it's never easy to play them. It's even tougher considering the Braves head to Fenway.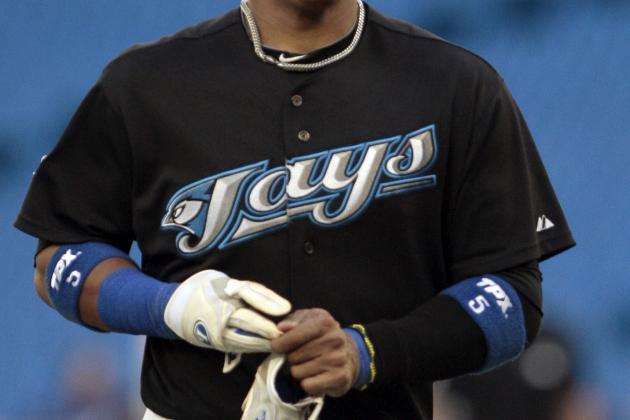 Abelimages/Getty Images
Former Brave Yunel Escobar comes to town this season during inter-league play.
Although the Toronto Blue Jays will be picked to finish fourth in the AL East this spring, they are a very strong team. In fact, this team has enough talent to potentially compete for a playoff spot if some things break right for them.
They aren't your typical fourth-place team.
The offense is led by slugger Jose Bautista, but he's hardly the only threat in the Toronto lineup. Third baseman Brett Lawrie had a huge start to his rookie year before getting hurt, and he looks like a future All-Star. Former Brave Yunel Escobar is among the best hitting shortstops in the game.
Colby Rasmus has a nice power-and-speed combo, and is looking to rebound from an off-year in 2011. Adam Lind, Edwin Encarnacion, J.P. Arencibia and Kelly Johnson don't hit for a very high average, but each have plenty of power in their bats.
Throw in leadoff hitter Rajai Davis—a speedster capable of 40-plus steals—and there are plenty of options and few weak spots.
The Jays rotation may have some questions, but not at the front of the rotation. Ricky Romero is among the better pitchers in the league, despite not getting as much attention as he deserves. Strikeout artist Brandon Morrow is a solid pitcher, although not a No. 2 guy at this point in time.
Henderson Alvarez showed some promise as a rookie last year, and the club is hoping that he can continue pitching at that level again in 2012. Both Brett Cecil and Kyle Drabek struggled last year but have some potential.
Cecil was very strong in 2010, but had some issues early in 2011 before rebounding a bit in the second half. Drabek is a former top prospect who started the year strong before losing his command, and could be an x-factor for the team this season.
The Jays have gone out and worked on building a strong bullpen this winter, They brought in White Sox closer Sergio Santos and Jason Frasor and Darren Oliver as a setup men. They will be in the pen along with promising youngsters Joel Carreno, Casey Janssen and Carlos Villanueva to fill out the pen.
The Toronto team may have enough to challenge for a playoff berth, but there are simply too many pitching questions to predict them any higher than fourth in the spring. This could be a tougher series for the Braves than some project in the preseason.
Abelimages/Getty Images
The Braves looked into acquiring Adam Jones this winter.
The Orioles are, without a doubt, the weakest team in the AL East this season. They have some young talent to build with, but just don't have enough to compete with the big boys this season.
They have questions in basically every area, and are the type of team that will likely look different in June than April due to players going back and forth to the minors.
The lineup is led by All-Star center fielder Adam Jones, a strong but not elite player. Right fielder Nick Markakis is a very strong hitter, but doesn't have that much power. Young catcher Matt Wieters finally started to emerge last season, and has a very high ceiling. Shortstop JJ Hardy had a very strong year, and has plenty of power for his position.
After that is where the questions really begin. A pair of players that split their time between first and third defensively, Mark Reynolds and Chris Davis, have huge power but are extremely strikeout-prone.
The starting rotation is led by veteran Jeremy Guthrie, a guy that would likely be a solid No. 3 starter for a different team. Behind him will be Brian Matusz, a former top prospect that was strong as a rookie before battling injury and command issues last season.
Zach Britton is a solid young pitcher who had an up-and-down rookie season a year ago. The rest of the rotation will be made up of two out of the following players: Alfredo Simon, Tommy Hunter, Jake Arrieta, Chris Tillman and Brian Bergesen.
The bullpen has issues as well. Tommy Gregg closed last year, but was very inconsistent in that role. Former Texas Ranger Darren O'Day could become an excellent setup man.
Tsuyoshi Wada and Jim Johnson will help to make up the rest of the bullpen, along with some of the guys that do not end up in the starting rotation.
This is a big series for the Braves. Taking a series at home against the weakest inter-league opponent is a must when the Phillies' inter-league slate isn't nearly as tough.