NHL All-Star Game 2012: 6 Players That Don't Belong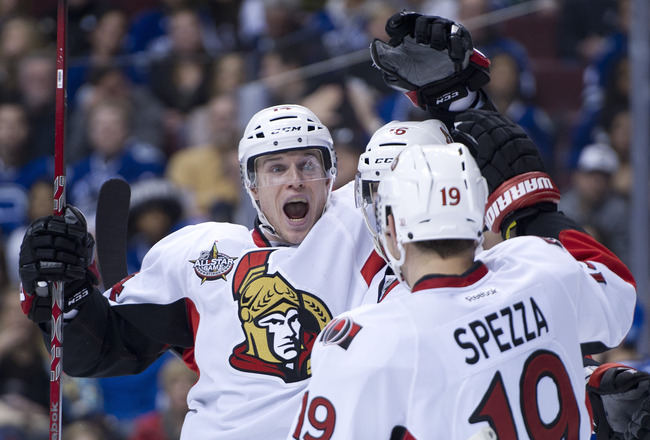 Rich Lam/Getty Images
The NHL announced the full All-Star roster for this year's mid-season festivities on Thursday and with it comes the scrutiny of those selections. The players selected will be split up via a fantasy draft during All-Star weekend in Ottawa.
There is always a debate about how to select the team and who should vote.
Should the game be used to reward guys who have had the best half-seasons? Should it be used to reward past great play? Should there be a combination of both? Does every team need to be represented?
There are a million ways to go about it and inevitably, there are guys who end up on the roster that have no business on the team.
Here are six guys who have no business on the All-Star Roster.
Who do you want to see removed?
Milan Michalek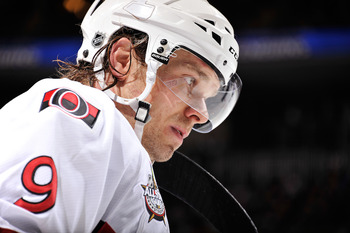 Jamie Sabau/Getty Images
Don't we have enough Ottawa Senators in this game?
Milan Michalek not only made the team but was one of the first six selected, meaning he finished that high in the voting. Clearly there was ballot box stuffing in the Canadian capital this winter.
Michalek has found the back of the net 22 times this season, but he only has eight helpers. Eight.
The All-Star Game is about slick passing and there is no place for greedy puck hogs like Michalek.
Logan Couture
Ezra Shaw/Getty Images
Logan Couture is another great young player and is one of the reason's San Jose is loaded again this year. That's great and all, but he is only the fourth-leading scorer for San Jose and yet, those other guys ahead of him are not on the team.
Are we supposed to believe that Couture is a better pick than Joe Thornton or Patrick Marleau?
He's not.
Alex Ovechkin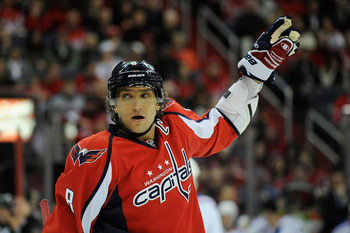 Patrick McDermott/Getty Images
Ok, Alex Ovechkin is still one of the faces of the league, so it is understandable why he is on the team. But the game should be rewarding those guys who are having great seasons.
Ovechkin's season has been ok, kind of the same as that omelet you had at Denny's. It wasn't terrible and it tasted like eggs but it still left you feeling letdown.
Teammate Nicklas Backstrom is having a better season than Ovechkin and should have made it over him.
Dustin Byfuglien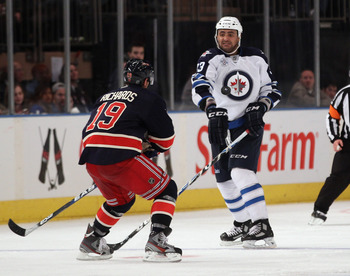 Bruce Bennett/Getty Images
Dustin Byfuglien's selection is a bit of a head-scratcher. He's listed as one of the All-Star defensemen, but if you've seen him play, it is hard to see what position he is playing.
Known for taking ill-timed pinches and reckless rushes that lead to odd-man rushes, the big guy should be sitting this one out. Why are rewarding this behaviour?
There are more deserving Winnipeg Jets.
How about Evander Kane? He has 18 goals and knows what position he plays.
Dan Girardi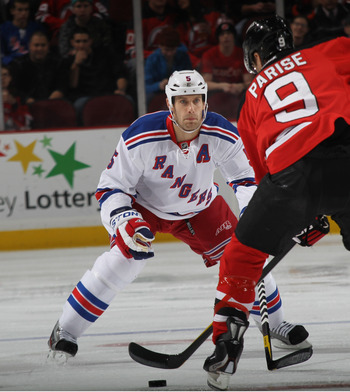 Bruce Bennett/Getty Images
Dan Girardi is a fine defenseman. He plays solid defense and is on one of the league's best squads. While it is not surprising that he ended up on the team, he should not be there.
This is the All-Star game. We expect a high-scoring game with no defense, no checking and no use for a good shut-down-type defenseman. There are currently 30 defenseman who have scored more points than Girardi.
Any of them would have made a better pick.
Alex Edler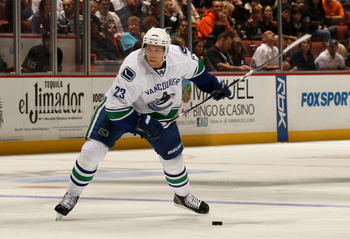 Stephen Dunn/Getty Images
Alex Edler has been a hidden gem for a couple of seasons now. His play gave Vancouver the green light to let Christian Ehrhoff leave this offseason.
While Edler has been great this season, he is not the best defenseman on his own team and therefore should not be on the All-Star team. Kevin Bieksa only has five fewer points than Edler, plays better defense and has a better all-around game.
He should have been the Vancouver defensive representative.
Keep Reading