2012 NFL Draft: 5 Best fits for Stud Linebacker Dont'a Hightower
January 12, 2012

Streeter Lecka/Getty Images
Burley linebacker Dont'a Hightower is leaving behind Alabama to enter the 2012 NFL draft at the perfect time.
The NFL is chock-full of teams that are dying to secure a 6'4", 265-pound linebacker who is as strong as it gets at the position. Nobody entering the draft is as physical and strong as Hightower. Combine a championship pedigree with extremely good coaching, and Hightower is going to land somewhere in the first round.
Assuming he is drafted somewhere between 11th and 25th, here are five teams that should be following his every move between now and the end of April:
Arizona Cardinals (13th pick)
The Cards defense improved seemingly every week during the 2011 season, but still finished the year 21st against the run. Paris Lenon is 34 and much slower than he used to be. He was the only linebacker to finish in the top nine in total tackles for the defense.
Completely unacceptable.
Dallas Cowboys (14th pick)
Dallas has to worry about their budget in 2012 and getting rid of OLB Anthony Spencer seems more than likely. That's not necessarily a bad thing considering he has never had more than six sacks in a season. Hightower would be an immediate upgrade and can be slotted in to start right away.
Philadelphia Eagles (15th pick)
The Eagles have a glaring hole at middle linebacker and in the toughness department, the Dream Team's weakest position by far.
Philadelphia needs a guy that's ready to play from Week 1 and Hightower is certainly capable. With his sometimes violent play, maybe he can lead by example on a defense that had absolutely no chemistry last year.
Detroit Lions (23rd Pick)
For as great of a pass rush the Lions had, the defense finished 22nd against the pass (239.4 YPG) and 23rd against the rush (128.1 YPG).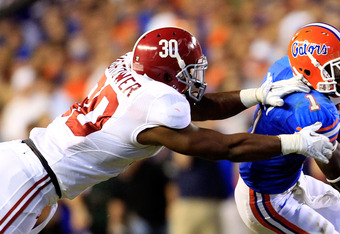 Sam Greenwood/Getty Images
The main issue was a tissue-paper-soft middle of the field. Hightower would help stop the run and can also defend most tight ends in pass coverage.
Pittsburgh Steelers (24th pick)
Odds are he'll be off the board by pick No. 24, but Hightower is the perfect linebacker for the sort of defense Mike Tomlin runs. His physicality would be welcomed with open arms in the Steel City.
With aging 'backers like Lamar Woodley and James Farrior, this is a position of need for the Steelers as well.
With his size and strength, he is the exact kind of player the Steelers covet.