2012 NFL Mock Draft: Explosive Playmakers Teams Can't Afford to Pass On
January 13, 2012

Ronald Martinez/Getty Images
The NFL draft is a time when a team can select that dynamic player who can turn his franchise around from day one. 
For example, when the Pittsburgh Steelers selected Ben Roethlisberger in the first round, it led them to three Super Bowl appearances, with two victories. Just last year, when the Carolina Panthers selected Cam Newton with the first pick, it led them to a four-win turnaround from the previous year. 
This year, there are only a few players that explosive that they can—and will—turn a franchise around from day one. 
1. Indianapolis Colts: Andrew Luck, QB, Stanford
Luck is the best player in the draft this year and will be selected by the Colts to be their quarterback for the future. With Peyton Manning at 36 years old, Luck's time may come sooner than later. 
2. St. Louis Rams: Matt Kalil, OT, USC
The Rams gave up 55 sacks last year, which means they need O-line help. Kalil is the best tackle in the draft and will go to the Rams at No. 2.
3. Minnesota Vikings: Morris Claiborne, CB, LSU
The Vikings were awful in pass defense this year, giving up a league-high 34 touchdowns this year. Claiborne is the best corner in the draft and should go to Minnesota at No. 3.
4. Cleveland Browns: Trent Richardson, RB, Alabama
Richardson is that explosive player that can turn a franchise around from day one. He has proved he can be the center of an offense, as he was at Alabama this year, and he proved he can out-muscle defenders. Richardson is the best running back in the draft this year, and with the Browns already having a mobile quarterback in Colt McCoy, the smart move is to take Richardson at No. 4. 
5. Tampa Bay Buccaneers: Dre Kirkpatrick, CB, Alabama
Kirkpatrick comes into Tampa Bay and is its best cornerback from day one. With Tampa giving up 30 touchdowns to opposing quarterbacks this year, it will have to take Kirkpatrick at No. 5
6. Washington Redskins: Robert Griffin III, QB, Baylor
Jeff Zelevansky/Getty Images
Washington needs a quarterback, since the combination of Rex Grossman and John Beck didn't work out. The 2011 Heisman Trophy winner comes into Washington and should be the starter from day one.
7. Jacksonville Jaguars: Justin Blackmon, WR, Oklahoma State
Justin Blackmon can come into Jacksonville and be its best receiver in the history of its franchise. He has freakish talent in that his size and speed make him a nightmare to cover for opposing receivers. And, with the Jaguars having the worst passing offense in the NFL last year, Blackmon gives them a legit target for Blaine Gabbert. They have to take Blackmon at No. 7, if he falls to them.
8. Carolina Panthers (subject to coin flip): Devon Still, DT, Penn State
The Panthers need help on their run defense and Still is the best tackle in the draft. They will take the PSU run-stopper at No. 8
9. Miami Dolphins (subject to coin flip): Melvin Ingram, DE, South Carolina
Miami needs a quarterback and a top wide receiver. However, with Griffin III and Blackmon going ahead of them, it will need to draft for need here. With Ingram the Dolphins get someone that can rush the passer and help a defense that only had 41 sacks.
10. Buffalo Bills: Alshon Jeffery, WR, South Carolina
Buffalo WR Stevie Johnson had personal foul penalties for his self-centered attitude, which may have forced his way out of Buffalo. With the No. 10 pick the Bills can get a better receiver in Jeffery. 
11. Kansas City Chiefs (subject to coin flip): Jonathan Martin, OT, Stanford
The Chiefs need help on their offensive line, and Martin is the best player on the board in this position. 
12. Seattle Seahawks (subject to coin flip): David DeCastro, OG, Stanford
Seattle gave up 50 sacks to its quarterback last year. DeCastro will help in fixing that problem. 
13. Arizona Cardinals: Riley Reiff, OT, Iowa
Arizona was second in the NFL in sacks allowed, its quarterback go down 54 times. The Cardinals need some help, and Reiff will plug the hole on the O-line. 
14. Dallas Cowboys: Janoris Jenkins, CB, North Alabama
The Cowboys have been known to take a risk on players with checkered pasts. Jenkins is a great cornerback that has a past that has him down on a number of mock drafts. Cowboys owner Jerry Jones will take a risk on Jenkins at No. 14.
15. Philadelphia Eagles: Dont'a Hightower, LB, Alabama
Hightower is a high-energy player that hits anything that moves. He can help a rushing defense that ranked 16th last year. 
16. New York Jets: Cordy Glenn, OG, Georgia 
The Jets need help with their offensive line, and Glenn can fix that problem. 
17. Cincinnati Bengals (via Oakland Raiders): Alfonzo Dennard, CB, Nebraska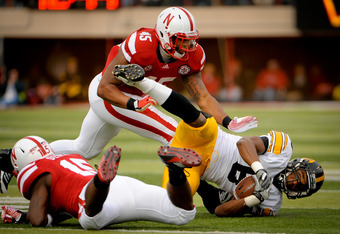 Eric Francis/Getty Images
The Bengals did have the ninth-best passing defense in the league, but they were torched for 21 touchdowns last year to receivers. They should take Dennard with No. 17 and fix the cornerback position. 
18. San Diego Chargers: Zebrie Sanders, OT, Florida State
The Chargers allowed teams to constantly hit QB Philip Rivers, which was a reason why they finished at 8-8. Taking Sanders at No. 18 will help correct this and improve their record next year. 
19. Chicago Bears: Vontaze Burfict, LB, Arizona State
Brian Urlacher isn't getting any younger, and the Bears need to find a replacement for him soon. Burfict can come in and be the understudy to Urlacher while the linebacker starts to wind his career down. 
20. Tennessee Titans: Michael Floyd, WR, Notre Dame
Floyd is a great receiver, but he isn't that true No. 1 receiver. He can come into Tennessee with Kenny Britt and form a great one-two combo that gels with Jake Locker. 
21. Cincinnati Bengals: Lamar Miller, RB, Miami (FL)
Miller is the second-best running back in this draft, and with the Bengals potentially losing Cedric Benson to free agency they can add the speedy back from Miami. With Andy Dalton and A.J. Green, Miller could be the third piece to their young nucleus on their offense. 
22. Cleveland Browns (via Atlanta Falcons): Kendall Wright, WR, Baylor
Wright had a huge year being Griffin's top receiver during his 2011 Heisman Trophy year. His speed, and route running makes him a top receiver in this draft. At No. 22, he will help fix a big need a receiver for Cleveland. 
23. Detroit Lions: Stephon Gilmore, CB, South Carolina
The Lions were awful in defending the pass this year. They have to address this need by drafting Gilmore at No. 23. 
24. Pittsburgh Steelers: Quinton Coples, DE/DT, North Carolina
The Steelers will have their defensive front retire soon. They should take Coples here at No. 24 to help rebuild the defensive line with Ziggy Hood and last year's first-round draft pick, Cameron Heyward. 
25. Denver Broncos: Mohamed Sanu, WR, Rutgers
The Broncos need a No. 1 receiver to grow with Tim Tebow. Picking Sanu at No. 25 will be that go-to receiver that Tebow needs to help him grow as a QB. 
26. New York Giants: Mark Barron, S, Alabama
Barron is one of those combination defenders that can defend the pass just as well he defends the run. The Giants have to take him at No. 26 and improve an already good defense. 
27. Houston Texans: Brandon Thompson, DT, Clemson
Houston has a good defense, but adding Thompson would make them an elite defense. They can add the run-stopper from Clemson at No. 27 and watch as teams fail to run on them next year. 
28. New England Patriots (via New Orleans Saints): Jared Crick, DE/DT, Nebraska
The Patriots did not have a pass rush this year, only sacking the quarterback 40 times. Crick can help in adding a great pass rush to a defense that ranked 31st last year. 
29. Baltimore Ravens: Peter Konz, C, Wisconsin
Baltimore needs a center, and Konz is the best one in the draft. It's a match made in heaven for the Ravens. 
30. San Francisco 49ers: Mike Adams, OT, Ohio State
The 49ers rushing offense struggled down the stretch this year. With Adams sitting there at No. 30, the 49ers will select the OT from Ohio State.
31. Green Bay Packers: Luke Kuechly, LB, Boston College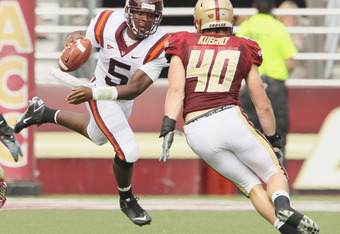 Elsa/Getty Images
The Packers need help in the passing game, and Kuechly certainly can come in and help in the coverage game in covering tight ends and running backs coming out of the backfield. 
32. New England Patriots: Fletcher Cox, DT, Mississippi State
New England is getting old in its defensive front line. Getting Cox with the last pick of the first round would help in getting the Patriots a young replacement.