NFL Draft 2012: The Top 50 Prospects in the Class
Christian Petersen/Getty Images

What an incredible mass of talent in the top 50 this year! It seems like many of these prospects were genetically engineered in labs.
Two quarterbacks sit at the top, and the Indianapolis Colts can't make a bad choice picking either one. Throughout the top 50 also sit many SEC players who dominated college football in recent years.
Here is the top 50, regardless of position, as they current stand.
Begin Slideshow

»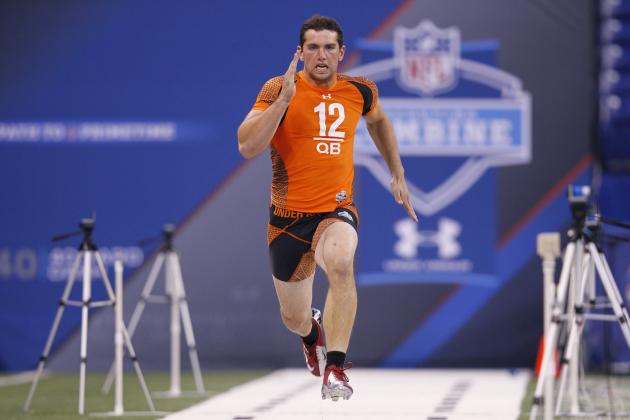 Joe Robbins/Getty Images

Even without weighing positional value, Andrew Luck is my top prospect. He looks like the closest thing we've seen to a can't miss prospect.
The fact that it's been a foregone conclusion that he'll be the No. 1 overall pick for nearly two years says it all.
However, if that's not enough, try his stats over the last two years: 71 percent of his passes were completed, 69 passing touchdowns, 18 interceptions and 6,855 passing yards.
Pretty good, huh?
Anyone who usurps Peyton Manning's spot on the Colts' roster definitely should be considered the best in his class.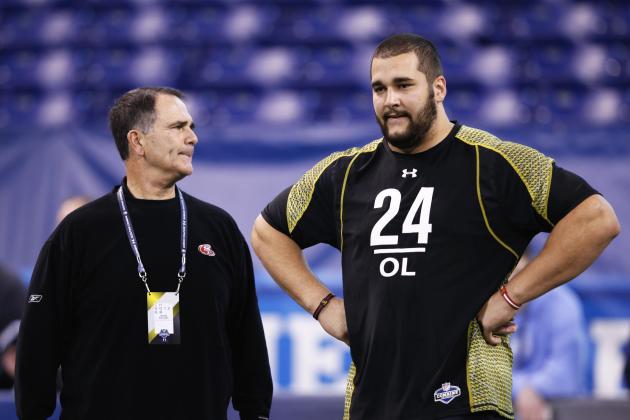 Joe Robbins/Getty Images

Matt Kalil is one of the best left tackle prospects to come along in a long time.
He's got ideal size: 6'7" tall, right at 300 lbs and with 34.5" arms.
He also had a great Combine. He showed good strength by putting up 30 reps on the bench and looked fantastic in the drills. He did everything well.
He also has NFL bloodlines. His brother, Ryan Kalil, has already been to several Pro Bowls as a center for the Panthers.
Everything you'd want in a left tackle you can find in Matt Kalil.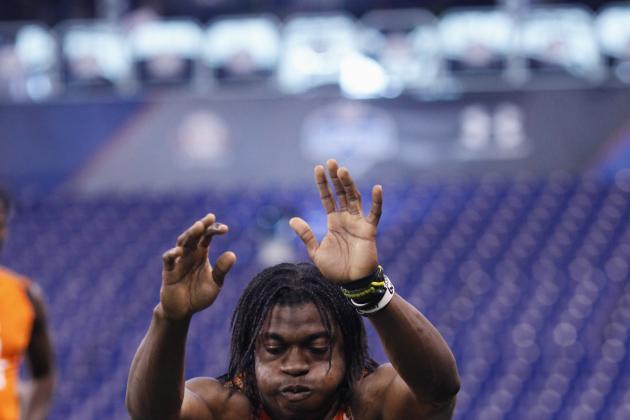 Joe Robbins/Getty Images

Everyone knows by now what kind of special player Robert Griffin III is.
He was just as electrifying to watch this season as Cam Newton was the season before, and he definitely deserved the Heisman Trophy.
He threw for 4,293 yards, 37 touchdowns and only six interceptions while completing over 72 percent of his passes. He also ran a 4.59 second 40 at the Combine.
Every one of those numbers is better than the ones Andrew Luck put up this season.
If nothing else, the Redskins seem to believe he's worth two first and one second-round picks; that's what they gave to the Browns to trade up to the No. 2 spot (which they obviously did to snag Griffin).
I'm excited to see how he'll perform in Washington.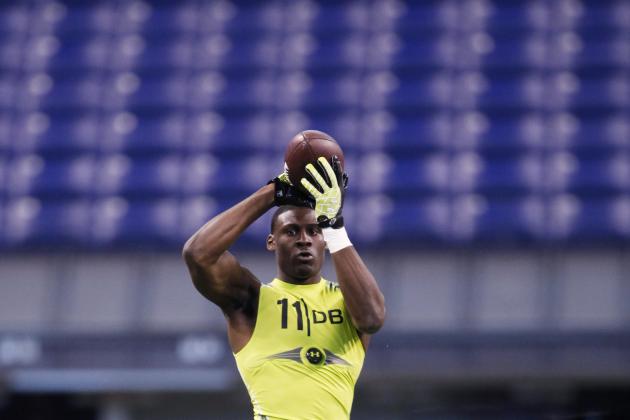 Joe Robbins/Getty Images

Morris Claiborne was superb all season long for LSU and looks like a shutdown corner.
Claiborne's Combine was very good but nothing spectacular. The same goes for his Pro Day. However, nothing came up badly either, so it didn't affect his stock.
He looked fluid in drills and looked very much like he knew exactly what he was doing.
His fantastic play all season long and the lack of red flags that have come up make him the fourth overall prospect.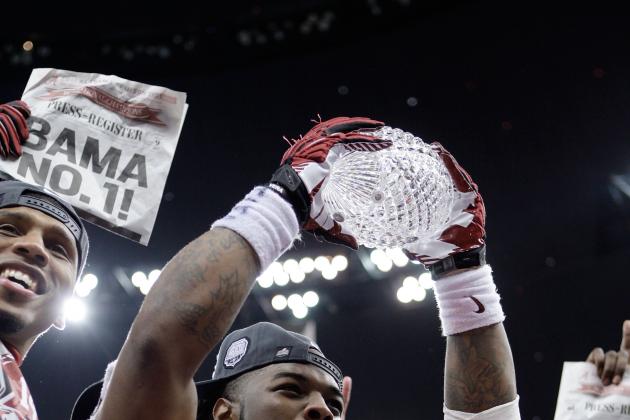 Andy Lyons/Getty Images

Positional value aside, Trent Richardson is without a doubt a top five player.
Everyone knows how powerful a runner he is (nearly half of his yardage came after initial contact), but he also has surprising quickness for a guy his size. He's definitely a three-down back.
I've heard some people say that he's the best running back prospect since Adrian Peterson. I don't know about that, but he's certainly a fantastic player.
Of course, in the actual draft, the declining value of running backs may make him slip outside of the top five or even the top 10 picks. He'll still go very early though.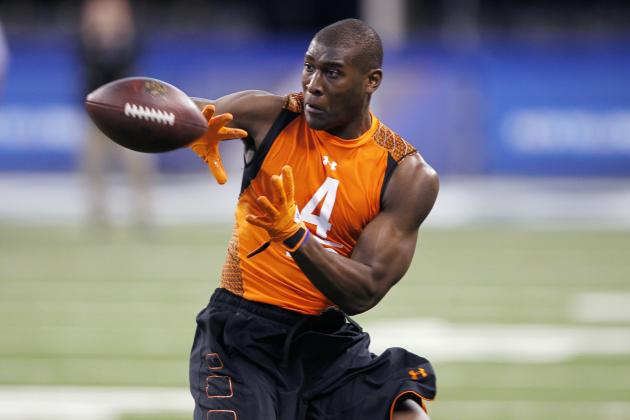 Joe Robbins/Getty Images

Justin Blackmon has been dominant all year for the Cowboys, and despite a somewhat weak showing at the Combine, he's still a fantastic player.
He had a great Pro Day though. Even though his 40-yard dash was only 4.46 seconds, anyone who saw his game tape knows how explosive he is on the football field, and he won't make it past the Rams.
After catching so many bullet passes from Brandon Weeden, there's no questioning how good his hands are either.
If you want a comparison, Blackmon isn't as good a prospect as A.J. Green was, but he's a far better prospect than Julio Jones was.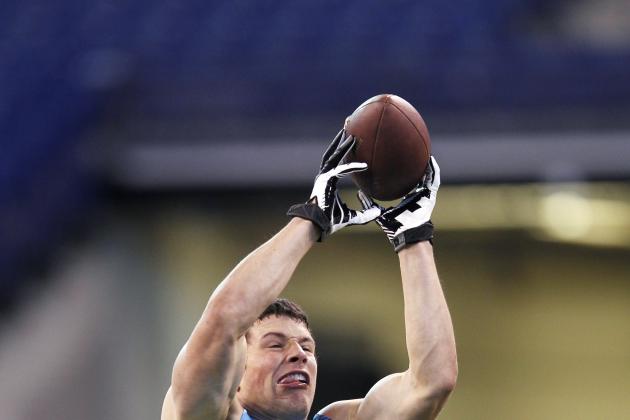 Joe Robbins/Getty Images

I thought Luke Kuechly was overrated until the Combine. All those records he broke in college were completely validated by his awesome measurables.
Kuechly ran a 4.5-second 40 and put up 27 reps on the bench. Both are very good for a linebacker.
Neither are jaw dropping, but they are much better than people expected out of Kuechly, and they have definitely raised his stock to about as high as it can get.
Whoever drafts him knows they'll be getting an all around great middle linebacker, and he may actually be one of the safest picks in this draft class.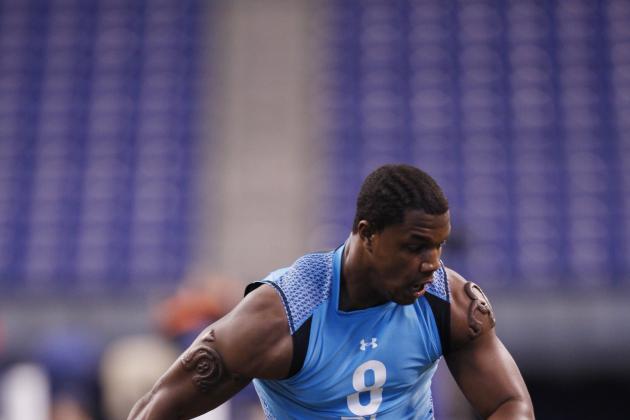 Joe Robbins/Getty Images

Quinton Coples looks like the second coming of Julius Peppers. However, there are questions about his motor, which will turn teams off.
But just looking at his physique and his ability you have to be impressed. He has prototypical 4-3 defensive end size and looked unstoppable at every outing since the season ended.
However, he underproduced in his last year at UNC, so people can't help but question how much he'll be willing to work once he has a big paycheck.
However, like I said, his once-in-a-decade physical talent puts him squarely in my top 10.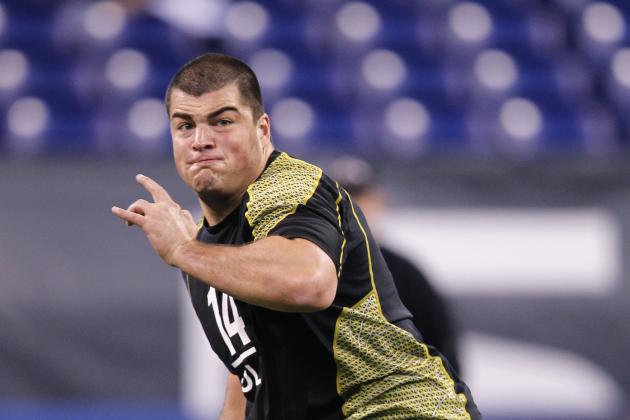 Joe Robbins/Getty Images

Like I said about Trent Richardson, I'm doing my best to ignore positional value, which is why David DeCastro comes in at No. 9.
DeCastro was described by Mike Mayock as the "third Pouncey brother" because of how talented he is as an interior lineman. In my eyes, he's better than either.
However, he is a guard, so he'll fall out of the top 10 when it's actually time to pick.
More teams could be interested than people initially thought though. Since he snapped the ball to Andrew Luck at Stanford's Pro Day, there's been some talk about his ability to also play center if that's what a team needed.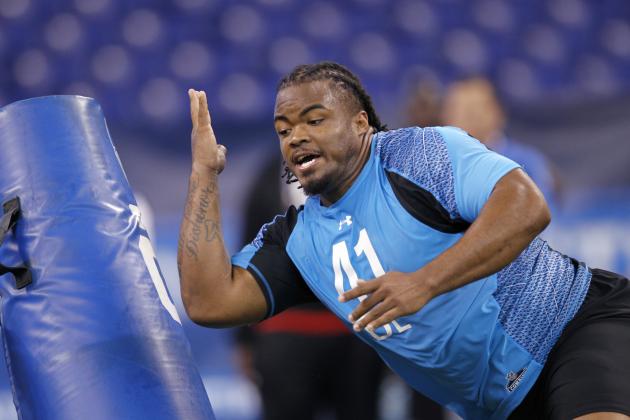 Joe Robbins/Getty Images

Billick says that there are questions about Dontari Poe's motor, which could hurt his stock, but he certainly has all the physical tools to be an absolute monster.
Poe was the star of the Combine when he turned in a fairly fast 4.87-second 40-yard dash and put up 44 reps on the bench. That's better than any other player at the Combine this year, by the way.
With his size, strength and speed, Poe has become the top ranked defensive tackle in this year's class, and with his ability to play nose tackle, he's even more desirable to 3-4 teams.
He'll be off the board very early.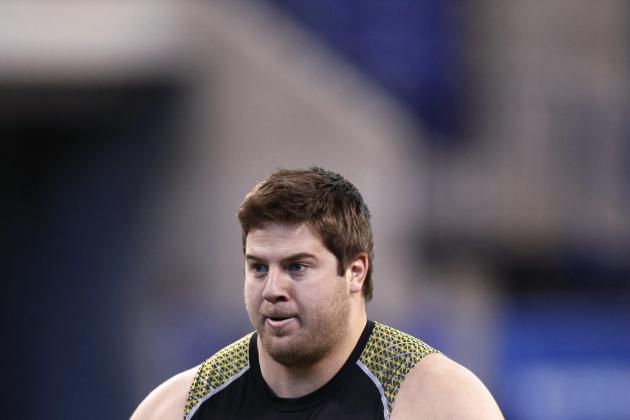 Joe Robbins/Getty Images

Riley Reiff had some disappointing measurements at the Combine (his arms only came in at 33.25"), but other than that, he's a stud tackle prospect.
I've heard comparisons between Reiff and another Iowa tackle: Bryan Bulaga. The more I think about it, the more sense it makes.
They both have about the same measurables and come from the same coach, so the similarities should be expected.
Bulaga is a great right tackle, so we can likely expect the same from Reiff. The real question is, can he play left tackle?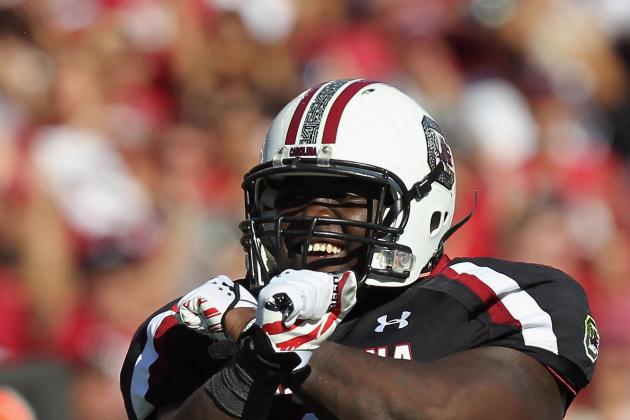 Streeter Lecka/Getty Images

Speaking of short arms, the next player up is Melvin Ingram.
Ingram is one of those guys who just blows you away with every single aspect of his game, except his size. Ingram is significantly shorter than most 4-3 teams would normally be comfortable with, measuring just under 6'2" tall.
To make matters worse, his arms are just 31.5" long. That's about as long as mine, and I'm 5'8" tall.
However, Ingram has great tape, a fantastic work ethic and had a great Combine. Because of this, some team picking near the top will overlook his measurements and draft him anyway. I can't help but think he won't disappoint.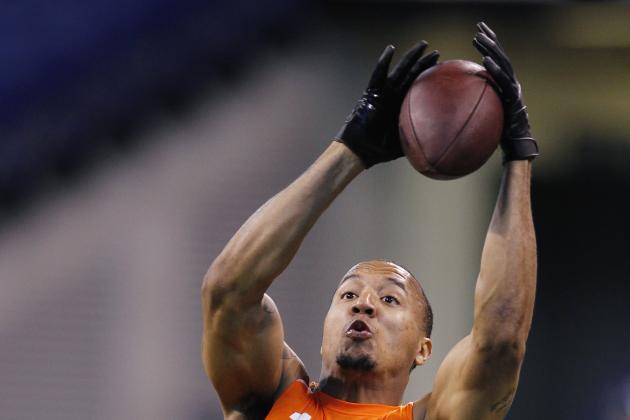 Joe Robbins/Getty Images

Michael Floyd has some character issues, but he is unquestionably talented. He's been a fantastic receiver for Notre Dame all season long and wrapped it up by having a great Combine as well.
He's now, by a pretty good margin, the second best receiver in what is shaping up to be a very deep class.
With his great combination of size (6'3" and 220 lbs), speed (4.47 40-yard dash) and great tape, Floyd will be off the board very early.
He's also stayed out of trouble since before the 2011 season started, so his character concerns are minor at worst.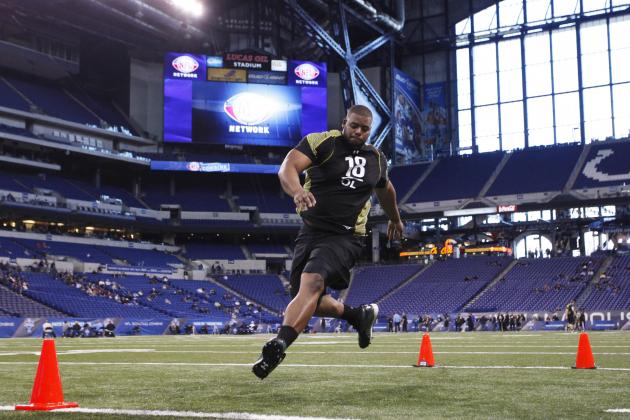 Joe Robbins/Getty Images

Cordy Glenn may want to play tackle in the NFL, which he isn't an ideal fit for. As a guard though, he's a top prospect.
Glenn's long arms (35.75) and imposing size (6'5" tall, 345 lbs) give him tremendous upside. He's also got quick feet but is still a little raw technically. Teams with experienced offensive line coaches will be salivating over Glenn's upside.
However, like I said, he may want to play tackle, which he isn't ideally suited for. He's got the height and the arms, but he lacks technique and would need to drop quite a bit of weight.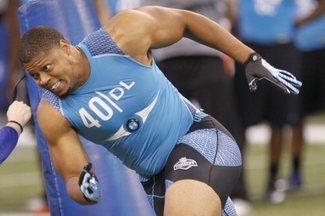 Nick Perry had good production in college but didn't take anyone's breath away. He saved that for the Combine.
To sum it up, I'll just show you the results: 35 reps on the bench, 38.5" vertical jump, 10'4" broad jump and a 4.5-second 40-yard dash.
To compare him to other defensive linemen, I'll tell you how he placed in each of those events, in order: third, first, first and second among defensive linemen.
He also added 20 lbs on top of his listed weight by the time of the Combine, making him the perfect size for a 4-3 defensive end.
Perry is a stud. That's all there is to say.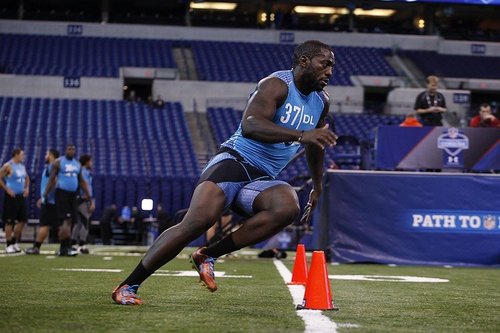 No, this isn't a typo; I have Nick Perry and Whitney Mercilus tied as the 15th best prospect.
The problem in comparing the two is that they both look great, just in different ways. Perry had a very good season, but Mercilus had a fantastic season (16 sacks, 22 tackles for loss, and nine forced fumbles). Where Mercilus had a very good Combine, Perry had a fantastic Combine.
With the two, you're essentially choosing between athleticism and on-field performance. They're both great, but I can't really pick one over the other.
If it helps, Mercilus is 10 lbs lighter and would be a better fit as a 3-4 rush linebacker than Perry.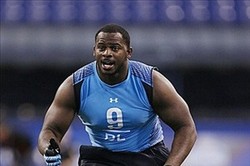 Fletcher Cox has been a top ranked prospect all season, and he put any remaining doubts to rest by having a dominant Combine performance.
Cox put up 30 reps on the bench and ran a 4.79 40-yard dash, which is very good for a prospect of his size. He also looked great in the drills.
Cox is a high motor player that a lot of teams will like in interviews. Add that to his already impressive senior season resume and you have a top defensive tackle prospect.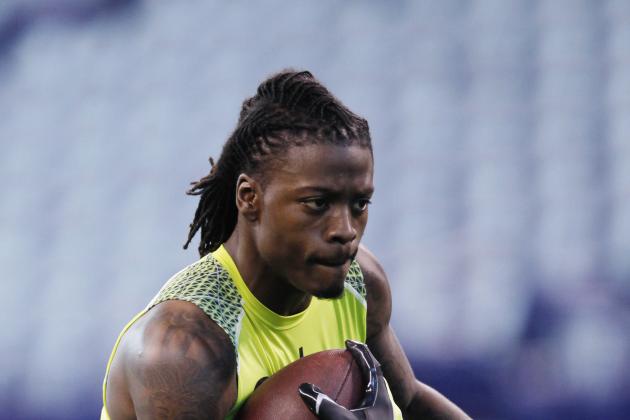 Joe Robbins/Getty Images

Dre Kirkpatrick didn't do much at the Combine, but with his long frame and quick feet, he's still the No. 2 corner in my book.
He had a minor run-in with the law just after the national championship, but it was a simple possession charge for marijuana, and I don't see many GMs overlooking his obvious talent over a small amount of a drug that's barely illegal in some states.
Kirkpatrick didn't see too many throws go his way this season, even when he had to cover top notch receivers like Tennessee's Da'Rick Rodgers, who he contained handily.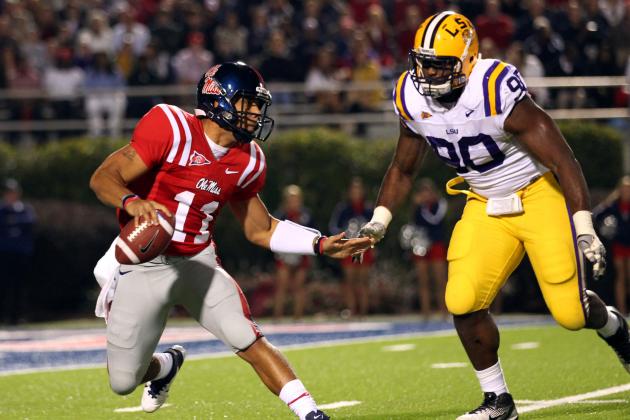 Joe Murphy/Getty Images

I think Michael Brockers is a little overrated. I hate to put too much stock into his Combine, but he was surprisingly weak, only managing 19 reps on the bench.
That said, Brockers does have tremendous upside. He switched to defensive tackle from linebacker and managed to do a great job, even though he gained something like 60 lbs to play.
The idea behind Brockers' higher ranking on most big boards is that he hasn't reached his full potential, and when he does, will be unblockable.
He hasn't yet maxed out his frame, so it wouldn't shock me to see him put on another 10 lbs of muscle or so, which would help his strength. Until then, I don't want to put him any higher than this.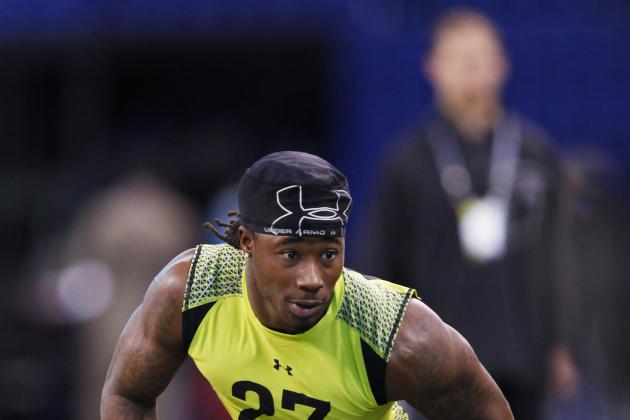 Joe Robbins/Getty Images

Janoris Jenkins is a great player, and no one disputes that. The problem is his questionable decision-making and maturity. Jenkins has been arrested multiple times and has four children, which doesn't reflect well on him.
That said, he is without a doubt the third-best cornerback in the class and is a dangerous kick/punt returner to boot.
He's going to fall a little further because of his character concerns, which means that the team that drafts him will be getting a ton of talent for a low pick. They'll also be taking a big risk if Jenkins gets arrested again.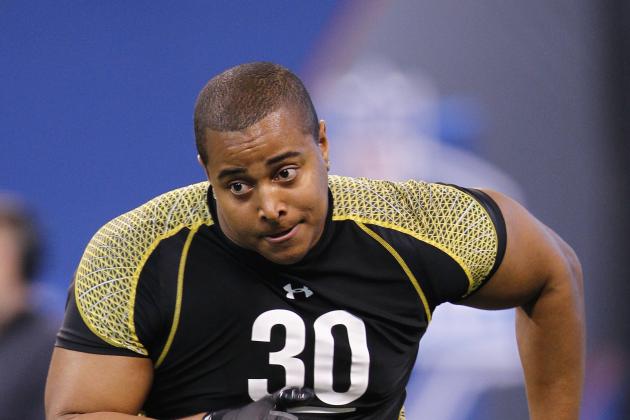 Joe Robbins/Getty Images

Protecting Andrew Luck's blind side will get you noticed, especially if you do a pretty good job of it.
Jonathan Martin is a great run-blocker and a pretty good pass-blocker. Still, he needs to improve his pass-blocking and would benefit most from starting at right tackle and moving over to the left side later on.
He's an all-around great player, and coming from Stanford, you know he's probably a high-intelligence, high-character guy as well. He'll be a good left tackle one day; that day will just be a little ways in the future.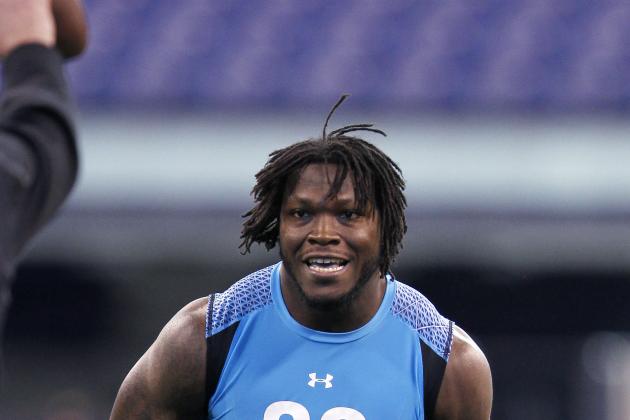 Joe Robbins/Getty Images

Courtney Upshaw had an awful Combine. He worked out with the linebackers and showed that he is definitely not a linebacker. He is a defensive end.
He was also a lot weaker than expected, only getting 22 reps on the bench, which isn't a lot for a guy weighing in at 270 lbs. He also looked bad in interviews.
However, he has nothing but great tape from his senior season, and he looked unstoppable for most of the Senior Bowl, so his good outweighs his bad.
Some GMs have short memories, so they may forget how highly touted he was before the Combine and let him slide.
Still, there's no way he falls out of the first round.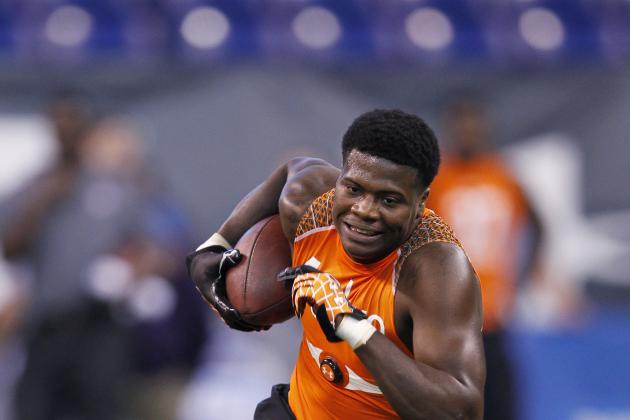 Joe Robbins/Getty Images

Even though his playing speed seems great, running so slowly at the Combine hurt his stock. He ran much better at his Pro Day, but the fact that he ran so slow, even once, will make teams a little hesitant.
Wright had a great season, but Robert Griffin III had a lot to do with that, so it's tough to objectively evaluate Wright by himself.
His tape is great, and he has great burst once he gets the ball in his hands. He's also used to catching the ball downfield, since Griffin liked to air it out a lot.
He's still the third-best receiver in the class.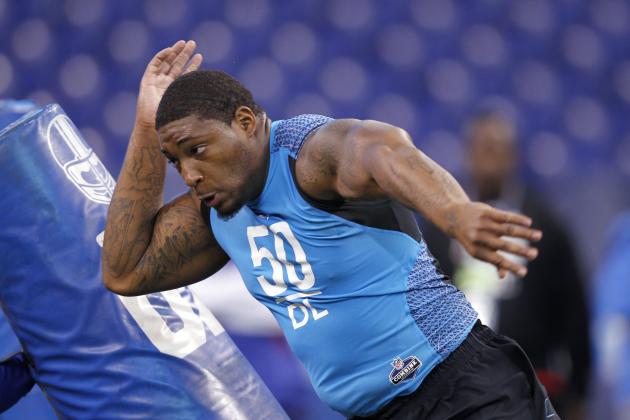 Joe Robbins/Getty Images

Devon Still is another one of the many great defensive tackles in the 2012 class. His problem, though, is inconsistency.
At times, Still looks like a top 10 talent, but he seems to take a lot of plays off, at which point he looks like a third-rounder. In that way, he kind of looks like a poor man's Nick Fairley.
However, if a team likes him in interviews, they definitely won't hesitate to grab him. He has a ton of talent, the problem is just motivating him enough to make him use it on every play.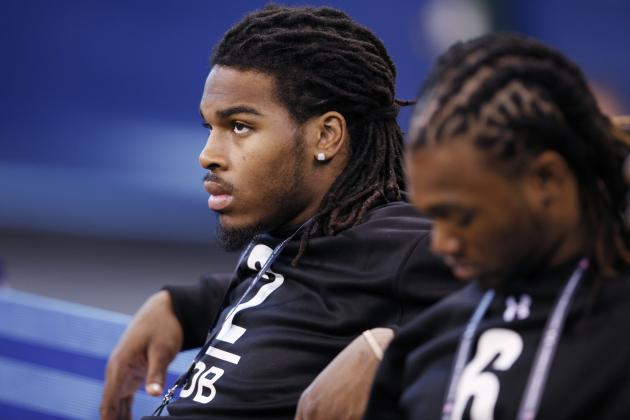 Joe Robbins/Getty Images

Mark Barron is the best safety in the class by a pretty wide margin. However, in this weak safety class, that doesn't mean much.
For some reason, Barron started rising on draft boards about a month ago. This is strange, since he didn't participate in the Combine.
Like other Alabama prospects, he may have simply chosen not to because he was already a surefire top selection without anyone else really threatening him (the next best safety is Harrison Smith, whom I have at No. 46).
His tape is good, but not knowing how strong or fast he is makes me hesitate to put him any higher.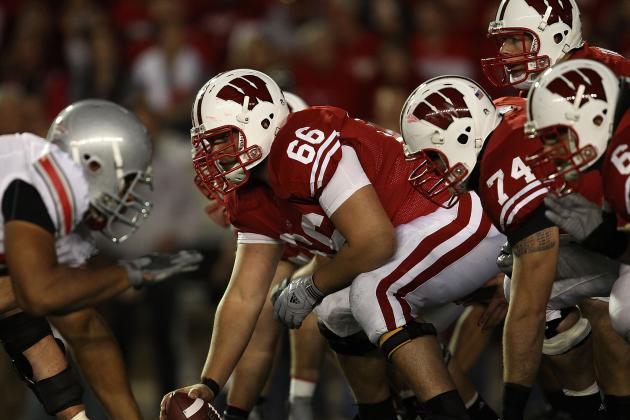 Jonathan Daniel/Getty Images

Like the safety class, this year's center class is pretty weak, but Peter Konz, the best center prospect in the class, is still a definite first-rounder.
Konz would be higher, but he turned in a very disappointing bench press total of 19 at the Combine. That's really weak for a center, who is mostly going to be taking on defensive tackles at the NFL level. They tend to be the strongest players on the field.
Lacking strength is a recipe for disaster at interior offensive line, but that can be fixed on an NFL workout routine.
Konz looks great in every other aspect of the game; he just needs to get stronger.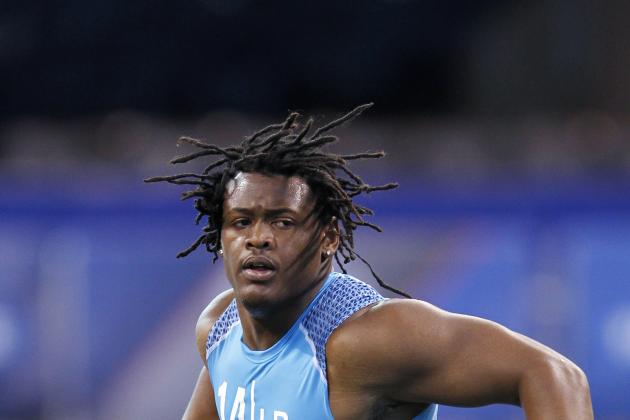 Joe Robbins/Getty Images

Dont'a Hightower is one of the many great defensive players coming out of Alabama this season, but you know that already.
He's big, powerful and a proven commodity on the field. He doesn't have fantastic speed, but for a linebacker tipping the scales at 260 lbs, he's got very good speed.
I don't see him falling out of the first round. If he does, he's a steal for the team that gets him.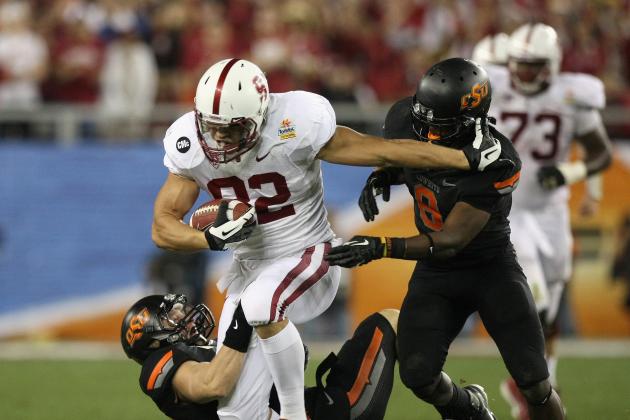 Donald Miralle/Getty Images

Coby Fleener really separated himself from the other tight end prospects with his measurements. When he measured in at 6'6" tall and 247 lbs, he caught some people's attention.
He has since added to that by showing a lot of athleticism in the Combine. He was fast in the drills, and he was strong (27 reps on the bench). He didn't run, but he put up a 4.45-second 40 at his Pro Day, so that's not an issue.
He's a big target with great hands, good strength and good speed. Everything you'd want in a tight end.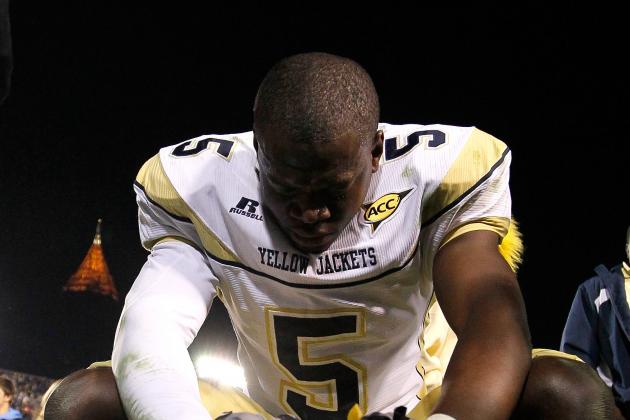 Kevin C. Cox/Getty Images

Stephen Hill didn't do much this season, but he blew the Combine away, beating all other wide receivers in several categories.
He notched a 4.36-second 40 and an 11'1" broad jump, both were first among wide receivers. He also had a very good 39.5" vertical leap.
Despite his phenomenal athleticism, he didn't produce much in his last season at Georgia Tech; it was probably because their triple option offense underutilized him. He also looked raw in his route running at the Combine, although he did much better at his Pro Day.
Essentially, Hill has ridiculous upside but needs refining.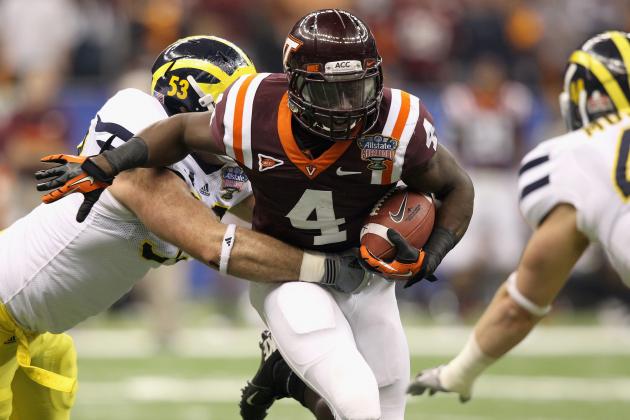 Matthew Stockman/Getty Images

Up until the Combine, I thought David Wilson was overrated. He dominated the Combine in both the drills and the athletic events.
He had a 40 time of 4.4 seconds, a vertical jump of 41" and a broad jump of 11' even. That is pretty darn impressive. He was also great in the passing drills, which is important as the league becomes even more pass oriented.
He also had a good weigh-in. He stood 5'10" tall and weighed 210 lbs. That's right at the ideal size for a three-down back in the NFL.
Wilson is a great prospect and might sneak into the first round.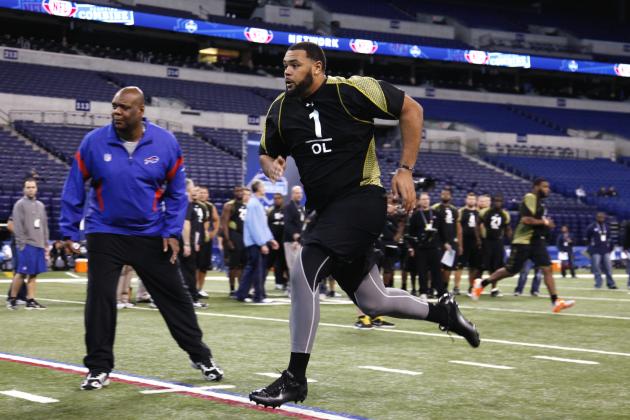 Joe Robbins/Getty Images

I'm not sure what to make of Mike Adams; he had a fantastic showing in the Senior Bowl but a poor Combine and a mediocre season.
He has all the attributes of a left tackle on paper: long arms, good size and quick feet. However, as one of the Ohio State players involved in the tattoo scandal, he has some character concerns, and his weak bench press total (19 reps) is concerning.
He's far from perfect, but he clearly has a lot of talent. The team that selects him will just need to be aware of the dangers.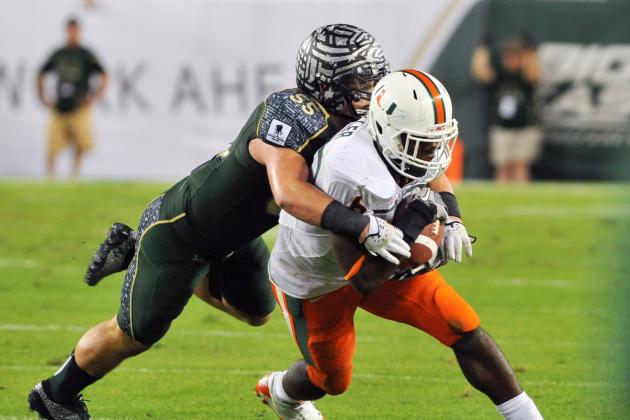 Al Messerschmidt/Getty Images

It's really hard to put Lamar Miller much further behind David Wilson, since the two are so close in talent level.
Lamar Miller also had a great Combine, posting an even better 40 time than Wilson (4.37 seconds). He was slightly worse in the other categories though: his vertical jump was only 33", and his hands were ever so slightly smaller. He was good in the passing drills but not as good as Wilson.
Miller is the bigger back though, measuring in at 5'11" and weighing 212 lbs. For some teams, he might be better than Wilson because of his slightly better straight line speed and size, but I've got him as the No. 3 back for now.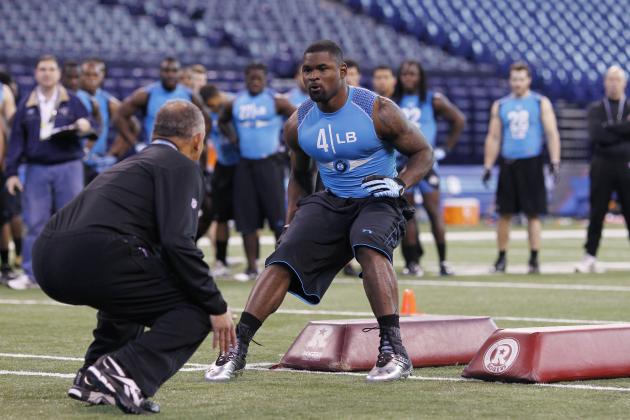 Joe Robbins/Getty Images

Zach Brown is a speed freak. This has been known all season, but the Combine confirmed it. Brown's 40 time was 4.44 seconds, the second fastest among linebackers.
He did this despite increasing his weight to 241 lbs, which happens to be just about perfect for a 4-3 outside linebacker.
Brown is undoubtedly a great player; he had solid production all year and is the top ranked 4-3 outside linebacker. However, he supposedly has some maturity concerns which teams will not like, so that'll make him slide into the second round.
Great player though, and if teams like him enough in interviews, he could go higher.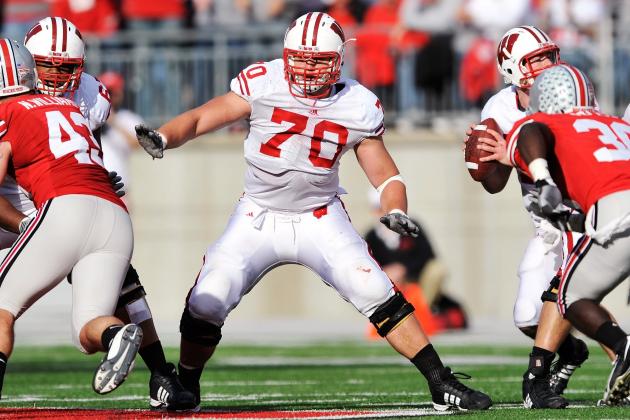 Jamie Sabau/Getty Images

Kevin Zeitler is a more polished blocker than Cordy Glenn but doesn't have the immense upside that Glenn does, so he's the third ranked guard in this class.
Zeitler comes from the same school that produced Peter Konz this season, Gabe Carimi last season and Joe Thomas a few seasons ago. I don't know what it is about Wisconsin, but they produce quality linemen.
Zeitler, to me, looks like a lesser version of David DeCastro. He's a powerful run-blocker, he has good size and technique and he'll be a plug-and-play selection. I think that puts him ahead of Kelechi Osemele for the time being.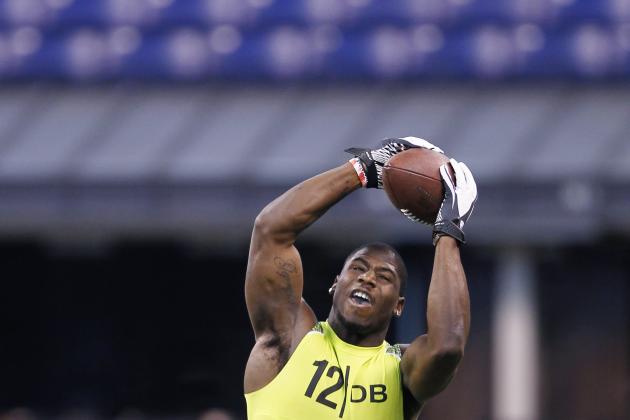 Joe Robbins/Getty Images

If you think this is too high for Alfonzo Dennard, just remember that until a few weeks ago, he was a definite first-rounder. He fell after he looked stiff in the Senior Bowl and suffered a hip injury.
He looked a little better in the Combine, but his hip is clearly giving him problems. If he heals all the way and gets back to his regular season shape, then he would be about 10 spots higher on this list.
Even if he doesn't get back to 100 percent, he's still better than most of the other corners in the class. He had a pretty good showing at the Combine, and if he did that with his injury still bothering him, then his upside is pretty high.
It could be a risky pick, but the payoff could be huge.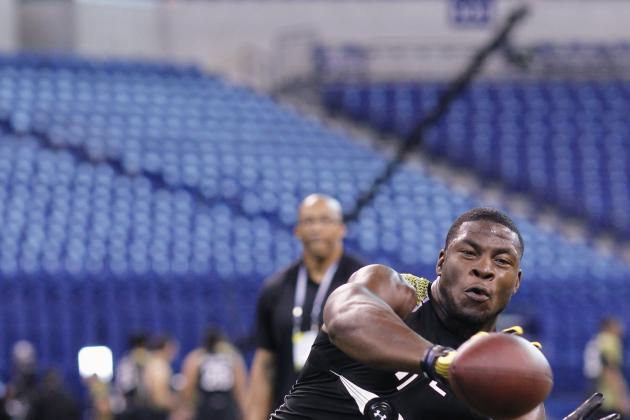 Joe Robbins/Getty Images

Dwayne Allen's stock fell a little at the Combine, but he's still a fantastic tight end. He showed off his strength as a blocking tight end by getting 27 reps on the bench (he tied with Fleener for second) and looked good in the passing drills.
The only thing keeping Allen from being the top tight end in the class is his size. He's not small, but he is three inches shorter than Fleener with slightly shorter arms and smaller hands.
However, like I said before, that's what's keeping him from being an elite tight end prospect. He still catches well, blocks very well and has a fantastic work ethic.
He'll make any coach that picks him up very happy.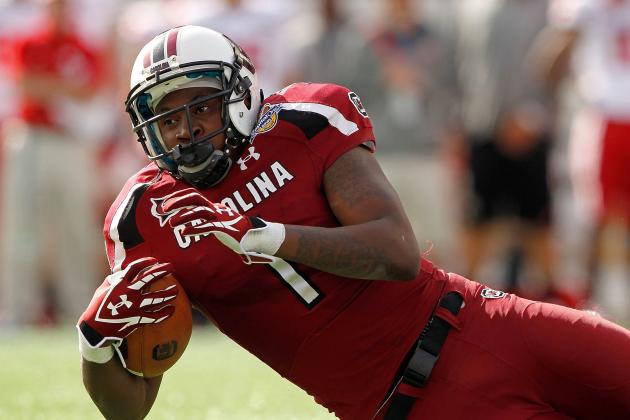 Mike Ehrmann/Getty Images

Remember when Alshon Jeffery was considered the best wide receiver in his class? Yeah, me too.
Since then, he's fallen off a bit, but he hasn't had a complete downward spiral. He's still a great receiver.
Jeffery was underutilized this season, but to say there was a quarterback controversy this season in South Carolina would be an understatement. Jeffery's lack of production was not entirely his fault.
He has reliable hands, and even though he's didn't develop as well as everyone thought he would at this time last year, he's a great all-around receiver.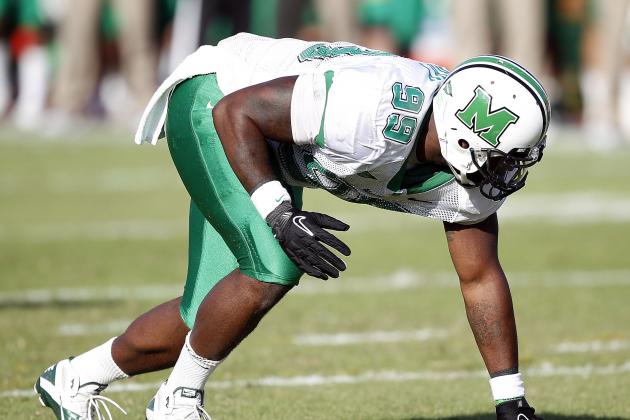 Bob Levey/Getty Images

Vinny Curry had a very concerning 40 time at the Combine, which is too bad because he had a lot of momentum after the Senior Bowl, where he won quite a few matchups against top linemen from the big schools.
Unfortunately for him, his slow 40 drops him back to the top of the second round.
Curry had a ton of production in his last two years as a starter for the Thundering Herd, getting 40 tackles for loss and 23 sacks. He is a natural rush linebacker prospect but has the frame to add weight to fit into a 4-3 system as a defensive end if needed.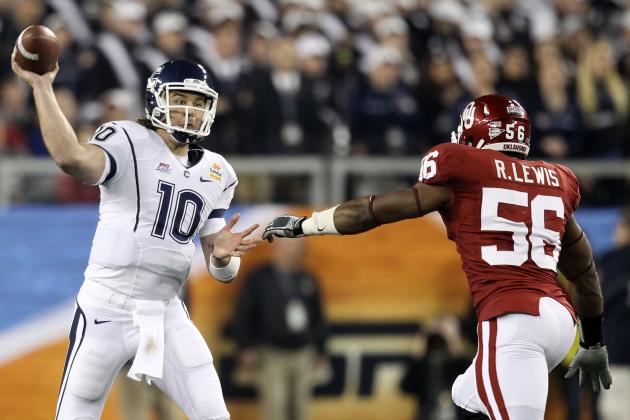 Christian Petersen/Getty Images

Ronnell Lewis really shined this year for Oklahoma. He only got 5.5 sacks, but he hurried the quarterback four more times, broke up four passes, had 13 tackles for loss and 60 tackles total. Not too shabby.
He then showed tremendous strength at the Combine by getting 36 reps on the bench (tied for second among defensive linemen). His performance in the rest of the drills was pretty good too.
Lewis is a natural 3-4 rush linebacker, but if drafted by a 4-3 team, he could probably drop a little weight to play outside linebacker or add weight and play defensive end. However, with all the teams switching to the 3-4, I think that's where he'll end up playing.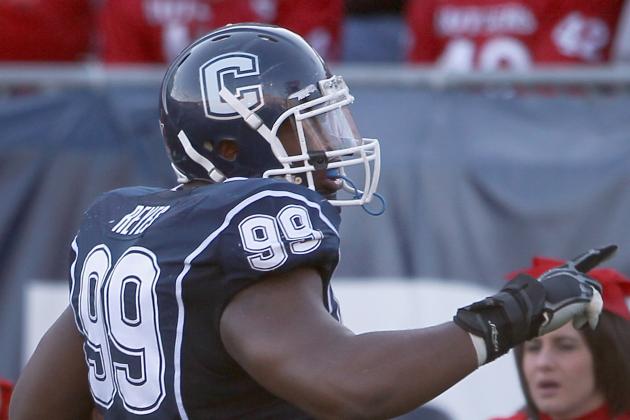 Elsa/Getty Images

Kendall Reyes has been surging up draft boards ever since the Senior Bowl. In the game itself, he was not particularly dominant, but in the week leading up to the game, he caused problems for every offensive lineman he was up against.
He then carried that momentum into the Combine, where he impressed again. He put up 36 reps on the bench, had a 34.5" vertical jump and had a solid 40 time of 4.79 seconds. Not bad for a 299-pounder.
Reyes is a great fit in either a 3-4 or a 4-3 defense and could flourish in either scheme.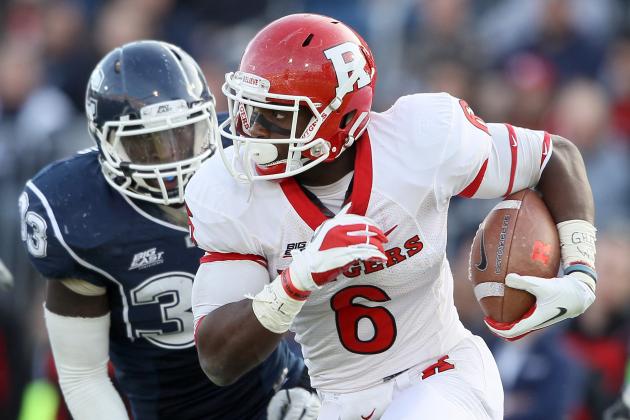 Elsa/Getty Images

Mohamed Sanu's problem is that he's kind of slow, but he could still be a fantastic possession receiver in the NFL.
Sanu has been a consistent playmaker for Rutgers and plays with better speed than his 4.67 40 time shows. He's also got a pretty big body (216 lbs) and very big, reliable hands over 10 inches across.
No, his speed isn't great, but it's probably the only thing keeping him from being a No. 1 receiver prospect.
However, with his sure hands, good size and history of production, he'd make a very good No. 2 receiver.
Joe Robbins/Getty Images

Andre Branch looked like a prototypical defensive end until the Combine. Showing up at under 260 lbs makes him look like a better fit as a rush linebacker in a 3-4 scheme.
Branch saw constant double teams in college but still managed to get consistent pressure on opposing quarterbacks and was part of what was, until the Orange Bowl, a very good Clemson defense.
He showed good speed with a 4.62-second 40-yard dash and good explosiveness with a 10' broad jump at the Combine. He didn't participate in the bench press, but his good tape seems to show that his strength isn't a concern.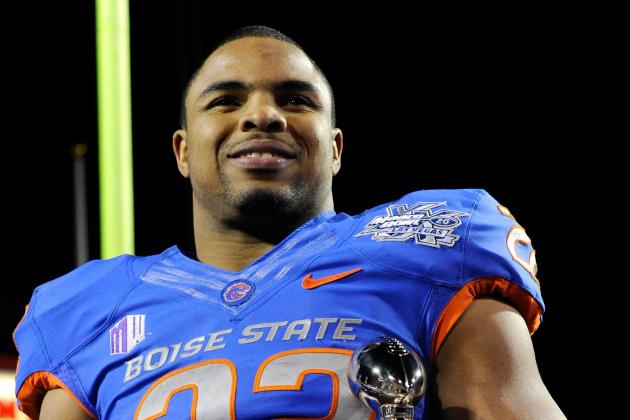 Ethan Miller/Getty Images

Doug Martin is a workout warrior. He showed up to the Combine a lot heavier than everyone thought he would at 223 lbs. It proved to be good weight as he got 28 reps on the bench (best among running backs) and a 10' broad jump.
The added weight didn't hurt his 40 time either. He achieved a very good 4.47-second run.
With his low center of gravity and powerful running style, many scouts will have him higher on their big boards than either Lamar Miller or David Wilson, but for me, he's a solid No. 4.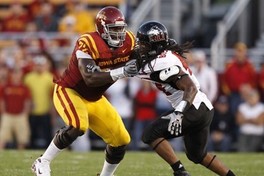 Kelechi Osemele looks a lot like a poor man's Cordy Glenn: fantastic measurements, good speed, great power but not very polished.
He had the longest arms at the Combine (35" long), which is always great in an offensive lineman. Even with those long arms, he managed to put up 32 reps on the bench, showing his great upper body strength.
He's not a technician though, and the shift from tackle, where he played in college, to guard might take a little time and patience.
With his long arms and great strength, his upside is tremendous.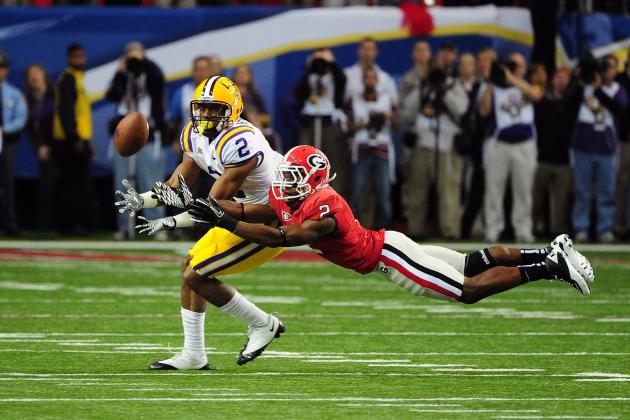 Scott Cunningham/Getty Images

Rueben Randle was LSU's best receiver the whole season, and even with subpar quarterback play, he managed to get some pretty good production.
He also had a great looking Pro Day, where he looked fast, athletic and aggressive. Randle is a sleeper prospect who has a chance, because of his better speed, to eventually develop into a No. 1 target.
I see him more as a talented No. 2, but his upside is a little better than comparable prospects like Juron Criner or Mohamed Sanu.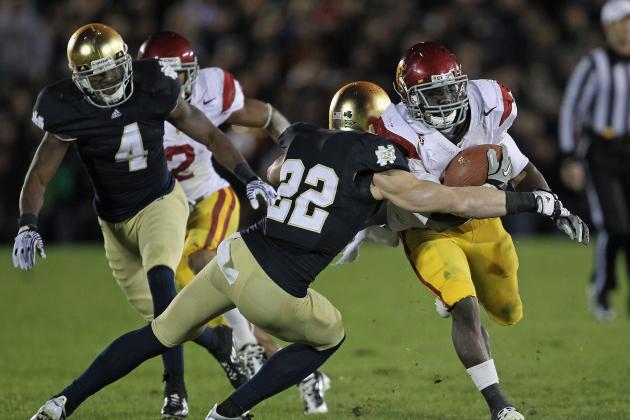 Jonathan Daniel/Getty Images

Harrison Smith was the biggest standout among safeties at the Combine, since Barron didn't work out, and he's secured his spot as the No. 2 safety in this class.
Like I said, the safety class is weak, and after Smith, there is a big drop-off in talent, but Smith is still worth a mid to early second-round pick.
At the Combine, Smith ran a 4.56-second 40-yard dash, had 19 reps on the bench and had a 10'2" broad jump.
He also looked fantastic in the drills. A team needing a starting strong safety will probably need to pick him sooner rather than later because of the lack of depth in the class.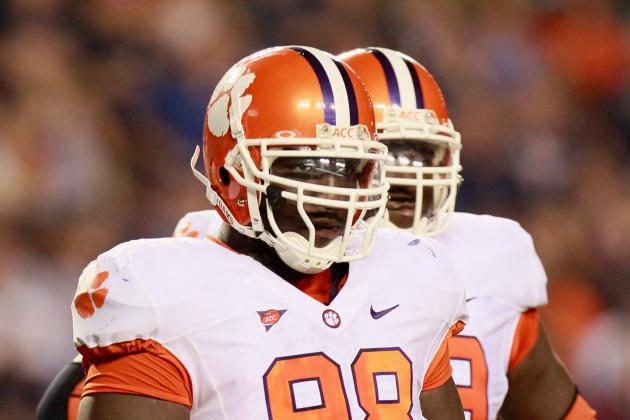 Kevin C. Cox/Getty Images

After their embarrassing loss to West Virginia, I feel strange putting any Clemson defender this high, much less two, but I can't really justify putting Brandon Thompson any lower.
At Clemson, he was constantly collapsing the pocket, despite getting double teamed regularly. At the Combine, he didn't run, but he got a respectable 30 reps on the bench press, so his strength is good.
He can't get to the quarterback much, but he'll be a great run-stuffing nose tackle in a 4-3 defense. He won't be a great fit at either the nose tackle or defensive end in a 3-4, so he'll get picked up by a 4-3 team.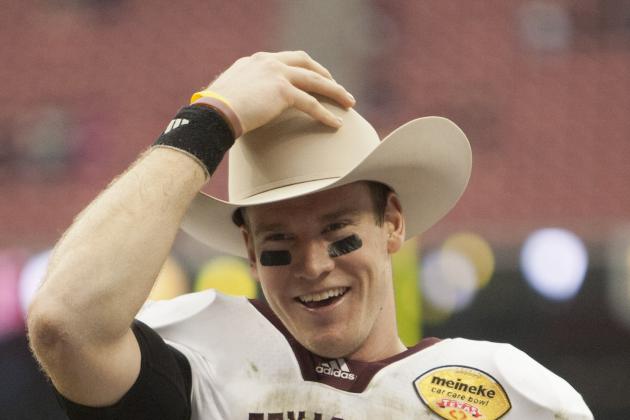 Bob Levey/Getty Images

I've seen Ryan Tannehill mocked as high as No. 4 to the Browns now, which is completely ridiculous. Unless he really shines at his Pro Day, he shouldn't be picked in the first round.
He will though.
That said, he broke his foot early in the offseason, so he hasn't had a chance to show off outside of his production in the regular season.
Since he played wide receiver for the first half of his career, he's got a lot of speed and has a lot of room to grow as a quarterback with good coaching. It's this potential upside that teams will be drawn to.
Like Christian Ponder and Blaine Gabbert, he's a second-rounder who will be bumped up to the first round because of the demand for quarterbacks.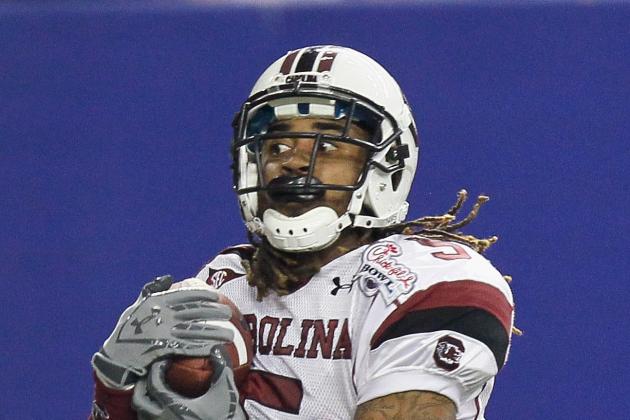 Kevin C. Cox/Getty Images

I personally think Casey Hayward is the fifth-best corner in the class, but I'm giving way to popular opinion here and putting Stephon Gilmore ahead of him on my big board.
Gilmore has gotten a lot of attention lately from scouts. Mike Mayock even has him ranked above Dre Kirkpatrick and Janoris Jenkins on his big board, second only to Morris Claiborne among corners.
However, I don't see it. He's a great corner, but he was inconsistent on the field, and nothing that I've seen in the offseason has really changed my mind much.
However, like I said, I'm in the minority, so I've put him at No. 49.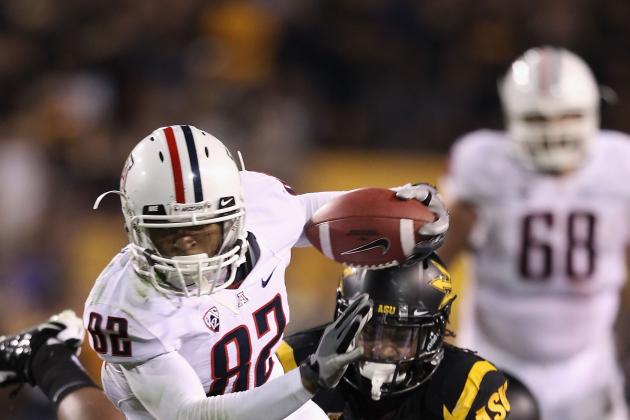 Christian Petersen/Getty Images

Juron Criner's good size and big hands will get him drafted pretty early. However, like Mohamed Sanu, Criner leaves much to be desired as far as speed is concerned.
Criner ran a 4.68-second 40 at the Combine, which is very slow for a wide receiver.
However, like Sanu, his big body (224 lbs) and reliable hands will make him an excellent possession receiver for a team that's looking to add a 5-10 yard threat.