Joker Phillips' 2012 Kentucky Wildcats: Staying the Course
January 12, 2012

Andy Lyons/Getty Images
While Coach Calipari and the Kentucky Wildcats head towards what will most likely be another Final Four season, some of us—especially those who love college football—are more than a little concerned with next season's football team.  
AD Mitch Barnhart has said he is confident in Joker Phillips' ability to turn the program around.  What he may not realize is that it's already been accomplished—Joker Phillips' 2011 Wildcats were the first Kentucky football team to not go to a bowl game in six years.
I've made my feelings known along with many others, but Joker is still who Kentucky football is going with for the 2012 season. It's time to look ahead and see what weapons the Wildcats will have in their attempt to make myself and many others eat crow.  
The following list will mostly deal with current players; true freshmen will get a more in-depth look at their possible impact after National Signing Day.
Quarterback
Despite everyone's excitement over Mr. Kentucky Football Patrick Towles, the emergence of Maxwell Smith mid-way through the season was one of the few bright spots of 2011.  Morgan Newton may be physically gifted, but his terrible accuracy, poor decision making and inability to lead the team probably means that any QB competition in the spring will simply be a formality.  
Smith had better footwork, much better precision and seemed to be more liked and respected by his teammates. Bookie Cobbins is gifted enough to make things interesting, but Smith's game experience and spurts of success make him the likely choice to start the season under center.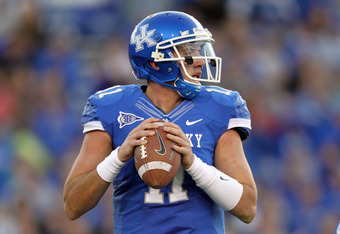 Andy Lyons/Getty Images
Running Back
If he comes back completely healthy from his injury, Josh Clemons should have a standout sophomore season.  Add in the emergence of CoShik Williams—which helps offset the inconsistent play of Raymond Sanders—and the running back position looks surprisingly strong.
Fullback
If Darrell Warren can stay healthy, things should be fine.  If he doesn't, expect a lot of single back sets.
Wide Receiver
Randall Cobb's departure for the NFL and its impact on the team became glaringly obvious during the first few weeks of the season.  Fortunately, the group seemed to get better as the year went on, since they couldn't possibly get any worse.  
Next year's unit brings back veterans LaRod King and Gene McCaskill along with a stable of young but slightly more experienced receivers. Redshirt freshman Daryl Collins missed all of last year due to an injury and was expected to contribute at slot receiver—having him healthy should help things.
Andy Lyons/Getty Images
The only major loss—besides the annual disappointment that is Aaron Boyd—is Matt Roark.  Despite a horrendous beginning of the season, he became a big time playmaker down the stretch.  Someone else will need to step up now and catch passes on third down—or play QB against Tennessee and run the option 75 times.
 Offensive Line
After being told all summer that the O-line was the strength of the team, it actually turned into one of its greatest liabilities.  Part of this was due to constant injuries, but it's still bit of a mystery how such a veteran unit could play so badly.  
Maxwell Smith's willingness to stand in the pocket and take a hit—something Morgan Newton often wouldn't do—should give some situational help, but the Cats have to hope that a younger unit anchored by a few seniors (Larry Warford, Matt Smith, and Trevino Woods) can somehow perform better than last year.
At tight end, senior walk-on Nick Melillo was a pleasant surprise, but it will now be up to Tyler Robinson to make the big plays.
Defensive Line
This unit will have to improve if the Cats hope to stand up to an even tougher SEC schedule next year. Mister Cobble (who has the greatest name in all of football) and Donte Rumph will be back to anchor the middle while seniors Taylor Windham and Collins Ukwu will most likely start on the ends.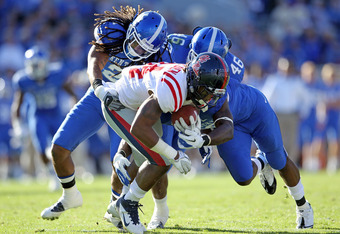 Andy Lyons/Getty Images
This unit has depth, but it doesn't have anyone who was lighting the world on fire in 2011.  Hopefully, a year of experience in defensive coordinator Rick Minter's system will return better results.
Linebackers
Can you imagine how bad things would have been without Danny Trevathan?  
Well, imagine no more, because along with Winston Guy and Ronnie Sneed, the strongest part of Kentucky's team has graduated. I'm hoping and praying that Avery Williamson, Ridge Wilson or one of the many freshmen from last year show us something in spring ball, but until then, things look pretty grim.
Secondary
This group had three seniors who graduated as well (Anthony Mosley, Randall Burden, and Taiedo Smith), but the difference here is that the unit wasn't very good.  A slew of freshmen and sophomores from last year led by Martavius Neloms and Cartier Rice will hopefully show better production after a year in Rick Minter's system.
Special Teams
Extra points aren't nearly as exciting anymore thanks to Craig McIntosh's solid kicking.  Kentucky has yet to find an explosive kick returner like they had in Randall Cobb, but those would be huge shoes to fill for any SEC team.  Still, it would be nice to have someone emerge that gave the Cats a chance at an instant score or better field position.
And speaking of field position, punter Ryan Tydlacka graduated.  True freshmen Landon Foster—who had offers from Vanderbilt and Tennessee—will hopefully be able to come in and take over the job immediately.