Fantasy Basketball: How GSW Stephen Curry's Injury Affects Your Team
January 12, 2012

Ezra Shaw/Getty Images
The Golden State Warriors clearly have a major dilemma on their hands. It has been reported by the San Francisco Chronicle that Warriors point guard Stephen Curry is out indefinitely and might miss a significant number of games in the foreseeable future. He hasn't played since spraining his right ankle on January 4th against the San Antonio Spurs. It was the seventh time in the past 15 months that he has tweaked that very same right tire of his.
As a result, the Warriors are remaining cautious and are not rushing him to return to action until they further investigate the severity of his latest setback. It appears that this most recent injury may affect a different portion of the foot than was repaired last May.
This has left the Warriors with a considerable void, as the third-year pro is widely considered to be a point guard on the rise within the Western Conference. While his absence hurts Golden State (3-6) tremendously as they scramble to remain relevant in the Pacific Division, Curry's injury might actually harm NBA fantasy owners even more.
The NBA is stacked with a plethora of exciting young point guards with the ability to both score and distribute at an equally high level. Derrick Rose, Chris Paul, Deron Williams, Rajon Rondo, Russell Westbrook, Tyreke Evansm and John Wall are among the ushered-in elite class that is accompanied by veterans like Steve Nash, Tony Parker, and Andre Miller. Needless to say, the point guard position is incredibly deep.
Thus, it says a lot about Curry that he himself is indeed a top-10 point guard, according to Sports Illustrated's Eric Mack. In ESPN's fantasy basketball mock draft last December, Curry was selected in the first round—the fifth point guard chosen—ahead of Rondo, Parker, and even the incredibly efficient Nash. That's certainly a testament to Curry's consistency and all-around proficiency at the point guard spot.
Obviously, if you have Curry on your fantasy team, you are already aware of how steady he is offensively, particularly as a shooter. He is the first player in NBA history to shoot better than 45 percent from the field, 40 percent from beyond the arc, and 85 percent from the free-throw line in each of his first two seasons. Last season, Curry finished 12th in the league in adjusted field goal percentage—second among all point guards, behind current Denver Nugget Ty Lawson (Curry attempted 365 more field goals that Lawson.) Obviously, Curry's shooting accuracy is truly what makes him so valuable.
Therefore, it's understandable that losing Curry for an extensive portion of the NBA season will cripple your fantasy lineup/roster. If you have him, you clearly have to sit him and hope that your backup is among the NBA's second tier. But who might those be?
Sleepers so far this season have been Houston's Kyle Lowry, Minnesota's Ricky Rubio, Portland's Raymond Felton, Indiana's Darren Collison, and Charlotte's D.J. Augustin. Lowry currently ranks third in the NBA in assists and steals per game. Augustin is chipping in 16.1 points to go with 6.7 assists per game.
But it's Lawson meanwhile, who will do wonders for fantasy owners. Lawson currently ranks 28th in scoring (16.4 ppg), 18th in assists (6.0) and seventh in steals (1.90)—all while shooting 49.6 percent from the field and 84.2 percent from the free-throw line. Pretty solid all-around numbers. If you are fortunate to have him on your bench, it's easy to insert him into the starting lineup for a considerable length of time.
Players off the waivers may not be easy to come by. But the likes of Devin Harris (Utah), Kyrie Irving (Cleveland), and Jeff Teague (Atlanta) could be of service off the bench.  
In the meantime, Curry's absence greatly impacts one type of fantasy owner: those who have Golden State shooting guard Monta Ellis. In the three games since Curry went down, Ellis has poured in 24 points, 6.3 assists and 2.7 steals per game. Obviously, Ellis' numbers will continue to rise, especially considering that he is the primary scoring option on a young Golden State squad.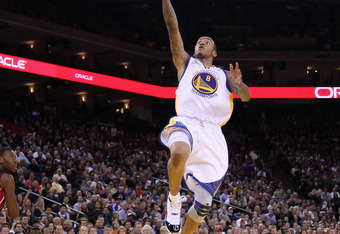 Ezra Shaw/Getty Images
While his point totals could increase a bit, there is a negative counterpoint for Ellis owners. No doubt, Ellis will take on the brunt of the offense, but this means his handling of the ball will increase as well—not a good thing. Ellis has had to jack up 22.3 field-goal attempts per game and has averaged 5.7 turnovers since Curry's departure. For the season, Ellis is sporting career-low marks in field-goal percentage (40.9), three-point percentage (22.0) and rebounds (2.9) and turnovers per game (4.1). Yikes.
Hopefully the addition of free agent signee Nate Robinson will help alleviate some of the workload for Ellis. Robinson has provided a tremendous spark for Golden State's thin bench. In three games, he's averaged 14.7 points and 4.7 assists per game, shooting a blistering 93.8 percent from the charity stripe. Robinson would surely be a nice pickup for fantasy owners, as he looks to receive a significant number of minutes for the Warriors in the interim. The whole point of signing him was to inject some life and provide another scoring option in the Warriors back court. So it wouldn't be all that bad of an idea to pick Robinson up off waivers, if available.
With Curry out for an undetermined period, fantasy owners should not panic. Knowing that it could in fact be weeks until he returns, it's not the worst thing in the world to drop him completely. There are a significant number of point guard options to tide you over.
For any owner of a different Golden State Warrior however, Curry's absence may affect your team a whole lot more gravely.
Follow me on Twitter: @nathanieljue