2012 NFL Draft Order: Ranking Best Fits for Trent Richardson
January 12, 2012

Chris Graythen/Getty Images
As virtually everyone expected him to do, Alabama star running back Trent Richardson declared for the 2012 NFL draft on Thursday. 
Barring any unforeseen circumstances, you can bet your bottom dollar on Richardson being the first running back taken on draft day (April 26). Nobody in the 2012 draft class is as good as he is, and it's not uncommon to hear Richardson's name placed in the same sentence as greats like LaDainian Tomlinson and Adrian Peterson.
The only question now is where Richardson might end up.
From the look of things, there are four teams in particular that stand out as great fits for Richardson. Let's go ahead and count 'em down.
4. Tampa Bay Buccaneers (No. 5 pick)
The Buccaneers need to think about upgrading their defense before they think about upgrading anything else, but they could easily come to the determination that Richardson is a prospect they simply don't want to pass up.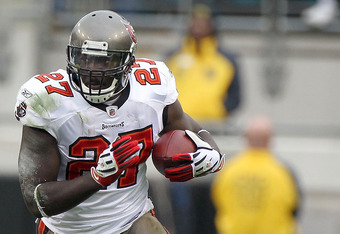 Sam Greenwood/Getty Images
Yes, the Bucs have LeGarrette Blount under contract, and he's by no means a bad running back. But he's not a great running back either, and Richardson's potential far surpasses Blount's potential.
Essentially, this is a matter of the Bucs choosing to fill needs or choosing the best player available. If Richardson is still on the board at No. 5, there would be no question as to who the best player available is.
How They Can Get Him: Just wait and hope. If Richardson is still available at No. 5, he'll be a tempting option for the Bucs. If he's not, it's no big deal. They'll have plenty of other options.
3. New York Jets (No. 16 pick)
The Jets didn't get to use their "ground and pound" strategy all that much in 2011. Shonn Greene was just okay all season, and LaDainian Tomlinson was only able to contribute on a part-time basis.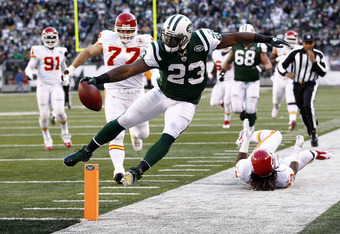 Jeff Zelevansky/Getty Images
Nevertheless, the last thing the Jets want to do going forward is turn into a passing team. They need to keep pounding away, and they need to consider whether or not a new running back is needed.
It's hard to think of a better option than Trent Richardson. It's no secret that he's a punishing runner, but he also has the ability to break game-changing runs at any given moment. He also doesn't get enough credit for his receiving abilities.
How They Can Get Him: The Jets have no shot at drafting Richardson at No. 16, so they would have to trade up. Trading their first-round pick would be necessary, but the Jets would likely have to throw in a few more picks to get Richardson. It would have to be a small-scale Ricky Williams-type deal. The Jets would merely have to ask themselves if they think Richardson would be worth it.
2. Cincinnati Bengals (No. 17 and No. 21 pick)
There is certainly a chance that Cedric Benson walks in free agency, so they're going to find themselves looking for a new No. 1 running back.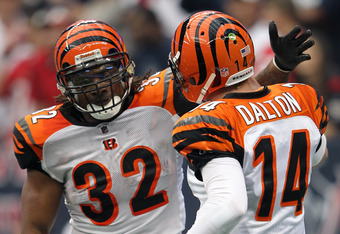 Jamie Squire/Getty Images
The Bengals could choose to cross Richardson off their list and just wait to draft somebody else (i.e. Lamar Miller or Chris Polk), but they could also choose to aggressively pursue Richardson.
That wouldn't be a bad idea. The Bengals have two great building blocks on offense in Andy Dalton and A.J. Green. If they find a way to add Richardson, they're going to be a scary team for years to come.
How They Can Get Him: The Bengals have two first-round picks, and they would probably have to give up both of them to get Richardson. This will be especially true if they get involved in a bidding war with the Jets. If it were to come to that, the extra picks would give the Bengals a huge edge.
1. Cleveland Browns (No. 4 and No. 22 pick)
Rob Carr/Getty Images
Peyton Hillis is a free agent, and the Browns will be making a colossal mistake if they choose to re-sign him. Hillis overachieved in a big way in 2010, and nothing went right for him in 2011. There's no point in signing him to a big deal.
If the Browns head into the NFL draft with a void at running back, Richardson would be an obvious choice for their No. 4 pick. He would immediately step in and balance out an offense that put way too much pressure on Colt McCoy in 2011. 
How They Can Get Him: The Colts aren't going to take Richardson No. 1, the Rams aren't going to take him No. 2 and the Vikings aren't going to take him No. 3. If the Browns want Richardson, they merely need to wait patiently...and hope that nobody trades up ahead of them to grab him.
2012 NFL Draft Order, courtesy of ESPN.com
Indianapolis Colts (2-14)
St. Louis Rams (2-14)
Minnesota Vikings (3-13)
Cleveland Browns (4-12)
Tampa Bay Buccaneers (4-12)
Washington Redskins (5-11)
Jacksonville Jaguars (5-11)
*Carolina Panthers (6-10, subject to coin flip with Miami)
*Miami Dolphins (6-10, subject to coin flip with Carolina)
Buffalo Bills (6-10)
*Kansas City Chiefs (7-9, subject to coin flip with Seattle)
*Seattle Seahawks (7-9, subject to coin flip with Kansas City)
Arizona Cardinals (8-8)
Dallas Cowboys (8-8)
Philadelphia Eagles (8-8)
New York Jets (8-8)
Cincinnati Bengals (from 8-8 Oakland Raiders)
San Diego Chargers (8-8)
Chicago Bears (8-8)
Tennessee Titans (9-7)
Cincinnati Bengals (9-7)
Cleveland Browns (from 10-6 Atlanta Falcons)
Detroit Lions (10-6)
Pittsburgh Steelers (12-4)