Boston Red Sox: What the Key Offseason Decisions Can Tell Us About 2012
January 12, 2012

Elsa/Getty Images
"Truck Day," the day when huge moving trucks gather all of the needed equipment for spring training and drive it down to Florida, is less than a month away. 
February 11th, 2012 is the date and with less than a month until that day, the Boston Red Sox have answered a number of key questions about the look of the 2012 team and still have a few holes left to fill as well. 
Unlike some teams whose offseasons are centered around filling holes on the active roster, Boston's offseason has been centered around filling in the gaping holes left in the dugout and the front office following 2011's disastrous finish. 
In spite of a lack of starting pitching, a departing starting right fielder and a departing closer when the offseason began, Boston's top priority was finding replacements for their manager, Terry Francona, and their general manager, Theo Epstein. 
The approach by ownership was starkly different with regards to the two openings. 
For the GM, who is likely to be one of the employees that ownership will interact with most frequently, the Red Sox went with a safe and familiar option.
Ben Cherington had been an employee of the Red Sox for years. As assistant general manager, the ownership of John Henry, Tom Werner and Larry Lucchino had been dealing with Cherington for years. They even installed him as a co-general manager back in 2005 when Epstein abruptly resigned.
The hire of Cherington may speak volumes about how ownership viewed the outgoing Epstein. Sox brass may not have been at odds with Epstein all that often. Yes, there's been plenty of attention given to the recent revelations that John Henry was against the signing of Carl Crawford.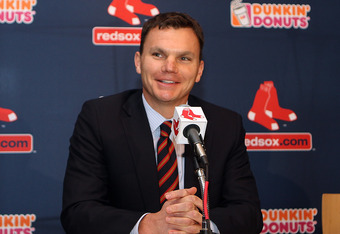 Jim Rogash/Getty Images
That's one transaction though. In addition, it's highly unlikely that Cherington was all that opposed to the Crawford signing. The choice for Epstein's replacement was as much if not more about personalities than philosophies. It's true that the Red Sox have spent far less on free agents this offseason than in years past but it's hard to see that being all that different even if Theo had never left.
The Red Sox have been fairly open in their desire to not increase payroll this offseason by any sort of dramatic amount. Retaining Theo would not have changed the financial realities of where the Red Sox are at.
It seemed like the Red Sox ownership wanted someone at the GM position that they found perhaps less strong-willed or perhaps less sure of himself. It could be an ego issue since Epstein was probably the most popular general manager in Red Sox history but at the end of the day, the Red Sox didn't want to either pay for Theo—who would have commanded a very high salary had he stayed—or deal with what was rumored to be a somewhat adversarial relationship with upper management.
Contrast that with how the Red Sox went about replacing Terry Francona. Here the Red Sox opted for what could only be described as a total reverse of the previous manager. Terry Francona was known to be soft spoken, a players manager, who possessed a subdued demeanor and at his best an understated strength.
His replacement, Bobby Valentine, is quite different. Brash, egotistical and even arrogant, Valentine isn't known as a manager that players always like playing for. While Francona would never call out members of the Red Sox in the media or make himself the center of attention, Valentine is not above occasionally ruffling some feathers and he's also not shy about speaking his mind to the media.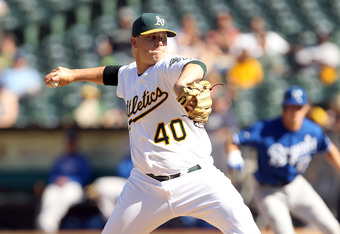 Ezra Shaw/Getty Images
It seems like the two hires suggest that ownership felt that the problems, at least the most glaring problems on the 2011 Red Sox, were within the clubhouse and that the team itself was not poorly constructed—just poorly managed.
The results of those decisions by Red Sox management are yet to be determined. While it's nice for everyone to speculate about the results of the personnel moves the Red Sox have made under Cherington this offseason, there are no tangible results by which anyone can measure them.
Valentine won't truly be under the microscope until the real games start to be played. In an offseason in which the Red Sox have acquired a host of new players, all of whom arrive with some questions regarding their ability to either perform or stay healthy, the 2012 season is going to be one in which the team enters as somewhat of an unknown. 
The offense will be good. The top three starters—if healthy—should all be very good. The bullpen could be good and the bench could be good, too; they could also both be problems. Given all the new pieces, another slow start seems almost likely but what fans need to remember is that it's not how you start a season it's how you finish. The new-look Red Sox haven't been built to be great in April; they've been built to not be awful in September.