Amir Khan vs. Lamont Peterson II Official: 4 Things to Watch for This Time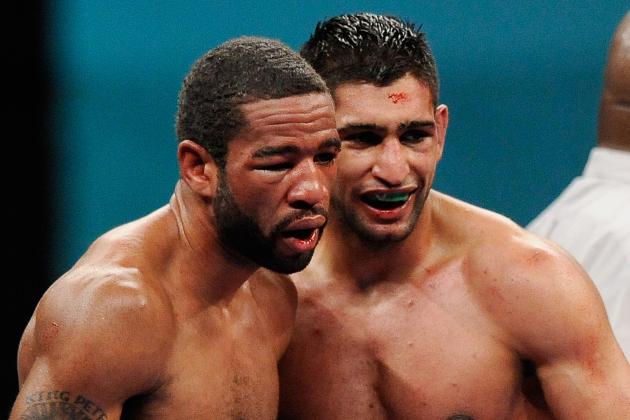 Patrick McDermott/Getty Images
Lamont Peterson and Amir Khan
Lamont Peterson (30-1-1,15 KO) has signed to fight Amir Khan (26-2, 18 KO) in a rematch of their 2011 fight of the year candidate.
Peterson had won the IBF and WBA junior welterweight (140 lbs.) titles from Khan in a controversial split-decision victory in December. Khan has argued and clawed for a rematch ever since.
The rematch is set for May 19 at the Mandalay Bay Hotel in Las Vegas and will be broadcast live on HBO's World Championship Boxing series. Fans rejoice in delight of this amazing rematch.
Here are four things to look out for when watching the rematch to see if they affect the outcome.
Begin Slideshow

»
Peterson came at Khan in their first fight with an aggression that made Khan uncomfortable. There's a possibility that he will come back with that same tactic, since it is a winning one.
However, Peterson is also a slick boxer. He displayed this trait against Victor Ortiz (29-3-2, 22 KO) when he fought back from two early knockdowns to earn a majority draw.
Khan's speedy offense might be kept at bay with a busy jab and well-timed counter-punches.
Khan charged Peterson with a rush of offensive flurries and would subsequently retreat from Peterson's counter attacks. The running eventually caught up with him, blew his stamina and led to Peterson chasing him.
The running game is unbecoming of an elite champion in the making. Khan is still 25 years old; he's young enough to amend his style to stand his ground and defend while coming forward instead of running.
The big question is, will he?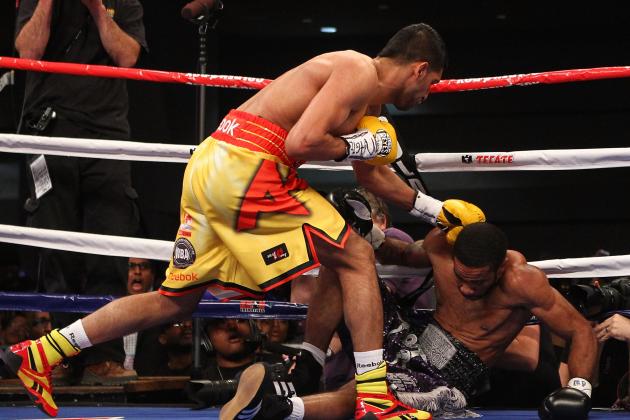 Al Bello/Getty Images
Amir Khan scores a knockdown against Lamont Peterson
In Peterson's three biggest fights, he's been down at least once in each. Timothy Bradley (28-0, 12 KO) and Khan managed to knock Peterson down once, and Ortiz knocked Peterson down twice in one round.
All it takes is one punch to change a fight. If Peterson doesn't address his susceptibility to early knockdowns, he could find himself down, out and unable to get up.
Khan may not have Ortiz's punching power, but he's strong enough for his handspeed to do the rest.
If Khan's Hall of Fame trainer Freddie Roach can give him the right game plan, this highly anticipated match could go the way of Paul Williams vs. Sergio Martinez II rather than the long battle fans expect.
That's not to say Peterson will be knocked out cold.
Fighters are stopped early by referees all the time for displaying "wobbliness" when getting up from a knockdown or allowing a fighter to flurry them against the ropes or corner for just a second too long.
Gone are the days of Fighter A beating the living hell of Fighter B in the corner only for Fighter B to come out of a prolonged beatdown swinging for dear life. If Fighter B gets caught too much, he gets stopped.
Peterson has a tendency to just hold his guard up and wait for opportunities sometimes. If Peterson leaves his guard down for the wrong second, Khan could catch him and flurry to a controversial stoppage.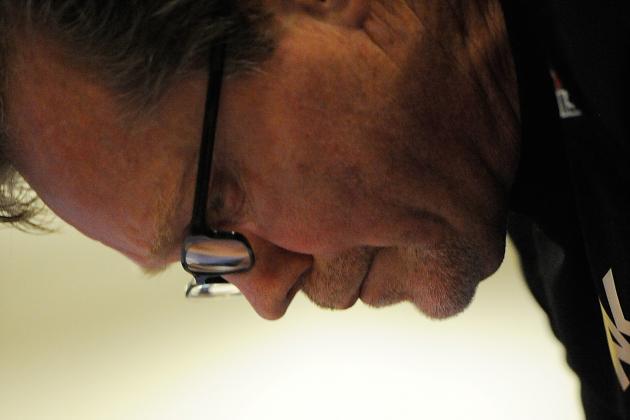 Patrick McDermott/Getty Images
Freddie Roach
Khan was knocked down in status in his loss to Peterson. Freddie Roach is expected to give Khan the proper game plan, and therefore much of the blame should land on Roach for a Khan loss.
Along with Khan, Manny Pacquiao was given a tough time in a fight with his greatest rival, Juan Manuel Marquez (54-6-1, 39 KO). With Pacquiao and Khan being pupils of Roach, a pattern is beginning to develop.
Are Roach-assisted fighters lacking somewhere in their development or preparation? That isn't a question asked in mass, but it is a question that could grow louder should Roach's fighters continue to falter.
Expect Roach to either whip Khan into shape and develop the perfect game plan to contest Peterson, or continue on a downward slope that sees 2012 extend Roach's bad streak.