Dre Kirkpatrick and Dont'a Hightower Declare for 2012 NFL Draft
January 12, 2012

Ronald Martinez/Getty Images
Nothing is certain in professional sports. Like the stock market, buy low and sell high.
In the case of Alabama Crimson Tide juniors Dre Kirkpatrick and Dont'a Hightower, they've decided to sell high.
Fresh off a national championship, the duo—along with Trent Richardson—have decided to forgo their senior season and enter the 2012 NFL draft. They are expected to make the announcement on Thursday afternoon according to Tidesports.com.
Coach Nick Saban has always said he supports players leaving early if they are projected first-round picks and all three will be barring some unforeseen incident.
Kirkpatrick is a 6'3", 195-pound physical specimen that has tremendously long arms and a blazing fast 4.4 40-time. He is stronger than most receivers, which allows him to jam them on the line of scrimmage and ruin their routes before the play even gets going.
Kirkpatrick is looking at getting selected somewhere in the six to 10 range and will likely be a strong contributor right off the bat. There is no question that he's accomplished everything he needed to in college and could only hurt his stock by returning.
Same goes for Hightower.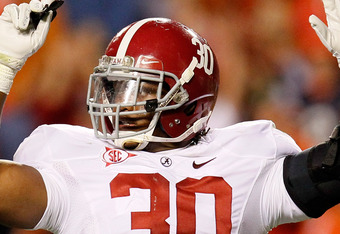 Kevin C. Cox/Getty Images
The tackle machine led the best defense in the past decade with 85 tackles, including 11 for a loss, to go along with four sacks and an interception. His run defense is something special and the physicality and toughness he plays with put him over the top. A selection in the 15 to 20 range is where most mock drafts currently have him.
So, let's see. Win two national championships in three years? Check. Play for a defense that gave up less than a touchdown per game? Check. Get the assurance from your coach that you are indeed going to be drafted in the first round? Check.
Every item on the list has been met; it's time for the next challenge.