NHL Trade Rumors: Philadelphia Flyers and Teams Looking to Add Before Playoffs
January 12, 2012

Grant Halverson/Getty Images
The NHL rumor mills are buzzing with news coming from everywhere. There are teams that are rumored to be selling, and then there are teams like the Philadelphia Flyers who are looking to add those final pieces to their championship puzzle. 
Philadelphia Flyers Looking to Add a Defenseman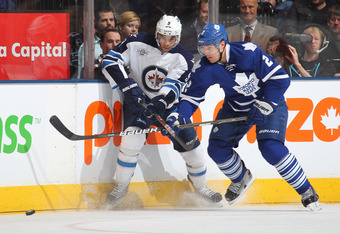 Claus Andersen/Getty Images
The Flyers have a deep bench of scorers that have helped this team to rank second in the NHL in goals per game. Philadelphia has a goalie in Ilya Bryzgalov who at one point this year won seven games in a row, and nine of 10 games. 
However, the Flyers could use an upgrade at defense, and it is why the Flyers are interested in Maple Leafs' defenseman Luke Schenn. 
According to Frank Servalli of the Philadelphia Daily News, the Flyers could be intrested in Schenn:
With the biggest snoozefest of the season going on inside the RBC Center, perhaps the most interesting Flyers action on Tuesday night was taking place nearly 800 miles north of North Carolina.

That's because Flyers director of player development Don Luce was spotted for the third time in as many weeks at the Air Canada Centre in Toronto for the Maple Leafs' contest against Buffalo.

This time, the Flyers are in the market for a depth defenseman to fill Chris Pronger's void. Fittingly, the Maple Leafs have a few pieces on their blue line that could move.

The most interesting is Luke Schenn, the older brother of Flyers forward Brayden Schenn.
Schenn would be a great addition to this Flyers team, and could be that missing piece that sends them to their second Stanley Cup Final in three years. 
Minnesota Wild Looking for a Forward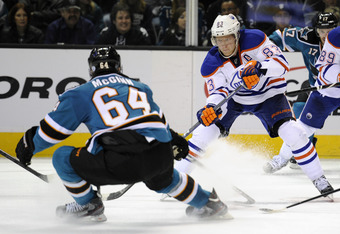 Thearon W. Henderson/Getty Images
Minnesota is great at keeping teams from scoring, ranking fifth in the NHL in goals against. However, they are near the bottom of the league in goals scored ranking 29th. 
The Wild have to make a move at the deadline for a goal scorer, and according to the Minneapolis Star-Tribune, they have cap space to add someone at the deadline.
In the meantime, Fletcher said he would try to add some offensive punch. But it won't be easy.

"We have a lot of cap space. That's fortunate," he said. "If we can add some skill ... and it's not a crazy short-term deal where you're giving up a lot of assets for a rental, then I think we'll look at anything at this point."
There will be a good group of scorers available to them at the deadline. The Wild could go after Edmonton Oilers' Ales Hemsky to fix their scoring woes. 
Toronto Looking to Make a Major Push for Ryan Getzlaf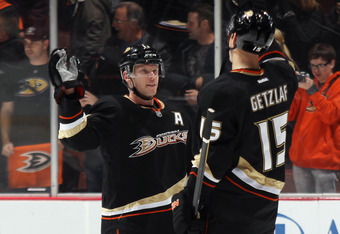 Bruce Bennett/Getty Images
Maple Leafs general manager, Brian Burke, is known for making huge deals either at the deadline or before. Reports are running wild that Burke is hot for a big center, and he could land one of the best in Getzlaf. 
From Jake Leonard of the San Francisco Chronicle:
The Leafs have been on the prowl for a big playmaking center like Getzlaf for years, and Toronto general manager Brian Burke has a history of dealing with Murray, who worked under and eventually succeeded Burke in Anaheim. Wrote Damien Cox of the Toronto Star, "The 26-year-old Getzlaf is precisely the big, tough centre that Burke has coveted but been unable to land since taking over in Toronto."
This would be a huge score for Toronto if they can swing this trade with the Ducks. However, doing so may result in the Leafs trading some of their young talent, like Nazem Kadri and Tyler Bozak. 
These three potential moves would be huge for these teams. It would help cement their place in the playoffs, while making them contenders to make a deep run in the playoffs. 
However, time will tell if these rumors come to fruition or if they stay a rumor.