2012 NFL Draft: Highlighting Teams with the Biggest Offensive Needs
January 12, 2012

Whitney Curtis/Getty Images
The modern NFL is all about having an explosive offense.
Just look at the teams still alive in the 2012 Divisional Round of the playoffs.
The Packers, Saints and Patriots were the top three scoring teams, while the Giants, Texans, 49ers and Ravens finished nine through 12, respectively.
Only the Broncos, who have been improbably led to this position by Tim Tebow, were in the bottom half of the league in points scored (No. 25).
So, with that being said, which teams were severely lacking in offensive production this season to the point that they must use the 2012 NFL draft to improve?
Let's take a look.
No. 2, St. Louis Rams, Justin Blackmon
The Rams scored an atrocious 193 points this season in total and need to add a productive receiver to help Sam Bradford and Steven Jackson get something done.
Sure, their defense was just as bad, but they need to be able to put points on the board to win. 
No. 3, Minnesota Vikings, Matt Kalil
The Vikings have got to protect Adrian Peterson and Christian Ponder.
By drafting the best available tackle prospect this season, they give themselves a stalwart to anchor the offensive line for years to come.
They are immediately better off after making this pick. 
No. 4, Cleveland Browns, Trent Richardson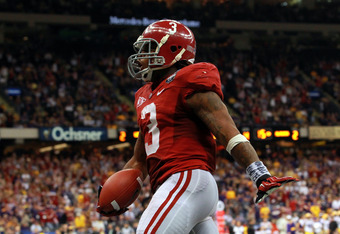 Ronald Martinez/Getty Images
This guy is the most complete running back prospect in years and has perfect size, strength and speed to legitimize the Browns' running game.
Peyton Hillis had a trying year and may have proved he isn't the answer for the Browns. Look for them to replace him on draft day.
No. 6, Washington Redskins, Robert Griffin III
RGIII is going to be the second QB off the board after Andrew Luck, and the Redskins would be stupid not to select him.
They have a decent team right now, but their quarterback options are atrocious.
Washington will sink or swim with this pick, but the bottom line is they need a franchise signal-caller more than anything.