New York Knicks: Who Is the Answer at Point Guard?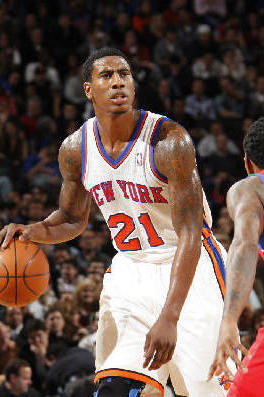 One of the main themes of the New York Knicks season so far has been the point guard position. Ever since the departure—via the amnesty clause—of Chauncey Billups, a void has been left behind in the "floor general role."
Presently, the Knicks have five potential starting point guards on their roster, having gone into the season with Toney Douglas in place. Performances have shown, though, that the position has yet to have been truly taken over and, with Baron Davis coming back from injury, D'Antoni and the Knicks will have a decision to make—be it short-term or for the long-haul—as to who should lead this title-hopeful team.
Begin Slideshow

»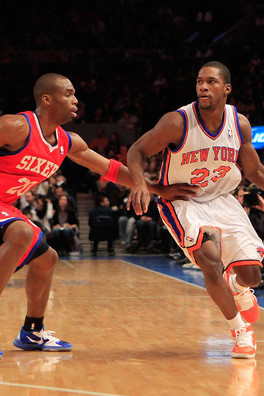 Toney Douglas has been under fire from the Knicks faithful in the first few games of the 2011-12 season.
Toney's inability to play the "true" point guard and floor general role have been highlighted as one of the main reasons for a number of these early losses. Douglas seems unable to continue his dribble, find the open man and, essentially, has just proven himself not to be a point guard.
Moving forward the Knicks will be better off bringing Toney Douglas off the bench, where he can fit back into the scoring role he has played for much of his young career.
At this point, Toney Douglas is definitely not the answer at point guard but is still worthy of a lesser role on the team.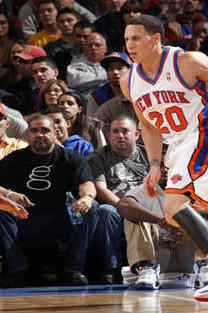 Mike Bibby was never truly expected to lead the way as the Knicks' starting point guard, but it would have been nice to have seen a little more from the veteran so far.
Bibby's strong points come from his three-point shooting (he is shooting a solid 40 percent this year) and from the veteran leadership he supposedly instills. The problem is that being able to shoot threes doesn't equate to being able to defend the other team's starting point guard.
Bibby is a little slow now at this point in his career and is unlikely to be able to play over 20 minutes on a nightly basis. Bibby simply doesn't have it in him anymore.
Mike can certainly still contribute off the bench and maybe start a few games here or there if need be, but at this point, he's better off as a specialist three-point shooter off the bench.
Having him on the roster at least allows him to distribute some of his knowledge and experience to the young guards like Shumpert, Douglas and Lin.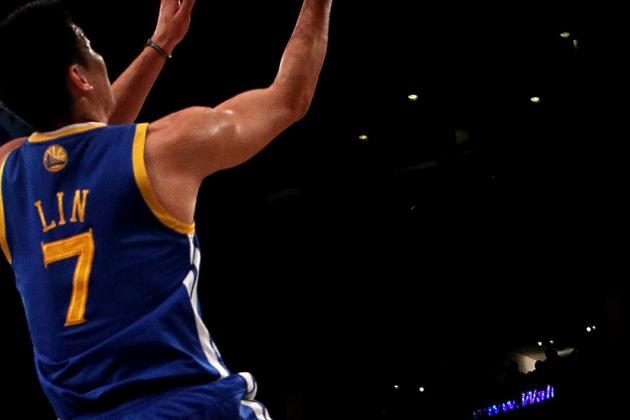 Stephen Dunn/Getty Images

Jeremy Lin is a dark horse—if that—in this race for the point guard position. Signed after being cut by the Warriors and the Rockets in the same offseason, Lin has had very little opportunity to contribute in a Knicks uniform so far.
The Harvard grad faced similar playing time problems in Golden State last year and as a result is probably too inexperienced to play alongside the likes of Carmelo Anthony and Amar'e Stoudemire successfully.
The lockout provided a good platform for Lin to strut his stuff to a large audience, making highlight reels on YouTube and surprising people by showing that he really does have game.
Unfortunately, this season, and all its expectations, are too important for the Knicks to take such a big risk in starting such an under-developed and inexperienced player at this point. They need an ego that can control the stars on this team and a floor general who can confidently run the show.
Jeremy Lin is unlikely to be that man.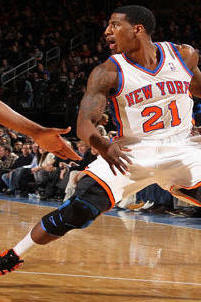 Rookie Iman Shumpert, after only seven games (four starts), has already established himself as a fan favorite in New York. The athletic combo-guard has even caused fans to start chanting "We want Shumpert!' at Madison Square Garden, although this was partly down to the poor play of Toney Douglas.
Coming into the season, a lot of people expected Shumpert to be more of a shooting guard and a defensive specialist, but Shumpert has already earned his role as the starting point guard and is looking strong.
Shumpert brings an energy and an attitude that really fits into the team, and he has shown an ability to score points, even despite his lack of a consistent outside shot.
Iman is still growing as a point guard and, at the moment, is more of a scorer than a distributor on the floor. If he can keep up his work ethic, though, Shumpert will definitely be a potential starting point guard in the long-term.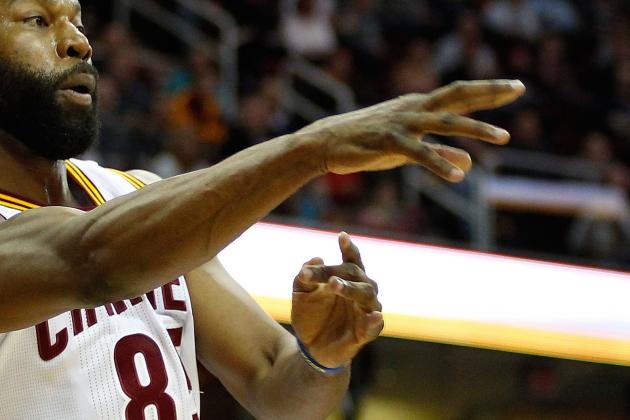 Jared Wickerham/Getty Images

Baron Davis, despite not having played a single game for the Knicks, is the clear favorite to win the starting point guard role upon his return. In fact, Davis is almost being put on a pedestal as some sort of "savior" who is going to come in and completely turn things around.
I'm not too sure if Davis will be solely responsible for a Knicks turnaround, but his addition will certainly be welcomed.
Davis brings exactly what is needed, taking some of the key skills from the other candidates. He has the veteran leadership of Bibby, brings some of the excitement of Shumpert and can shoot the three, albeit not quite as good as Toney Douglas.
It will be interesting to see exactly which Baron Davis the Knicks get in 2012; will it be the lazy Baron Davis or the silky smooth Baron Davis we saw in Golden State and even, to some extent, in LA and Cleveland last year?
If Davis does come in strong, he will definitely be the man going forward for the Knicks, at least just for this season. If not, though, the Knicks will be in big trouble and, despite Shumpert's success so far, they'll probably have to look elsewhere.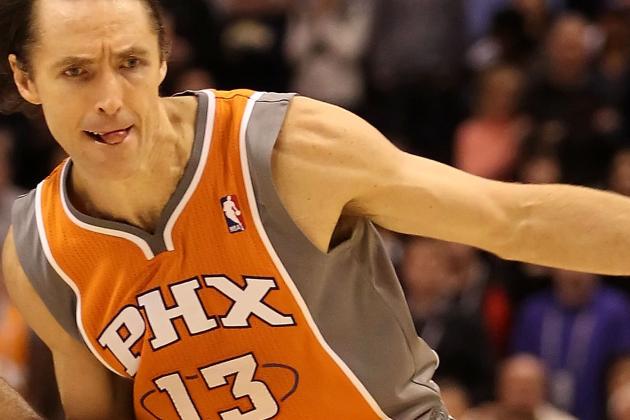 Christian Petersen/Getty Images

As I eluded to at the end of the previous slide, a lack of the success from Baron Davis may lead the Knicks to look to a more drastic option to improve their point guard problems.
One rumor floating out there is a possible re-uniting of Steve Nash, Mike D'Antoni and Amar'e Stoudemire in New York but, unfortunately, the salary cap won't permit such a move without the Knicks relinquishing a big contract, like the one they just gave out to Tyson Chandler.
Goran Dragic is one player I'd like to see in New York; he's obviously learned a few things from Mr. Steve Nash, and I'm sure he'd be available in return for Toney Douglas and maybe one other player, especially considering the way Kyle Lowry has been playing in Houston.
The only real way the Knicks would be able to make a move without completely shaking up the roster would be to trade for another team's back-up—like Dragic—for a similar package to the one I just mentioned.
A few names worth throwing out there are the likes of Eric Bledsoe and, if Jerryd Bayless earns the starting spot in Toronto, maybe Jose Calderon.
Marc Serota/Getty Images

Right now, the Knicks will just have to hope that Baron Davis is going to be the man because, coming into the season, they would have thought that they have finally finished tinkering with the roster enough to create a contender.
I think Davis probably will be the answer, he seems motivated to be in New York with such a good team around him and, from what I've seen, he's in shape. If not, though, then I really don't think the answer is on this roster right now.