2012 NFL Draft: LSU Star Morris Claiborne Will Enter NFL Draft
January 12, 2012

Kevin C. Cox/Getty Images
The LSU Tigers will be one of the top teams in the country again next year, but they will be without their best overall player.
According to multiple sources, including the AP, junior defensive back Morris Claiborne has officially declared for the 2012 NFL Draft: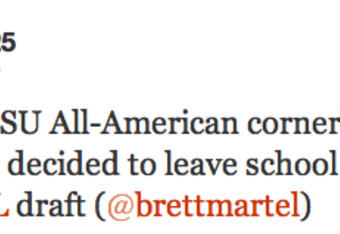 Claiborne was overshadowed in the media by Heisman Trophy finalist teammate Tyrann Mathieu, but NFL scouts and coaches know all about the 6'0", 180-pound prospect.

What Does It Mean?
For the Tigers it means coach Les Miles has to retool the secondary because Claiborne was the definition of a shutdown corner.
For Claiborne it means a likely top-five draft selection in April.
The Jim Thorpe Award winner is not only considered the top defensive back in the 2012 class, but the top defensive prospect overall.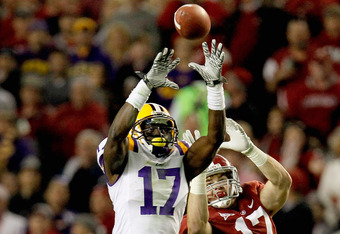 Kevin C. Cox/Getty Images
Claiborne uses his length to take away any height advantage bigger receivers have over him, but also has the hips of smaller corner. He's fluid in both his backpedal and turn and possesses great ball skills as well. He's also a gifted kick returner.

What Happens Next?
As an underclassmen Claiborne will not be competing in any collegiate All-Star games, but he'll have an opportunity to showcase his talent at the NFL scouting combine in late February.
Claiborne will now begin training for what is going to be the biggest job interview of his young career.
The draft process is a fickle and unpredictable roller coaster from now until April, but barring anything completely unexpected he'll hold down his position as one of the top prospects in the 2012 NFL Draft.