UFC 142 Fight Card: Final Betting Odds and Predictions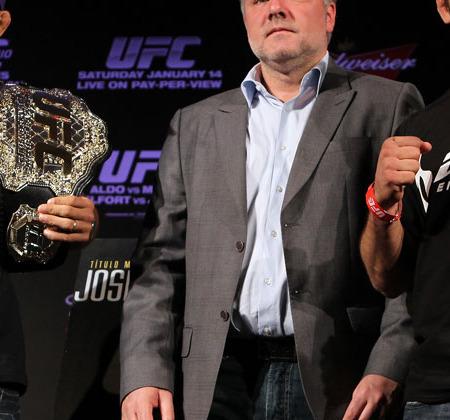 Josh Hedges/Zuffa LLC
After one of the most successful years in company history, the UFC will open 2012 with a bang, as it returns to Rio de Janeiro, Brazil for UFC 142. The event will feature a featherweight title fight between champion Jose Aldo and Chad Mendes.
In addition to the intriguing title fight, UFC 142 will mark the middleweight debut of Anthony Johnson. A massive welterweight, fans have called for Johnson's move to 185 pounds for quite some time. On Saturday, those fans will finally get their wish, as Johnson will meet middleweight contender Vitor Belfort.
Though the event may not be deep with big names, several rising stars and exciting veterans will also step into the cage.
The following slideshow will provide betting odds and predictions for all of Saturday's fights.
Begin Slideshow

»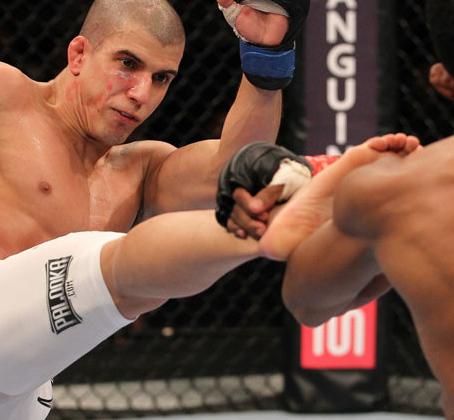 Josh Hedges/Zuffa LLC
Betting Odds
Felipe Arantes +175
Antonio Carvalho -225
Breakdown
After losing his UFC debut to Yuri Alcantara in front of his compatriots at UFC 134, Arantes will once again compete in his home country of Brazil.
Aranates gained valuable experience by competing inside the Octagon for the first time in his most recent fight, something his opponent at UFC 142 has yet to do. That being said, Carvalho is still a more experienced fighter than Arantes.
A professional MMA fighter since 2002, the 32-year-old Carvalho has competed against the likes of Takeshi Inoue, Hiroyuki Takaya and Hatsu Hioki under the Shooto banner.
Though the 23-year-old Arantes may have a bigger upside at this point in his career, his first performance as a UFC fighter showed that he has some improving to do if he wants to continue competing at the highest level of the sport.
A jiu-jitsu black belt with six knockouts to his name, Carvalho should have an advantage over Arantes in any position. Arantes has only been finished once in his career, though, so look for this fight to go to the judges' scorecards.
Prediction
Carvalho defeats Arantes by unanimous decision.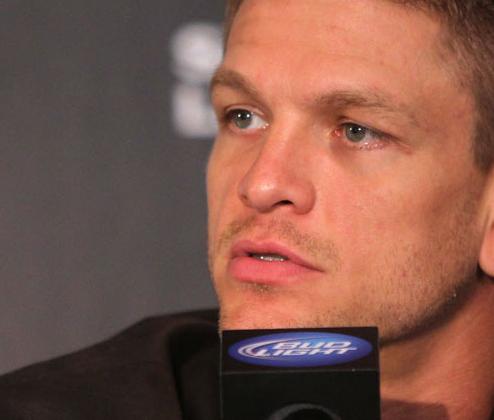 Josh Hedges/Zuffa LLC
Betting Odds
Mike Pyle -550
Ricardo Funch +375
Breakdown
Released from the UFC in mid-2010, Funch was given a golden opportunity when Paulo Thiago was forced off the UFC 142 fight card due to injury. Though he has only won one fight since his release from the organization, Funch was asked to replace Thiago for a bout against Pyle.
Though he was quickly disposed of by Rory MacDonald in his most recent outing, Pyle remains one of the top 20 welterweights in the UFC. Pyle makes for a very tough opponent for Funch's return to the Octagon, but it's a fight Funch would prefer over the alternative.
A jiu-jitsu black belt, one would think Funch's best chance at upsetting Pyle would be by taking this fight to the ground. However, that is probably not the case. While Funch has yet to put his grappling skill on display against top competition, Pyle has picked up 16 submission wins throughout his career, even submitting a young Jon Fitch in July 2002.
While he probably would have preferred the fight against Thiago, this bout provides Pyle a strong opportunity to get back into the win column. For Funch, this late-notice fight may turn into nothing more than a bargaining chip for another UFC fight down the road.
Prediction
Pyle defeats Funch by submission in the second round.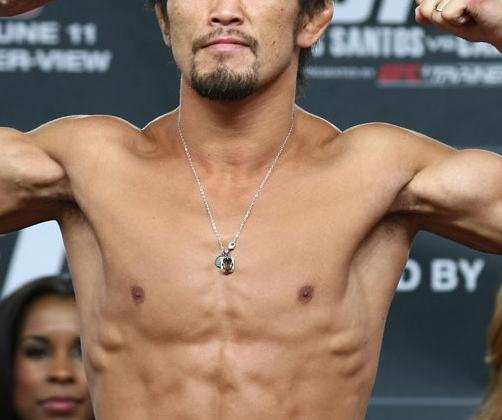 Josh Hedges/Zuffa LLC
Betting Odds
Yuri Alcantara -200
Michihiro Omigawa +160
Breakdown
In his UFC debut at UFC 134, Alacantara picked up a 12th consecutive victory, which earned him a win over a well-known veteran in Omigawa.
After a controversial loss to Darren Elkins, Omigawa may have saved his spot on the UFC roster by defeating Jason Young in November 2011.
While this is a huge opportunity for Alcantara to become a featherweight contender, he is largely untested against fighters of Omigawa's ability. Conversely, Omigawa has defeated names like Hatsu Hioki, Marlon Sandro and Cole Escovedo during his career.
This bout between jiu-jitsu black belt in Alcantara and judo black belt in Omigawa promises to be closely contested. In the end, expect the more experienced fighter to come away with the victory.
Prediction
Omigawa defeats Alcantara by unanimous decision.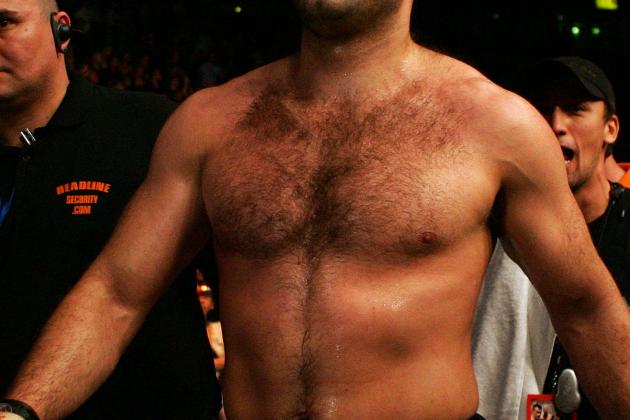 Gary M. Prior/Getty Images

Betting Odds
Gabriel Gonzaga -125
Ednaldo Oliveira -105
Breakdown
One year after being released from his UFC contract due to back-to-back losses, Gonzaga has been given another chance to prove he still belongs in MMA's premier organization. When Rob Broughton went down because of injury, the UFC opted to call on Gonzaga as a replacement for UFC 142.
With a lot riding on this return fight in his home country, Gonzaga may enter the cage equally as nervous as the UFC newcomer he will be opposing.
Undefeated in the first six years of his MMA career, Ednaldo Oliveira was also called upon by the UFC to compete in his home country.
Both Gonzaga and Oliveira are experienced black belts, so their ground games could cancel each other out, leading to a stand-up brawl. A training partner of UFC champion Junior dos Santos, Oliveira seems to have developed some decent boxing, knocking out his past two opponents.
Though he hasn't been tested against top-flight competition, the 27-year-old Oliveira has much more potential than Gonzaga and may even come into this fight with the perception that he has much less to lose in this matchup.
He could just as easily win this fight, but look for Gonzaga to get caught with a big shot in the first round, as Oliveira has been able to pick dos Santos' brain to learn what holes the champion was able to find in Gonzaga's defense when the he fought "Napao" in March 2010.
Prediction
Oliveira defeats Gonzaga by technical knockout in the first round.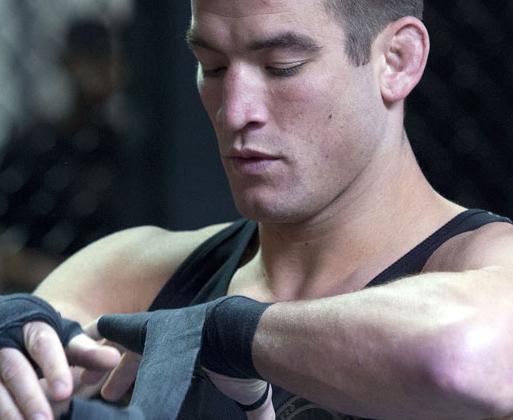 Josh Hedges/Zuffa LLC
Betting Odds
Sam Stout +115
Thiago Tavares -145
Breakdown
Both UFC fighters for more than four years, Stout and Tavares have picked up some big wins in the lightweight division, but neither has been able to find the consistency needed to become a serious contender.
When the two meet at UFC 142, the winner may finally find themselves in a position to compete regularly with some of the division's best fighters.
A jiu-jitsu black belt, Tavares showed major improvement in his striking by finishing a scrappy Spencer Fisher with punches in his most recent fight. Tavares will need to be effective in the stand-up department against Stout, who recorded one of the most brutal knockouts of 2011 with a left hook to the chin of Yves Edwards.
While Stout may have the advantage in the striking department, Tavares appears to be the more well-rounded fighter. Also, the death of Shawn Tompkins still weighs heavily on the mind of Stout, and fight fans saw how that may have effected Tompkins-trained Mark Hominick in his last fight.
While Stout may be at a disadvantage, he has only been finished by Kenny Florian in his UFC career, so he is certainly capable of turning this fight into a back-and-forth brawl.
In the end, it won't be enough on the judges' scorecards, though.
Prediction
Tavares defeats Stout by unanimous decision.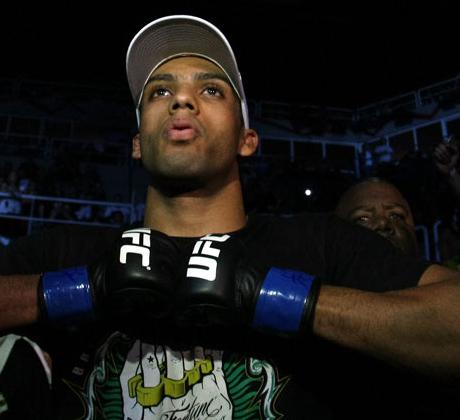 Josh Hedges/Zuffa LLC
Betting Odds
Edson Barboza -285
Terry Etim +225
Breakdown
Count me out of the faction buying into Terry Etim as one of the next great fighters in the lightweight division. After a year away from the game, Etim quickly finished Eddie Faaloloto in his last appearance. After the win, UFC brass seemed ready to give Etim a shot at a top contender, though Faaloloto was released immediately after the fight for having lost a third straight bout.
Don't get me wrong. The 26-year-old Etim has a bright future, but to paint him as one of the top prospects in the division after his win over Faaloloto seems a tad overkill.
While he remains undefeated for his career, Edson Barboza has also been the subject of high expectations despite narrow victories over Anthony Njokuani and Ross Pearson.
So, which one of these up-and-coming lightweights will prove me wrong?
My money is on Barboza, though I wouldn't put much money on the 25-year-old Brazilian with the current betting lines for this fight being where they are, as Etim has a better chance to win than the oddsmakers are giving him.
Still, Barboza's striking is much crisper and dynamic than Etim's, and the Brazilian's ground game should certainly be solid enough to avoid being submitted in 17 seconds like Faaloloto.
Both of these fighters could be contenders at some point in the future, but they also have plenty to improve on. Right now, Barboza is the fighter more prepared to make a run at the division's elite.
Prediction
Barboza defeats Etim by unanimous decision.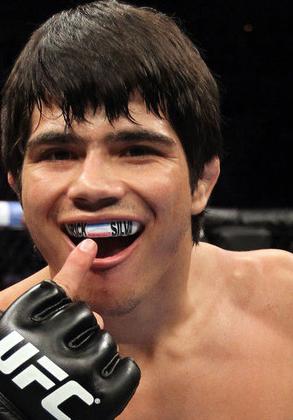 Josh Hedges/Zuffa LLC
Betting Odds
Erick Silva -500
Carlo Prater +350
Breakdown
After an impressive knockout in his UFC debut, Silva will fight in his home country once again at UFC 142. Though he hasn't defeated any proven competition, Silva is one of the more intriguing up-and-comers in the welterweight division.
Once considered a top-flight welterweight who competed for a WEC title and defeated the likes of Melvin Guillard and Carlos Condit, 30-year-old Carlo Prater will make his UFC debut on a four-fight winning streak.
Given Silva's uncertain level of talent and Prater's recent inconsistency, this is a tough fight to predict. In such situations, I often go with the more experienced fighter, but it has been quite some time since Pater has defeated a UFC-level opponent.
Silva certainly appears to be the more talented fighter at this point in his career, so the smart money is on him, but I don't know that I'd be confident enough to throw down a significant amount of money on an unproven fighter like Silva at these current betting lines.
Prediction
Silva defeats Prater by unanimous decision.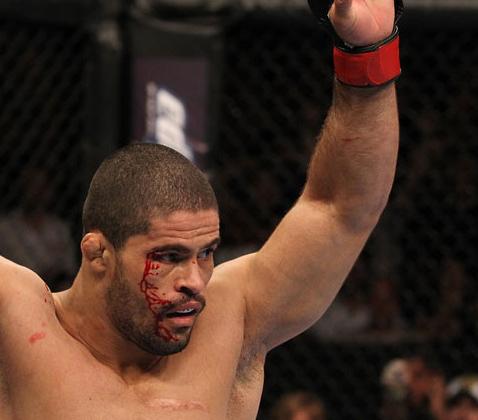 Josh Hedges/Zuffa LLC
Betting Odds
Rousimar Palhares -600
Mike Massenzio +400
Breakdown
Click here to open my in-depth breakdown of this fight in a new window.
Prediction
Palhares defeats Massenzio by unanimous decision.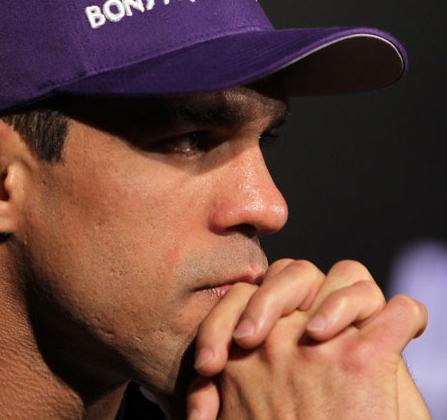 Josh Hedges/Zuffa LLC
Betting Odds
Vitor Belfort -105
Anthony Johnson -125
Breakdown
Click here to open my in-depth breakdown of this fight in a new window.
Prediction
Johnson defeats Belfort by unanimous decision.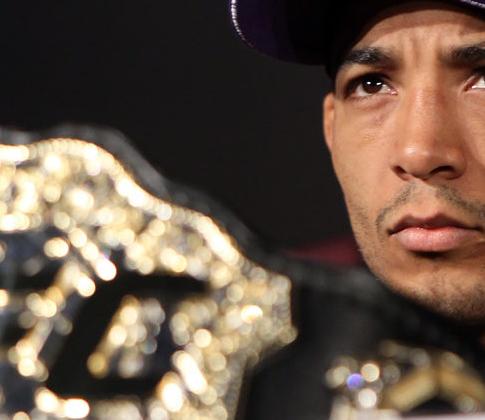 Josh Hedges/Zuffa LLC
Betting Odds
Jose Aldo -300
Chad Mendes +230
Breakdown
A member of Urijah Faber's Team Alpha Male, Mendes possesses extremely impressive wrestling ability, an area of the game where Aldo is widely considered at his weakest.
As a collegiate wrestler at Cal Poly State, Mendes was a two-time NCAA All-American. With wins over the likes of Cub Swanson, Michihiro Omigawa and Rani Yahya, Mendes' wrestling ability has already translated into a successful MMA career.
At 26 years old, Mendes is also still improving.
In his past two fights against Mark Hominick and Kenny Florian, Aldo showed his striking prowess in victory, but conditioning and takedown defense allowed his opponents to keep the bouts competitive.
Though Mendes' striking remains a work in progress, he certainly has the ability to give Aldo more problems on the ground than either Hominick or Florian did.
Completely avoiding the stand-up with Aldo is much easier said than done, but Mendes has been able to dictate where all 11 of his professional fights have gone, as he has gone undefeated on his way to the top of the featherweight division. Aldo will be Mendes' toughest test to date, but with Faber in his corner, Mendes has the advantage of being able to train with a teammate who has spent five rounds inside the cage with the champion.
Prior to the UFC-WEC merger, Aldo appeared unbeatable. However, if Mendes can put together a game plan combining the insight of Faber with successful techniques used by Hominick and Florian against Aldo, the UFC could be crowning a new featherweight champion this Saturday night.
Prediction
Mendes defeats Aldo by unanimous decision.