Premier League: Why Tottenham's a Genuine Title Contender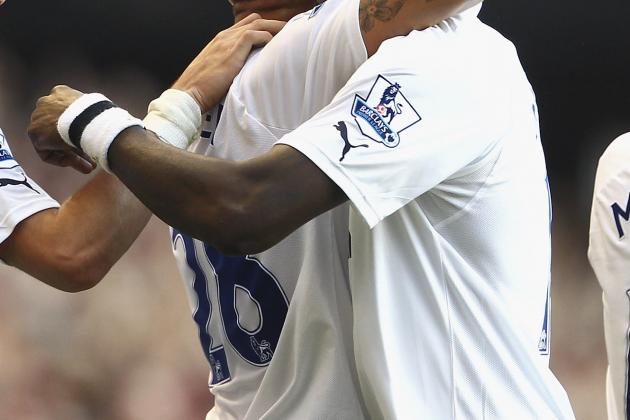 Julian Finney/Getty Images

Following Tottenham's victory over Everton Tuesday night, the North Londoners are just three points behind Premier League leaders Manchester City and level on points with Manchester United.
The Spurs' 45 points from 20 games would've been enough to put them top of the table in each of the last three seasons at this point, and it's the best start to a season they've had in recent memory.
They've lost just three games this season, and one since the August.
Not many predicted that Tottenham would break into the top four at the start of the season, as many were discussing whether Arsenal or Liverpool would finish in the Champions League places. But at the moment Harry Redknapp's side looks good to finish in front of them and at least finish as London's top team for the first time since 1995.
Here are a few reasons why Tottenham can mount a serious title challenge this season.
Begin Slideshow

»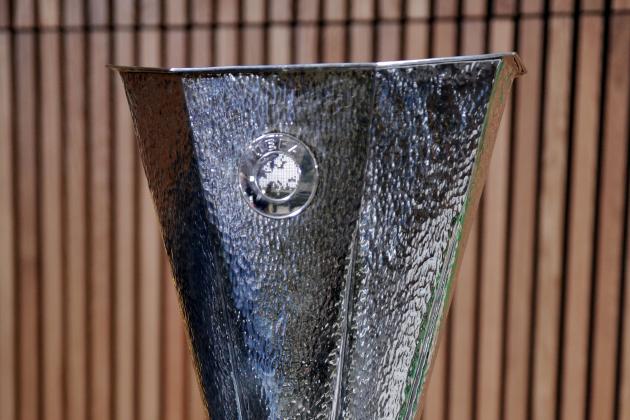 Handout/Getty Images

Of the top five teams in the Premier League, only Tottenham are not competing in European competition.
Arsenal and Chelsea face tricky Champions League ties in March, while both Manchester sides are in the Europa League.
Tottenham were in the Europa League, but were knocked out in the group stages, which was somewhat embarrassing but could turn out to be a blessing in disguise.
The Manchester teams will probably end up getting far in the Europa League, and a run to the final will mean that they would play eight more games before the end of the domestic season.
With more games comes more fatigue, a greater chance of injury, and less time to prepare for key domestic games in March and April.
I'm not saying that either Manchester team would prefer a Europa League title rather than a Premier League one, but that Tottenham are probably in a better position to focus solely on the Premier League rather than playing in Europe and at home.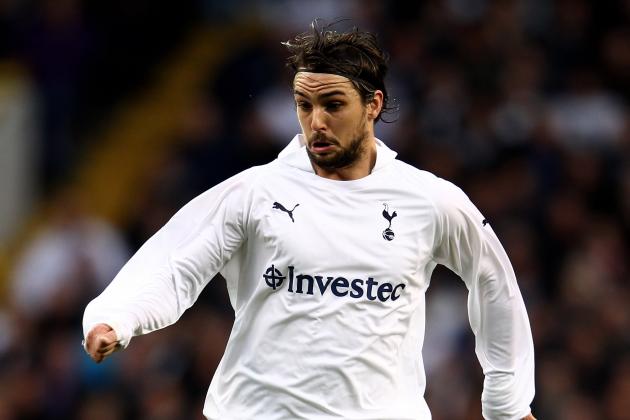 Julian Finney/Getty Images

Although the Spurs may not be known to spend in the transfer window on the same scale as either of the Manchester clubs, they still have quality beyond their bare 11.
Just looking at players who were on the bench Tuesday says a lot about the strength of Redknapp's side. Roman Pavlyuchenko, Jermaine Defoe, Nico Kranjcar and Steven Pienaar were all substitutes.
They may not have quite the quality that is seen on the bench during Manchester City's games, but it is clear that they have players to step up and perform when asked to, and only require a few January signings to prepare them for the upcoming months.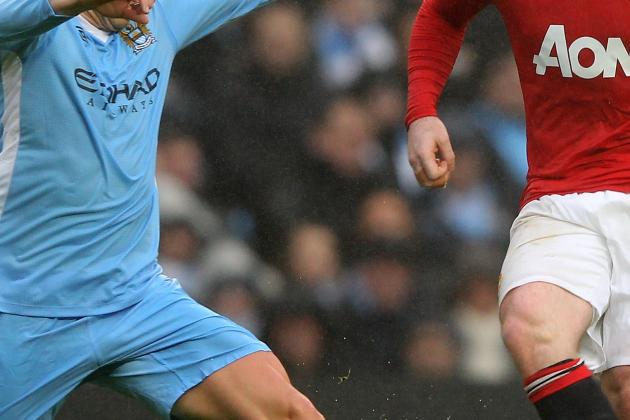 Alex Livesey/Getty Images

Don't get me wrong, both Manchester sides are the two to beat in the Premier League right now, and are correctly the two favorites to win the Premier League.
But the last month has taught us that while they are the best two in the country, they aren't unbeatable.
They were both knocked out of the Champions League, while United lost embarrassingly to Blackburn and Newcastle, and City have lost games in both cup competitions and away to Chelsea and Sunderland.
Both sides (United in particular) have been questionable in defense recently, and work will need to be done to return them to the bruising defenses they were earlier in the year.
Although I wouldn't bet against one or both teams returning to top form quite soon, it is clear that right now they are both going through rough spells, proving that they can be beaten, while Tottenham have been better.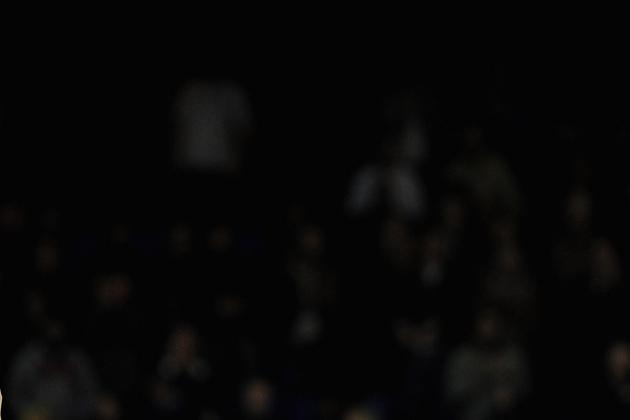 Jamie McDonald/Getty Images

In recent seasons, White Hart Lane has been a difficult place for visiting teams to get a result.
Believe it or not, Spurs have lost just two home games in the league since December 2009, but drew too many games at home last season, which cost their team the opportunity to really challenge Arsenal for fourth place.
However, they have been more ruthless and consistent this season, winning eight of their 10 league games at home, including victories against Arsenal and Liverpool.
The reason for this is a strong and disciplined defensive unit, who have kept five clean sheets in the last six home games, and a dangerous counter-attacking unit that can punish visiting sides.
If you study teams who have won the Premier League in recent seasons, the best teams are the ones who win consistently at home, and only Manchester City can boast a better home record than Tottenham's.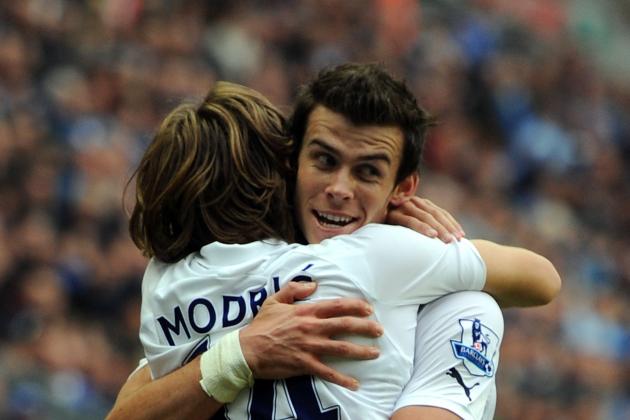 Chris Brunskill/Getty Images

An over-exaggeration?
Possibly, but no one can doubt that Spurs' midfield is one of the most talented, exciting to watch and productive units in the Premier League, and this is the driving force toward their success so far this season.
The moves made by the club in the summer were key to creating such a strong midfield.
Firstly, they managed to keep Luka Modric at the club despite interest from Chelsea and strong speculation that he would move to Stamford Bridge.
Despite what everyone says about Gareth Bale, Modric was Tottenham's best player last season, and has continued this season like he ended the last one, as a key playmaker and the creative force on their dangerous counter-attacks.
He is supported by last year's PFA Player of the Year, Gareth Bale. Although he was overrated last season, he was still a great player, and is even better this season.
Not only is he dangerous on the wing, but je also comes to the center of the field to set up attacks, and in general has become key to linking up with forwards such as Emmanuel Adebayor, who owes some of his success at Tottenham to the Welshman.
Finally, the signing of Scott Parker in the summer was key. Despite playing for relegated West Ham United last season, Parker excelled in his role just in front of the defense, cutting out opposition attacks and orchestrating counter-attacks.
This is exactly what he does well at Tottenham, as he is key in supporting the defense when the opponents have possession, but also sets up the likes of Modric, Bale and van der Vaart, the ones who create the chances.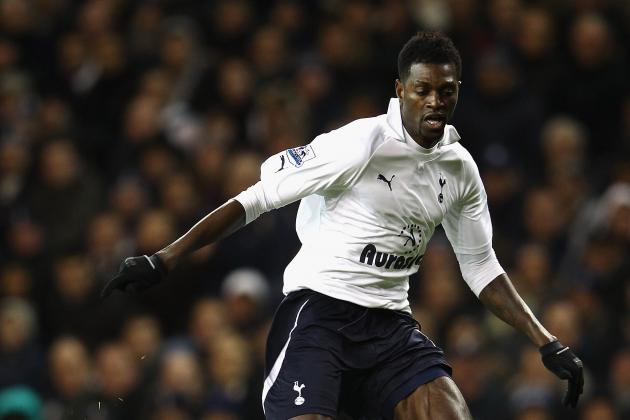 Julian Finney/Getty Images

The Togolese striker was surplus to requirements at parent club Manchester City, but has been crucial at Tottenham since joining on a season-long loan deal in the summer.
He has added a physical presence to the Tottenham strike-force, and links up well with the midfield, as well as Rafael van der Vaart, who tends to play between the midfield and lone striker Adebayor.
But the most important reason why Adebayor has been supported so much is the goals that he produces.
With such a strong all-round team, especially with Gareth Bale and Aaron Lennon causing havoc on the wings and putting dangerous crosses into the area, it is important that someone is there to put chances away, something that Adebayor is great at, as has been shown by his nine goals so far this season, while he has also produced six assists.
Despite being from Togo, Adebayor won't be competing in the African Cup of Nations due to Togo's exclusion from the tournament, meaning that the striker will be available for some of the key games Spurs will be playing in the next few weeks.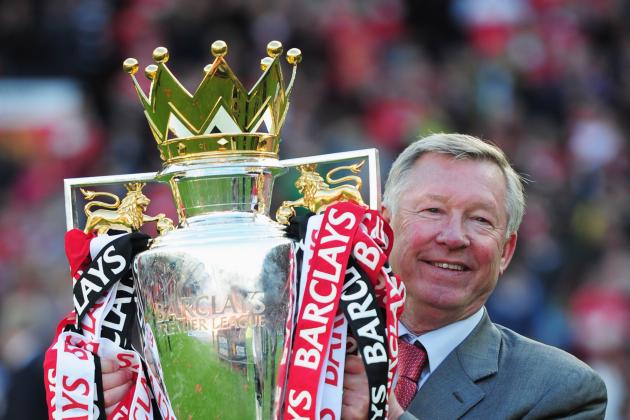 Shaun Botterill/Getty Images

When talking about winning the Premier League, Sir Alex Ferguson and Manchester United are always in the conversation, and every season you get the feeling that anyone who finished above them will win the league.
The experience that United have of finishing a season strongly is second to none, and no manager in recent history knows how to win a title just as much as the Scotsman does.
Still, the team that has grabbed the headlines this year are their rivals Manchester City, not just for signing expensive players but for showing on the pitch that the pre-season hype was justified.
Tottenham's opportunity to surpass these two to win the league for the first time in 50ty years relies upon their form just before the final stretch of the season.
Between February 6th and March 24th, they have to travel to Arsenal, Liverpool and Chelsea, whilst hosting Manchester United.
Considering that they travel to Manchester City in 10 days, it is clear that if they can end March in a similar position than they are in today, they stand every chance of pushing Ferguson's United and Manchester City right to the wire.