NFL Power Rankings: Cellar Dwellers Who Won't Improve Next Year
January 12, 2012

Jason Miller/Getty Images
The NFL is a league of parody, one where bad teams can go from worst to first. However, these teams who finished in the bottom of the NFL last year will find themselves in the same spot at the end of next year. 
Cleveland Browns (4-12)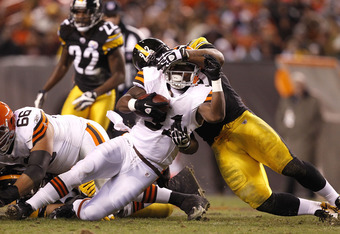 Matt Sullivan/Getty Images
Cleveland finished another year where they missed the playoffs and are left to hope for someone who can turn their team around in the draft. This year they are No. 4 in the draft and have the option of drafting Baylor quarterback Robert Griffin III. 
If they draft Griffin III, or someone else, it will not fix the problems that plague this team. They still play in the tough AFC North, which had three playoff teams come from the division, and they have holes at too many positions on their roster. 
The Browns need to fix their running and passing game, plus find a game-breaking receiver. To go with those offensive holes, they need to fix a rushing defense that ranked 30th in the NFL this season.
Cleveland will finish another year where they win two to five games and will be in the top 10 of the NFL draft. 
Jacksonville Jaguars (5-11)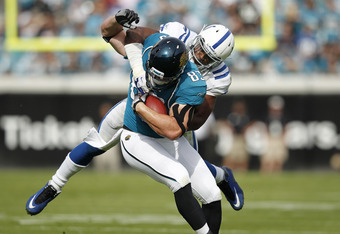 Joe Robbins/Getty Images
Jacksonville enters the 2012 season with the same problems that held them back from having a winning record. They will bring into '12 a good defense that ranked in the top 10 in passing and rushing defense. 
However, the NFL's rushing champion, Maurice Jones-Drew, is a year older, and they return the worst passing offense in the NFL. 
The Jaguars will regress again because of Blane Gabbert's inability to be an adequate quarterback, and the fact that Jacksonville does not have any big-play receivers. 
They will be in the same spot they are now in next year's draft, picking either at No. 7 or higher. 
St. Louis Rams (2-14)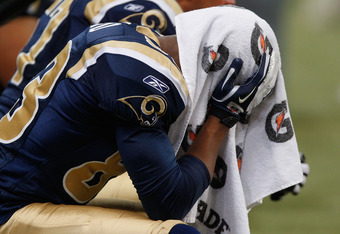 Whitney Curtis/Getty Images
The Rams struggled this year with the loss of quarterback Sam Bradford for a majority of the season and having no offensive line protection. The Rams pick No. 2 in the draft this year and could fix the offensive line problems by drafting USC's Matt Kalil. 
However, they may go the route of drafting Oklahoma State wide receiver Justin Blackmon, which would fix none of the problems that held this team back.
St. Louis has to fix the offensive line or else they're going to lose Bradford again next year, thus resulting in another 2-14 record. 
| | | |
| --- | --- | --- |
| Ranking | Team | Record |
| 1 | Green Bay Packers | 15-1 |
| 2 | New England Patriots | 13-3 |
| 3 | Baltimore Ravens | 12-4 |
| 4 | New Orleans Saints | 13-3 |
| 5 | San Francisco 49ers | 13-3 |
| 6 | Denver Broncos | 8-8 |
| 7 | New York Giants | 9-7 |
| 8 | Houston Texans | 10-6 |
| 9 | Pittsburgh Steelers | 12-4 |
| 10 | Detroit Lions | 10-6 |
| 11 | Atlanta Falcons | 10-6 |
| 12 | Cincinnati Bengals | 9-7 |
| 13 | Tennessee Titans | 9-7 |
| 14 | Chicago Bears | 8-8 |
| 15 | San Diego Chargers | 8-8 |
| 16 | Oakland Raiders | 8-8 |
| 17 | New York Jets | 8-8 |
| 18 | Philadelphia Eagles | 8-8 |
| 19 | Dallas Cowboys | 8-8 |
| 20 | Arizona Cardinals | 8-8 |
| 21 | Seattle Seahawks | 7-9 |
| 22 | Kansas City Chiefs | 7-9 |
| 23 | Buffalo Bills | 6-10 |
| 24 | Miami Dolphins | 6-10 |
| 25 | Carolina Panthers | 6.10 |
| 26 | Jacksonville Jaguars  | 5-11 |
| 27 | Washington Redskins | 5-11 |
| 28 | Tampa Bay Buccaneers | 4-12 |
| 29 | Cleveland Browns | 4-12 |
| 30 | Minnesota Vikings | 3-13 |
| 31 | St. Louis Rams | 2-14 |
| 32 | Indianapolis Colts | 2-14 |