NHL Trade Speculation: Philadelphia Flyers Targeting Toronto's Luke Schenn?
Use your ← → (arrow) keys to browse more stories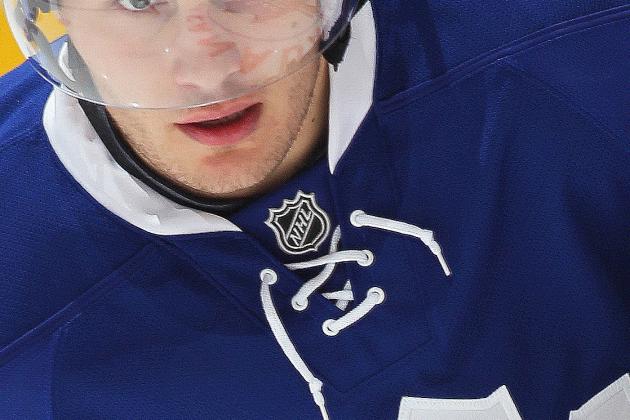 Claus Andersen/Getty Images

The NHL trade deadline is fast approaching, and the rumors are certainly starting to heat up.
While most of the obvious choices for Philadelphia are still out there, such as Shea Weber and Ryan Suter, there are other names beginning to pop up in other rumors and speculation articles. One of those names that I've been hearing a lot of lately is that of defenseman Luke Schenn of the Toronto Maple Leafs.
While Luke Schenn is highly regarded in Toronto, his ice time has been slowly diminishing in the past year. Schenn has gone from averaging 22:22 minutes a night on the ice, to just 16:36 this season. It seems as though Schenn's role may have taken a slight turn, and he may be seen as expendable in the right deal.
Frank Seravalli of the Philadelphia Daily News speculates that the Philadelphia Flyers could be targeting the young defenseman, and gives plenty of reasons to believe that Schenn is on the Flyers' radar.
Probably the most obvious of all is the fact that Brayden Schenn, Luke's younger brother, is already in Philadelphia. I'm sure, given the opportunity, the two brothers would love to play for the same team. It would also be a sight to see for most hockey fans, seeing both brothers on the same squad.
Seravalli also points out that Philadelphia Flyers director of player development, Don Luce, has been spotted at least three times in the past three weeks at the Air Canada Centre in Toronto, believed to be "scouting" some of the players.
Here are some other interesting facts Frank points out in his article.
Would you welcome the addition of Luke Schenn?
1. Luce, who was hired by the Flyers in 2006, also spent a lot of time in Toronto before last year's pre-deadline trade on Feb. 14 for Kris Versteeg.
2. Leafs general manager Brian Burke and Flyers general manager Paul Holmgren are close friends. Holmgren was Burke's head coach in Hartford in 1992-93 in Burke's first GM job. Most recently, Holmgren and Burke were on the U.S. Olympic management team for the 2010 Vancouver Olympics. Holmgren employs Burke's son, Patrick, as a scout.
3. Burke has a history of making the bulk of his trades before the NHL's popular deadline."I do try to get my lineup set well in advance of the deadline," Burke told ESPN.com on Friday. "I've never been a deadline guy. So January is when I try to make a splash. We are listening to a lot right now, and there is a good chance something will happen ..."
Another notable fact to point out is the fact that Schenn is in the first year of a five-year, $18 million deal, in which his cap hit is a very manageable $3.6 million a year, something that could look very attractive for the Flyers given their tight salary cap situation.
Plus, they would have him locked up for a fair amount of years, so they won't have to worry about offering him a new deal anytime soon.
Finally, Frank also notes several other potential targets the Flyers could be looking at, including Cody Franson, Carl Gunnarsson and John-Michael Liles.
So, what do you guys think? Would Philadelphia fans welcome the addition of Schenn? Or is he simply not worth what the Flyers may have to give up to acquire him?
Follow me on Twitter @ManayunkMike for the latest news, rumors and more!