With Tim Tebow, Expect and Respect the Unexpected
January 12, 2012

Jeff Gross/Getty Images
There's something happening here. What it is ain't exactly clear.
There are perhaps no two lines more appropriate to summarize Tim Tebow's rollercoaster ride of a year than the intro to Buffalo Springfield's famous song "For What It's Worth." It's possible that these same words were most appropriate to describe the sentiments of the vast majority of people who watched the second-year quarterback's brilliant performance on Sunday night against the Pittsburgh Steelers. 
There were the defending AFC Champions, who, despite being this year's fifth seed, came into Denver with an impressive 12-4 record; not to mention one of the league's best defenses and a two-time Super Bowl-winning quarterback. Just six years ago, Ben Roethlisberger came into the Mile High City and won the AFC Championship as a sixth seed. Pundits, fans, and history alike told us to expect the expected. 
On the other side of the field were the underdog Denver Broncos, who, despite a miraculous mid-season turnaround that saw the team go 7-1 after a 1-4 start, came into Sunday night having lost their last three games, including a particularly forgettable 7-3 home loss to the Chiefs to close out the season. This poor run, due in no small part to Tebow himself (30-73, 1 TD, 4 INTs in those games), sent Denver's organization into uproar all last week, frantically searching for answers, with some reports suggesting backup QB Brady Quinn could play in the game. 
Then there was John Elway, whose backing of Tebow this season has at times felt halfhearted and insincere, telling his unconventional quarterback to "pull the trigger" against the Steelers. There was head coach John Fox, who toyed with the notion of pulling Tebow for Quinn should the Heisman winner have started off against Pittsburgh on the wrong foot.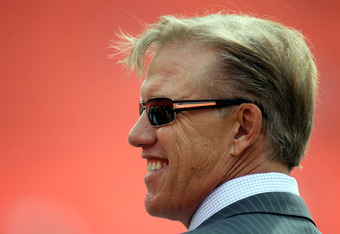 Marc Serota/Getty Images
And there was the media (oh, the media!), which now includes you, me, and everyone else with access to a computer and the Internet, who are always the biggest winners in the world of sports, because we get to simply watch and opine about every single story that comes our way. And there is perhaps no story in sports that has elicited more watching and opining than that of Tim Tebow's second season with the Denver Broncos—a story that is still unfolding. 
Yes, when Tebow threw that laser to Demaryius Thomas on the first play of overtime, and the second-year receiver from Georgia Tech blazed away from the Pittsburgh secondary and into the end zone after jolting Ike Taylor with a heart-stopping stiff arm, beneath the pure elation (or depression, rather, for Steelers fans) and excitement, we all surely felt Buffalo Springfield's words one way or another. There was something happening here. But what it is still isn't clear. 
As is customary for me following epic finishes in big games, I logged on to Facebook as quickly as I could and watched the rapid outpouring of status updates flood my News Feed, few of which didn't contain the word "Tebow." The vast majority of them too, were showering the Denver quarterback with a variance of accolades for pulling off the upset in dramatic fashion over the heavily favored Steelers. 
However, despite the resounding positivity Facebook seemed to be generating in Tebow's favor, there were still those fans that remained unmoved and unconvinced. I recall one status in particular calling the Broncos star "the most overrated quarterback in NFL history," and another along the lines of "[Tebow] will never have success in this league." Even Elway, who was on the sideline for the first and last play of overtime Sunday, sounded less than impressed when asked by ESPN radio earlier this week if Tebow would be the Broncos starting quarterback next year, saying that the organization would wait until the end of the season and evaluate all the players before moving forward.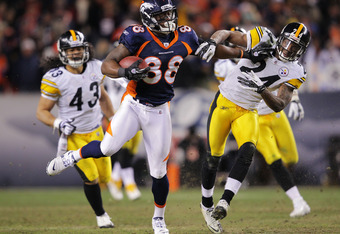 Doug Pensinger/Getty Images
Did these individuals even watch Sunday's game? Did they not see Tebow complete almost 56% of his passes after starting the game 0 for 3? Did they not see him torch—literally set fire to—a Pittsburgh secondary that had allowed just seven—SEVEN—pass plays of 30+ yards, which was fewest in the NFL this season? (Tebow threw five passes for 30+ yards on Sunday) Did they not see him emerge and mature as the true leader of a resolute Denver squad that wouldn't have been able to do what they did Sunday had Kyle Orton or Brady Quinn been taking the snaps? Tebow will never have success in this league? What do you call Sunday's game then? 
It may be difficult to predict just what kind of game Tebow will have each and every Sunday, but let's be clear: overrated he most certainly is not. The guy wins, and as he proved against Pittsburgh, he can beat you in more ways than one—something few other NFL quarterbacks can say. 
If anything, what all of us should have come to understand after watching Sunday's thrilling victory is that when watching Tim Tebow play in this league, we must come to both expect and respect the unexpected. In his most recent game leading up to the clash with the Steelers, Tebow had one of his most abysmal performances of the year going just 6 for 22 passing with one interception and no touchdowns in a 7-3 loss to the Chiefs. Few could have forecasted the kind of aerial domination that Tebow exhibited the following week that catapulted the Broncos to the divisional round of the AFC Playoffs.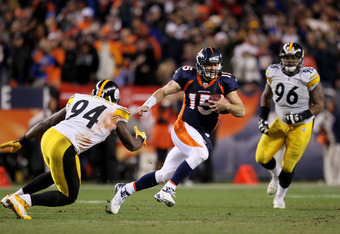 Jeff Gross/Getty Images
It caught most of us completely off guard. But that is the nature of Tebow. He did it, and he won the game. Expect the unexpected.
Tebow's toughest test of the regular season came back in Week 15 when the Patriots came to town and destroyed a Denver team that committed too many turnovers, and whose defense was unable to slow down Tom Brady and his burly tandem of tight ends in a 41-23 loss. 
Saturday night will be round two—this time in New England—and while the Patriots may be heavy favorites, let's not forget that Brady's bunch has lost their last three playoff games and their most recent two of those three at home. Jets fans will still have fond memories of their unlikely victory at Gillette Stadium this time last year, and Broncos fans will be hoping for a similar result against a team they knocked out of the postseason at this juncture six years ago. 
When you consider this poor run of postseason form, Denver's ever-bourgeoning momentum, and the unexpectedly effective Tebow himself, is it really that crazy to think that the Broncos might win Saturday night? I mean, would it really be that surprising if Tebow puts together another mesmerizing performance that none of us sees coming? 
On Sunday, he threw for 316 yards, averaging 31.6 yards per completion. Tebow won the game and beat the heavily favored Steelers in a way few thought was possible: through the air. And now Tebow will journey to Foxboro to face off against Bill Belichick and the man who drafted him two years ago—Josh McDaniels, who three days ago was hired as the Patriots offensive coordinator following Penn State's hiring of Bill O'Brien. Oh, did I mention McDaniels drafted Sunday's other hero, Demaryius Thomas, too? 
There is definitely something happening here. And while it still may not be completely clear, a word of advice for the New England Patriots as they stare across the field at their latest postseason opponents during the coin toss before Saturday night gets rocking: there's a man with a gun over there; and because he's too humble to tell you, I will: you've got to beware.