Cincinnati Bengals: 10 Positives from the 2011-2012 Season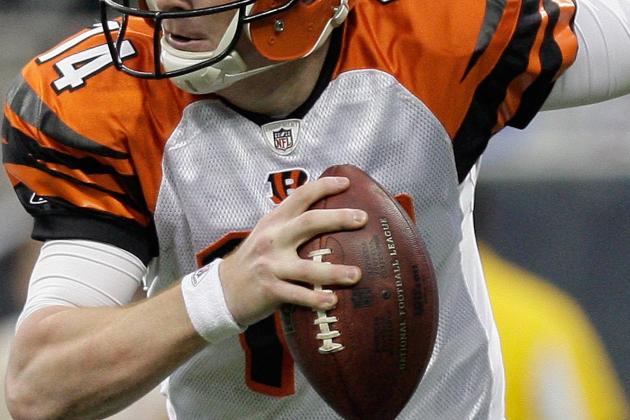 Thomas B. Shea/Getty Images

To those Bengals fans slowly beginning to emerge from the deepest depths of playoff mourning into the bright and sunny world of 2012 speculation, welcome.
After a disappointing but somewhat expected 31-10 loss to Houston, we are not left wondering what might have been, as we were back in 2009. Instead, the main theme that emerged from this past week is one of positivity toward what lies ahead.
The 2011-2012 Bengals may not have sustained their early season success as the weeks went by, but this season will likely be remembered as one of many pleasant surprises.
With that in mind, let's take a look at some of the great things the Cincinnati Bengals gave us in 2011-2012.
Begin Slideshow

»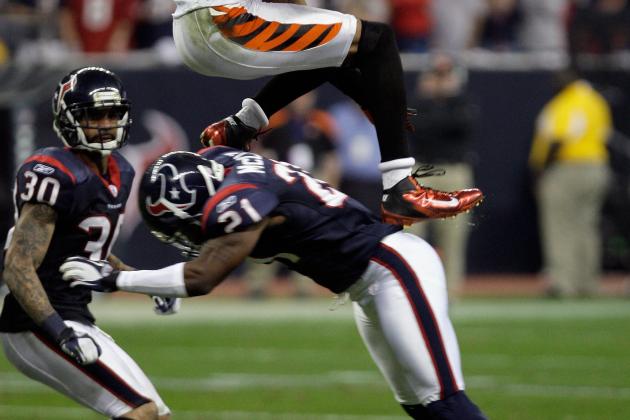 Thomas B. Shea/Getty Images

With only four touchdowns during the regular season, Jerome Simpson may not have matured into a reliable target for Andy Dalton just yet. But Simpson's performance this season did provide reason to believe that with a full offseason, he and Dalton can build on their relationship.
Simpson provided one of the highlights of the year with his front-flip TD jump over the head of Daryl Washington, who is sure to still be having sleepless nights over it.
It is Simpson's unmatched athletic ability that sets him apart from the rest of the Bengals receivers (not named A.J. Green), and his potential should guarantee his return next season.
The jury may still be out on whether Simpson's TD is the best ever, but just the presence of a Bengal in the discussion is something quite special.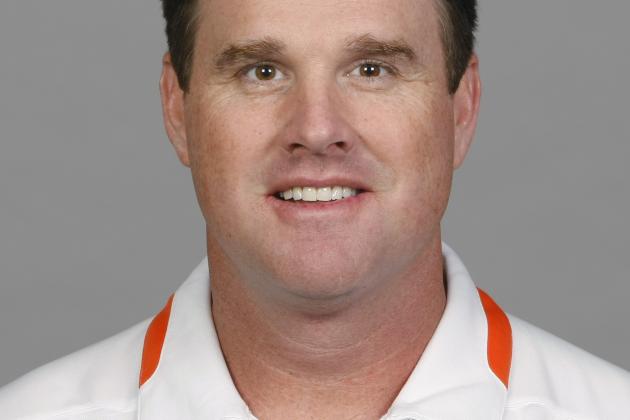 Handout/Getty Images

While it didn't end spectacularly, offensive coordinator Jay Gruden's contribution to the 2011-2012 season is one dear to Bengals fans' hearts—particularly because he replaced Bob Bratkowski, a man who drew fans' ire for quite some time.
Gruden's selection and development of Andy Dalton in a year without an offseason was nothing short of outstanding. With A.J. Green, Jermaine Gresham and Jerome Simpson to work with, Gruden has breathed new life into a formerly-stagnant system.
He may not have had success late in the year, but his young offense made its way into the playoffs, an accomplishment that has propelled Gruden's name into head coaching conversations.
However, Bengals fans can rejoice. Not only has Jay Gruden committed to staying in Cincinnati in 2012, the Bengals handed him a three-year, $3.6 million deal, which made him a very happy man.
While the likely progression for Gruden is a head coaching job, he is in no hurry to get to that point. His dedication to the job at hand is admirable, and there's no telling what he can do with a proper offseason.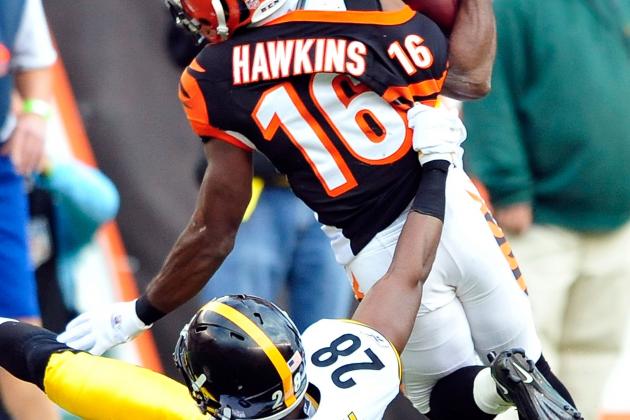 Grant Halverson/Getty Images

My personal pick for unsung hero of the year is Andrew Hawkins.
The younger brother of former Bengal Artrell Hawkins, No.16 has provided a sturdy pair of hands for Andy Dalton, and has shown some real flair of his own.
A two-time CFL Grey Cup Champion with the Montreal Alouettes, Hawkins was originally waived by the Bengals, signed to the practice squad and then called up to the main roster when Jordan Shipley went on injured reserve early in the season.
Hawkins failed to grab himself a TD during the 2011-2012 season, but he amassed 23 receptions for 263 yards. The more telling statistic, however, is the 12 first downs he was responsible for. He provided an extra spark for the Bengals' offense, utilizing his size and speed to get the job done.
While he provided a solid pair of hands in the slot, it was Hawkins's ability to be effective on end-arounds and screens that gave Jay Gruden an added something on offense.
You have to commend a guy who comes up from the practice squad and carves out a niche for himself on offense. Hawkins has made himself a valuable commodity, and he deserves a return in 2012-2013.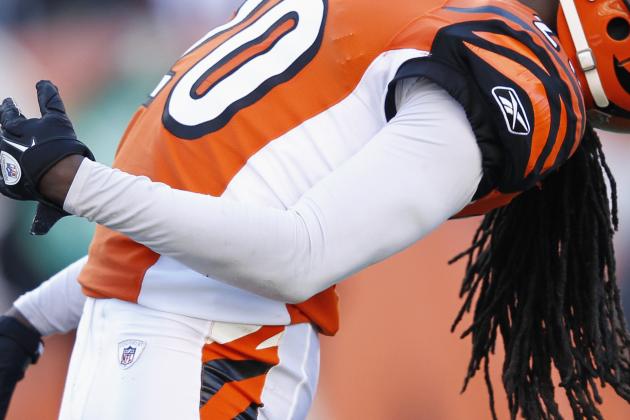 Joe Robbins/Getty Images

The safety position is one that continues to be problematic for Cincy.
Chris Crocker can lay the wood when necessary, but he misses tackles too often to justify a starting spot on the roster.
With Robert Sands, Jeromy Miles and Taylor Mays all ready and waiting to stake their claims to a starting spot, it could be curtains for Crocker.
The good news is that his counterpart Reggie Nelson has been impressive in his short time in Cincinnati. Nelson is agile and willing to get in the mix with the big guys, if necessary, and he never shies away from making a tackle.
His speed can take him out of plays, but his awareness outweighs his inconsistencies, for the most part.
Nelson racked up 59 solo tackles, two sacks, two forced fumbles, four interceptions and a touchdown during the regular season, and he cemented himself as a threat to opposing teams' passing game-plans.
He's a free agent in 2012, and he'll be a top re-sign priority for a Bengals' secondary in need of consistency.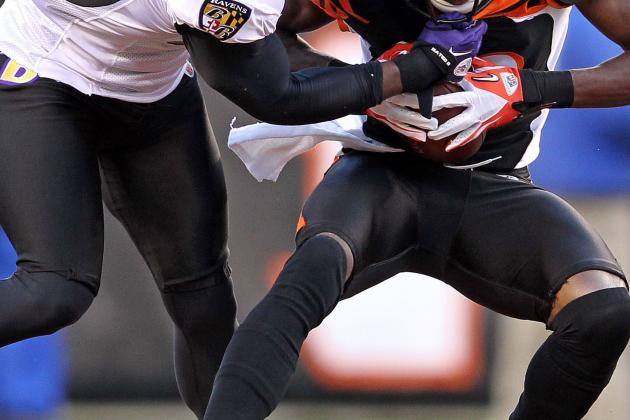 Andy Lyons/Getty Images

It may well be a popularity contest, but A.J. Green made the Pro Bowl in his rookie season, and that is special.
Green made some highlight reel catches in 2011, and was Andy Dalton's saving grace. While Dalton's passes often sailed a little long or a little wide, Green had no trouble hauling them in and making game-changing plays.
The young receiver has a great attitude and has given his all, despite the undeniable amount of warning he was likely given when he was drafted by Cincy.
Green will relish the opportunity to hook up with the likes of Larry Fitzgerald in Hawaii, and there's little doubt that with an offseason to follow the Pro Bowl, Green will come into next season faster, stronger and even better.
Already a star after his first season, the future looks bright for A.J. Green and the Bengals' offense.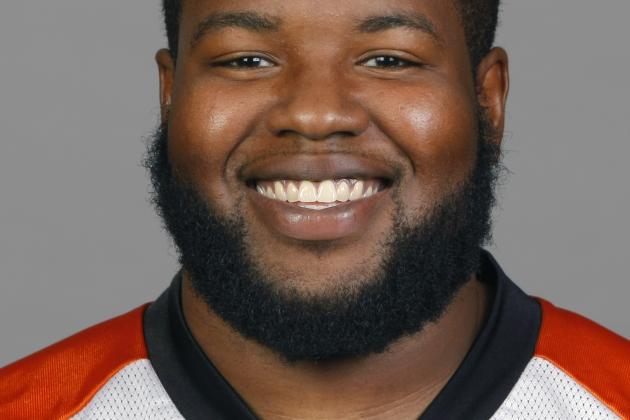 Handout/Getty Images

Love him or hate him, Andre Smith improved in 2011.
While he hasn't proved himself to be the Bengals' long-term solution at right tackle just yet, he did enough in 2011-2012 to help Andy Dalton stay upright and keep the Bengals in a position to win.
With Bobbie Williams on IR and Mike McGlynn and Nate Livings starting, Andre Smith actually became one of the strongest forces on the offensive line this year.
He started 14 games this season—double his 2010-2011 total—despite struggling with injuries late in the year.
He also overcame weight issues that have hindered his play since entering the league. With a new diet and a renewed work ethic, Smith got down to 338 pounds in 2011, crediting his success to simple nutrition and workouts.
It seems that two years of ineptitude lit a fire under Andre, and while he may not have played to the first-round standard equal to where he was drafted, there is hope for the future.
The Bengals have an option on Smith's contract, and he will likely want to see those dollars, as he's unlikely to be offered them elsewhere.
It should not have been this long a road, but Smith has finally clicked into life. Next season could be a breakout year for the maturing young tackle.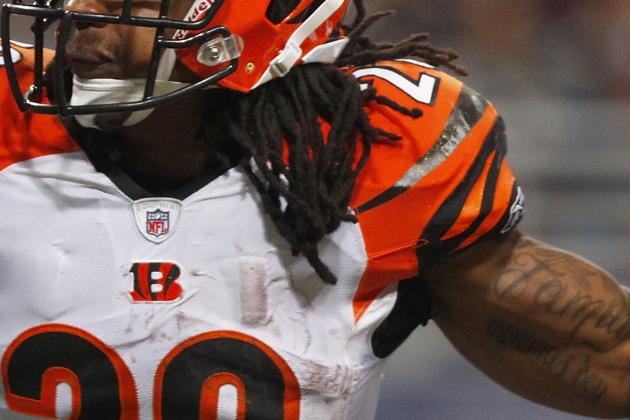 Whitney Curtis/Getty Images

While one running back struggled, another one thrived. With off-the-field troubles plaguing Cedric Benson's 2011-2012 season, and his on-the-field performance leaving much to be desired, it was Bernard Scott who impressed in the Bengals' backfield.
While Benson's failures are partly due to an ineffective offensive line and Jay Gruden's penchant for throwing the ball, his off-the-field antics were enough to seal his fate.
When the Bengals needed Benson to step up in this season, he failed.
On the other hand, backup RB Bernard Scott had success in the limited action he saw. Scott ran for 380 yards and three touchdowns this year, with his scores proving integral in close games.
While Scott's success may have come from opposing defenses not actually game-planning for his outside running, he certainly made the most of his opportunities, and he proved to be a great change of pace from the downhill running of Ced Benson.
There are many who want to see the Bengals take a running back in the 2012 draft, and they most likely should. However, like the Saints, the Bengals can have success by utilizing a number of different backs with different talents.
Scott would be great for this sort of scheme, but unfortunately Cedric Benson doesn't have the attitude or the playmaking ability to be part of that running game style going forward.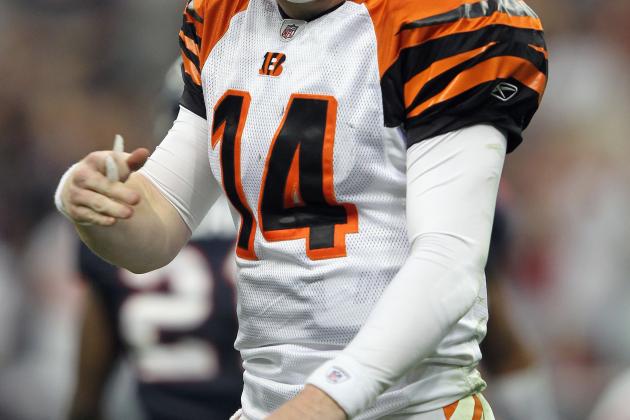 Jamie Squire/Getty Images

It has been said over and over already, but Andy Dalton was impressive in 2011-2012. And not only was he impressive, but he thrust his name into the race for rookie of the year by leading the Bengals to nine wins and a playoff berth.
He did all of that with new receivers, a patchy offensive line and a no-name defense. Oh, and did I mention the lack of a real offseason?
He may have tailed off towards the end of the year, but Dalton has shown the poise and leadership abilities necessary to succeed well into the future. He has terrific awareness and he is ice-cold under pressure.
With a rookie season that exceeded all expectations, you have to like where this kid is headed.
His OC Jay Gruden returns next season, continuing their impressive partnership. This will give the Bengals the opportunity next season to build on their promising young QB's first outing in a new system.
Even the most optimistic Bengals fans will admit that prior to this season, this franchise was in utter turmoil.
So, when you consider just how dark things were back in the summer months, the job Andy Dalton has done is outstanding.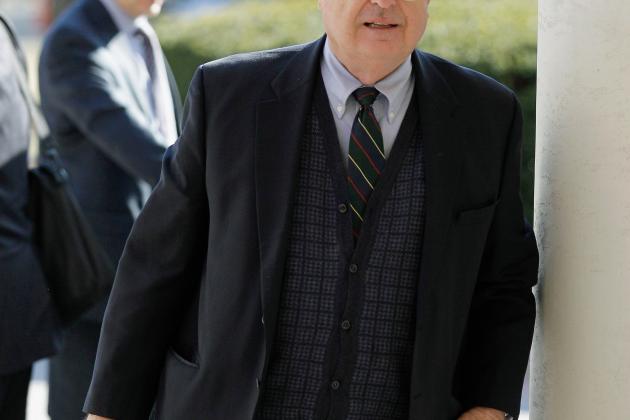 Rob Carr/Getty Images

There's a heck of a number of reasons to dislike Mike Brown. In fact, there are so many, they would require their own slideshow!
However, Mike Brown actually made some fairly admirable football moves this season, and he has been frequently mentioned as the possible executive of the year.
In 2011, Mike Brown fired Bob Bratkowski and hired Jay Gruden, which breathed immediate life into an offense that had become stale and predictable. Considering how close Brown and Bratkowski were, this was a significant concession on Brown's part.
Secondly, Brown changed his mind regarding the trade of Carson Palmer, locking down a first-round pick in 2012 and a second-round pick in 2013 that could become a first-round pick if the Raiders make the AFC Championship Game.
He drafted A.J. Green and Andy Dalton in what was a stellar draft for Cincy, and following the team's playoff berth he slashed season ticket prices for 2012-2013.
While Hamilton County remains rife with anti-Brown sentiment, he began the healing process in 2011. With the team seemingly on an upswing now, you have to wonder how much success Brown will want to see before slipping back into old habits.
Let's hope he wants a ring...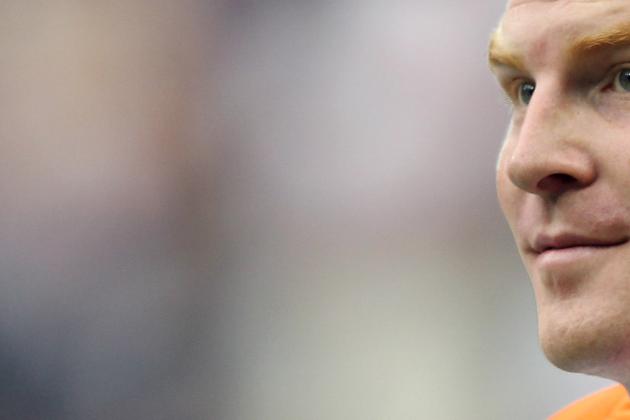 Jamie Squire/Getty Images

It may not feel like it's worth celebrating right now, but a winning season was a real achievement for the 2011-2012 Bengals.
Following the 34-3 beatdown the Lions put on the Bengals in the preseason, we at B/R were inundated with declarations that the Bengals wouldn't get past 4-12, matching last year's abysmal effort from Carson Palmer & Co.
Now, expectations change when a team starts to play well, and the Bengals certainly whimpered against tougher opponents in 2011-2012. Nonetheless, all we have right now is hindsight, and with hindsight 9-7 was damned special.
When you factor in all of the obstacles that this team faced—from their veteran QB walking out, to starting a rookie QB and untested receivers—all the while battling the crippling effects of a lockout, what Marvin Lewis, Jay Gruden and Mike Zimmer managed to pull off was pretty cool.
Things are looking up in Cincinnati, and with a fresh set of faces, untainted by the club's previous disappointments and mismanagement, the new Bengals are off to a flying start.
With a solid draft and a refurbished training camp, Marvin Lewis can take this team to new heights in 2012-2013.
There is optimism in the Queen City, at last.