NFL Playoff Schedule 2012: Packers Will Dominate Giants at Home
January 12, 2012

Jonathan Daniel/Getty Images
The New York Giants are a very confident football club, but they are going to be absolutely dominated by Aaron Rodgers and the Green Bay Packers in the 2012 playoffs.
Many see this game as an epic rematch of sorts, as there is somewhat of a small rivalry starting to develop between these two teams.
Before the Kansas City Chiefs ruined the Packers perfect season, the Giants took arguably the biggest shot at the Pack back in Week 13, where Green Bay narrowly escaped East Rutherford with a 38-35 win.
It was a game that saw 896 yards of total offense between the two teams, and was capped off by a last-second field goal drive by the Packers with under a minute left.
Many can't help but think back to the 2007 NFC title game that saw the Giants come into Lambeau and defeat Brett Favre and the Packers on their way to an eventual Super Bowl win.
Packers wideout Greg Jennings obviously still remembers that loss, as is evident by his tweet last Sunday: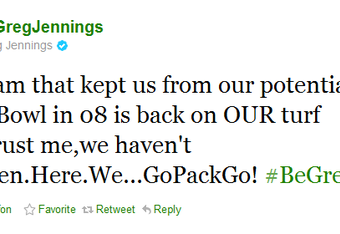 Finally, as if the history doesn't hype this game up enough, there's the bold guarantee from Giants' defensive end Jason Pierre-Paul, according to Paul Schwartz of the New York Post:
"We're going to win,'' said Jason Pierre-Paul, the second-year defensive end/man-child who had another one of his punishing performances. "One hundred percent we're going to win ... because we're the best.''
It's going to be a good game, and there is no doubting that the Giants are coming into this game hot.
That being said, they are no match for this Packers team, especially at Lambeau.
Need a few reasons why?
Aaron Rodgers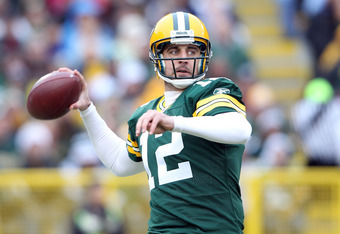 Elsa/Getty Images
For my money, Rodgers could really be the only reason the Packers have the advantage this Sunday.
There's no doubting that he's one of the best in the game right now, and his 4,643 yards, 45 touchdowns and only six interceptions on the seasons will back that statement up.
Last time these two played, Rodgers put up 369 yards and four touchdowns with a pick.
He's rested and ready to go for the playoffs, and he's also going to have a healthy Greg Jennings back on the field to go along with Jordy Nelson, James Jones, Donald Driver and Jermichael Finley.
The Giants have a stellar pass-rush, but the Packers are one of the best at negating that with quick plays, slant passes and dumps to the tight ends.
He's got his full arsenal back, so I expect Rodgers to have a huge game.
Ryan Grant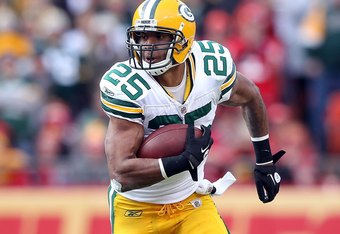 Jamie Squire/Getty Images
Running back James Starts is still a question mark heading into this game, but with the way Ryan Grant has been playing as of late, that might not be the bad news it once would have been.
Grant finished the season with only 559 and two touchdowns, but he really came into form in the Packers' last regular season game against the Lions. He played an integral part in keeping the chains moving, and scored on a huge 80-yard screen pass from backup Matt Flynn.
We all know that Grant has what it takes to be a game-changer, and I expect he'll play a big role in slowing down the Giants pass-rush.
The best way to slow down an aggressive pass-rush is by utilizing the running game and screen plays, and Grant fits that bill perfectly right now.
Home-Field Advantage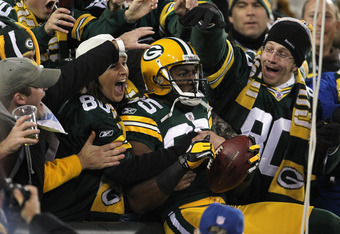 Jonathan Daniel/Getty Images
Don't underestimate the power of the frozen tundra, especially now that No. 12 is under center for the Pack rather than the turnover-prone No. 4.
The Packers were perfect at home this season, and their anxious and rowdy fanbase didn't get to see a single playoff game during last season's Super Bowl run that consisted of road games for the Pack.
The cold may not play as big as a factor, but the fans and the confidence this Packers team has at Lambeau will.
Prediction: Packers 34, Giants 17
Playoff Schedule:
Saints vs. 49ers - Sat. Jan 14 at 4:30 p.m EST on FOX
Broncos vs. Patriots - Sat. Jan 14 at 8 p.m. EST on CBS
Texans vs. Ravens - Sun. Jan 15 at 1 p.m. EST on CBS
Giants vs. Packers - Sun. Jan 15 at 4:30 p.m. EST on FOX