2012 NFL Mock Draft: First-Round Difference Makers for Playoff Hopefuls
January 12, 2012

Jonathan Daniel/Getty Images
Just because a team is drafting at the bottom of the first round, it doesn't necessarily mean it won't find impact players.
In fact, some recent mid-to-late first-round draft picks have delivered Pro Bowl-caliber seasons early in their careers, proving that there is superb talent to be found at any place in the first round. 
The 2012 NFL draft is just a few short months away, and since there's no lockout mess occurring this offseason, it's going to be much better. 
With that said, here's my entire first-round mock with info on each pick, and a more in-depth look at those players who will be difference-makers for the playoff hopefuls. 
2012 NFL Mock Draft
*Coin flip needed to break tie 
Order of picks 25-32 to be determined by playoff results
1. Indianapolis Colts (2-14): Andrew Luck, QB Stanford  
He's the best player in the draft, and the Colts would be wise to draft him to ensure their future is in good hands. 
2. St. Louis Rams (2-14): Matt Kalil, OT, USC
Sam Bradford needs playmakers, but his biggest need is an offensive line that will actually protect him and keep him healthy. Kalil is the best one in the draft and would be a huge upgrade to the Rams offensive line. 
3. Minnesota Vikings (3-13): Morris Claiborne, CB, LSU
Minnesota's pass defense was downright awful this past season. Claiborne is the real deal, and he'll step in right away to contribute. 
4. Cleveland Browns (4-12): Justin Blackmon, WR, Oklahoma State
The Browns could think QB or RB here, but their best bet is to give Colt McCoy more weapons. Blackmon is a true terror at WR and will shine in the NFL. 
5. Tampa Bay Buccaneers (4-12): Dre Kirkpatrick, CB, Alabama
The Buccaneers need help all over. They'll do the right thing and take the best available defender, which is Kirkpatrick. 
6. Washington Redskins (5-11): Robert Griffin III, QB, Baylor
If the Redskins are ever going to win the NFC East, they need a legitimate QB. RGIII has to be Washington's sole focus heading into the draft. 
7. Jacksonville Jaguars (5-11): Alshon Jeffery, WR, South Carolina
A small reach here, but Jacksonville needs to get Blaine Gabbert a strong target at WR, and Jeffery can catch most anything thrown his way. 
8. Carolina Panthers (6-10)*: Devon Still, DT, Penn State
Another reach, but the Panthers are in dire need of run stopping defenders. Still benefits from a weak DT class and lands in the Top 10. 
9. Miami Dolphins (6-10)*: Trent Richardson, RB, Alabama
Richardson could fall further, or a team will trade up for him. Here, I have the Dolphins playing it smart and not passing up on true talent, as they'll forget about life with Daniel Thomas because Richardson is far superior. 
10. Buffalo Bills (6-10): Riley Reiff, OT, Iowa
Ryan Fitzpatrick needs better protection, and Reiff will give it too him. 
11. Kansas City Chiefs (7-9)*: Jonathan Martin, OT, Stanford
Another team that could use help all over, the Chiefs wise up and land a talented offensive lineman to have for a long time. 
12. Seattle Seahawks (7-9)*: Nick Perry, DE, USC
If the Seahawks want a QB, they'll have to trade up for one. Here, I have them upgrading the pass rush in order to strengthen the defense. 
13. Arizona Cardinals (8-8): Courtney Upshaw, OLB, Alabama
The Cardinals could use help all over. They'll take the best defender to upgrade the defense, and that is the dynamic linebacker from Alabama. 
14 . Dallas Cowboys (8-8): Luke Kuechly, LB, Boston College
A tackling machine, Kuechly will bring much-needed youth to the Cowboys, plus, he'll be great with Rob Ryan's direction. 
15. Philadelphia Eagles (8-8): Michael Floyd, WR, Notre Dame
The Eagles were locks to win the NFC East this year, but they struggled to find success this past season, leading to a sub-par season. It could've been worse, but they salvaged the season late in the year. 
With DeSean Jackson likely headed elsewhere during free agency, the Eagles will need to find a replacement through the draft. 
Floyd has had some off-field incidents which raises questions about his character, but he's not a huge hothead like Jackson. The former Notre Dame star is now putting football first, and he will be a game changer in Philadelphia. 
Michael Vick is going to need another strong target to throw to, which is why Floyd is a great fit. He has the size and speed to thrive at the next level, and he's all about making big plays.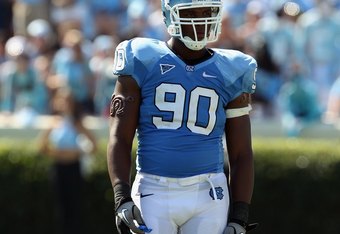 Streeter Lecka/Getty Images
Floyd will certainly do his part to help Philadelphia get back to the postseason. 
16. New York Jets (8-8): Quinton Coples, DE, North Carolina
The Jets have a lot of holes that need fixing, and it wouldn't surprise me if they tried to trade up to get Richardson so the run game becomes more intense. 
Since I'm not doing trades, I have the Jets focusing on the defense with this mid-round pick, and they're definitely happy Coples has fallen to them. 
New York's pass rush needs an upgrade, and Coples can be that guy. He had a down year this past season, but he's shown he can be a powerful force by quickly getting after the QB. 
Aaron Maybin led the Jets with six sacks this past season, which is proof this team needs help in applying pressure to opposing QBs.
The Jets missed out on the playoffs, but here they get a player who can help the defense dominate again, which will in turn make the path to the postseason easier. 
17. Cincinnati Bengals (via OAK 8-8): Lamar Miller, RB, Miami
Yes, the Bengals made the playoffs this year, but next year is no guarantee. Cincinnati squeaked into the playoffs, showing that they're definitely a team to watch out for in the future. 
There's a chance the Jets select Miller right before the Bengals get a chance, but I still think New York will go defense. 
The Bengals could wait till their second first-round pick to get Miller, but to avoid another team trading up to get the Miami star, Cincinnati won't hesitate. 
Miller has exceptional speed and will be the future running back for the Bengals. He'll start out as a great complement to Cedric Benson and then eventually steal the show, helping the Bengals thrive in 2012 and beyond. 
If Cincinnati expects to be contenders from here on out, their offense needs a little more flash, and Miller is just the right guy. He'll keep defenders on their toes, worrying about his next move, which will do wonders for the pass game. 
18. San Diego Chargers (8-8): Mark Barron, S, Alabama
The Chargers have plenty of options here, but I have them securing the best safety in the draft class to make their pass defense even scarier. 
19. Chicago Bears (8-8): David DeCastro, G, Stanford
The Bears would love a playmaking WR, but the top ones are gone. They'll gladly settle for the best interior lineman in the draft to help keep Jay Cutler safe. 
20. Tennessee Titans (9-7): Melvin Ingram, DE, South Carolina
The Titans need help bringing down the QB, and Ingram excels in this area. 
21. Cincinnati Bengals (9-7): Janoris Jenkins, CB, North Alabama
Jenkins has character concerns, but the Bengals will welcome him in and make sure he stays out of trouble. 
22. Clevleand Browns (via ATL 10-6): Whitney Mercilus, DE, Illinois
He may have only had one great year in college, but a team will jump on him because he showed he can quickly get after opposing QBs. Mercilus' 16 sacks this past season will help land him in the first round.
23. Detroit Lions (10-6): Cordy Glenn, G, Georgia
Matthew Stafford needs better protection, and Glenn will definitely help in that area, as he can play either the guard or the tackle position.                
24. Pittsburgh Steelers (12-4): Mike Adams, OT, Ohio State
The offensive line in Pittsburgh is in need of help, and Adams' big body will be an instant upgrade for the Steelers. 
25. Denver Broncos (8-8): Alfonzo Dennard, CB, Nebraska
Champ Bailey isn't getting any younger. Defensive tackle is an option here, but the Broncos won't pass up on a talented corner like Dennard. 
26. Houston Texans (10-6): Peter Konz, C, Wisconsin
Chris Meyers is a free agent, along with Mario Williams and Arian Foster. Bringing back the talented center will prove to be difficult, so the Texans will find his replacement through the draft.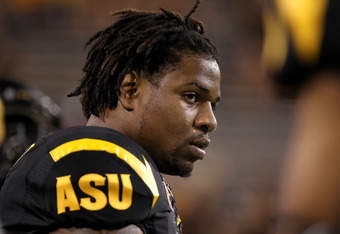 Christian Petersen/Getty Images
27. New York Giants (9-7): Vontaze Burfict, LB, Arizona State       
His character issues will be the reason he drops on draft day, but the Giants won't pass on his talent. 
28. New England Patriots (via NO 13-3): Zach Brown, OLB, North Carolina
The Patriots have to get better on defense, and Brown is a powerful defender that can immediately make an impact. 
29. Baltimore Ravens (12-4): Dont'a Hightower, LB, Alabama
Baltimore misses out on the best offensive lineman, so they play it smart and select a top defender to learn from and eventually replace Ray Lewis.               
30. San Francisco 49ers (13-3): Kendall Wright, WR, Baylor
The 49ers need more playmakers, and Wright will give them that. He's a talented WR that thrives on the big play. 
31. New England Patriots (13-3): Stephon Gilmore, Cornerback, South Carolina
The Patriots will likely think about trading this pick, but I think they should keep it and bring in more talent to help boost their putrid defense. Gilmore is a skilled corner that will instantly make New England better on defense. 
32. Green Bay Packers (15-1): Ronnell Lewis, OLB, Oklahoma 
The Packers have plenty of options here, and a running back is one of them. However, Clay Matthews needs someone opposite of him that will help make the defense stronger. Lewis is that guy and will fit nicely in Green Bay's system.