NFL Draft 2012: Big-Name Stars Sure to Underwhelm in Pros
January 12, 2012

Streeter Lecka/Getty Images
Success in the NFL doesn't come easy. Every year a new crop of talented youngsters join the league and for every one success story there is two failures.
This can be attributed to a lot of things; the coach, the team, the scheme, the depth chart. But ultimately it falls on the player.
In some cases he won't deserve it, but in most cases he will.
It is the unfortunate truth that players in this class will underperform and underwhelm too.
Here are some big names in danger of disappointing in the pros.
Alshon Jeffery, WR, South Carolina
The big Gamecocks receiver is an extremely gifted talented with the potential to absolutely dominate.
The problem is it's still only potential and he lacks speed.
At 6'4", 233 pounds, Jeffery should've been one of the most productive wide receivers in the country this year. Some of that is not his fault thanks in large part to inconsistency at the quarterback position, but the junior didn't do enough to help the cause either. He finished the season with only 49 receptions for 762 yards and eight touchdowns.
If he wasn't making catches or separating against college talent - albeit some of the best in country - what says he'll turn it on in the NFL?
Jeffery's stock in this draft reminds me a lot of Jon Baldwin from a year ago. A big, rangy receiver coming off a mediocre season with questions about separation skills and will to succeed.
The potential is there, but it means nothing if he won't work for it.
Jerel Worthy, DT, Michigan State
At 6'3", 310 pounds, Worthy is built to contribute immediately in the NFL. He's flashed brilliantly at times this season and used a solid bowl game performance to put himself back in consideration for the first round.
However, he's far from a complete prospect and isn't trustworthy enough to risk a high pick on.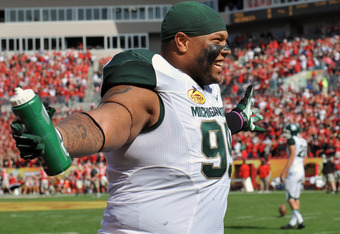 Al Messerschmidt/Getty Images
He's not a pass rushing presence in the middle so stats aren't really something that matter for him, but he's a force in the middle against the run and can be impossible to move when he wants to be.
But Worthy lacks consistency and doesn't always play to his potential or talent.
If he can't do it in college why would he start in the pros?
Kendall Wright, WR, Baylor
Robert Griffin III's top weapon is being overvalued right now. As productive as Wright was during his Baylor career - 302 receptions, 4004 yards and 30 touchdowns - he's not a complete receiver.
Wright isn't going to scare anyone with his size (5'10", 190 pounds) but he has great speed and is a superb athlete.
He even played on the hoops team early his in Baylor career.
His potential is absolutely there, but he could develop into a one-trick pony, deep threat as well.
We've seen teams overdraft speedy receivers in recent years and that doesn't have a high success rate. 
Hopefully that isn't the case with Wright, but it is definitely a concern.