ONE Fighting Championship 2 Headliner Ole Laursen Says 2012 Will Be His Year
January 12, 2012
ONE Fighting Championship only arrived on the scene around six months ago but it has already established a reputation as being the most prestigious mixed martial arts promotion in all of Asia.
Big-name fighters such as Phil Baroni, Renato "Babalu" Sobral and Rolles Gracie are steadily being signed up. ONE FC is also giving a platform to some local talent, and one of the most exciting prospects to have emerged is Ole Laursen.
Although the Filipino fighter has been around for quite some time, facing the likes of Buakaw Por Pramuk, Andy Souwer and Masato in K-1 and Muay Thai matches, his MMA career has only recently started to gather momentum.
After being defeated by Japanese MMA legends Genki Sudo and Caol Uno in his first two fights, he has remained undefeated ever since and is currently riding a five fight win streak.
The last 12 months have been frustrating as he has been forced to pull out of two fights due to injury, one of which would have been the main event at ONE FC 1. But Laursen is back and determined to make up for lost time.
He will have an opportunity to do just that when he takes on Felipe Enomoto at ONE FC 2 in Jakarta, Indonesia, next month. His bout with the Japanese fighter will be the main event, guaranteeing an enormous audience and a potentially career-defining moment for the winner.
After living in Thailand for several years, Laursen has returned to the country of his birth to set up a Legacy Camp in Boracay, a world renowned beach resort in the Philippines. He says that he is in fantastic shape and ready to return to action in style against Enomoto,
"Training has been going great, it's good to be back in fight mode again. I'm working my boxing at the new Legacy Gym fight camp in Boracay. The Philippines is greatest boxing nation in the world so I'm doing what I can to sharpen up. A year out is a long time but I been active in the gym and sparring so I've not completely been out."
Laursen was last seen in 2010 when he won three out of three fights for ESPN Star Sports promotion Martial Combat. The most impressive performance came against BJJ purple belt and MMA veteran Eduardo Pachu, who Laursen submitted in the third round of the fight, which gave a tantalizing glimpse of his potential.
After the disappointment of having to pull out of a proposed match with URCC welterweight champion Eduard Folayang at ONE FC 1, he is ready for the challenge of Enomoto and also said he feels that a fight with the Filipino might still happen,
"Felipe is a strong fighter, I respect him. I've been talking a lot with his brother over the years and now our paths cross. He is on his way up and I'm gonna try to stop him, it's a real fight. The URCC asked me about challenging Folayang for his welterweight belt and I'm down for sure so I hope they can make it happen. I would love a shot at the URCC title."
That title will be on the line at URCC Cebu 7 this weekend when Folayang defends it against Brazilian Muay Thai champion Wadson Teixeira, who happens to be a training partner of Laursen's and said an upset could be on the cards,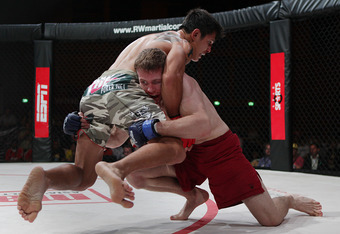 "Wadson is hungry underdog, he's been traveling four days just to get here and I've heard no complaints from him. He has the will and skill so I hope he can do what he came for, we are all supporting him. He's one of the guys helping me train at the Boracay camp along with good friends like Eduardo Bezerra, Froilan Sarenas, Jason Townsend and a few other good guys"
After watching the last ONE FC event from the stands, Laursen will be centre stage at the BritAma Arena on February 11th, headlining a card which also features a super heavyweight bout between Gracie and Bob Sapp.
"The first ONE FC event blew me away, I couldn't believe how many people were there and I can't wait to get in there and be part of it. 2012 has just started and I'm looking to make up for a disappointing 2011 and make noise which will be heard all over the world."
Laursen was named one of the top 10 lightweight prospects in the world in 2010 but his career did not develop as swiftly as anticipated because he was unable to fight for an entire year after that. He still has plenty of potential, and ONE FC 2 will be the perfect opportunity for him to show that. Despite a couple of injury setbacks, he is still very much a contender.
nless otherwise noted, all quotes were obtained first-hand.