2012 NFL Mock Draft: Andrew Luck, and Other Surprises That Will Change the Draft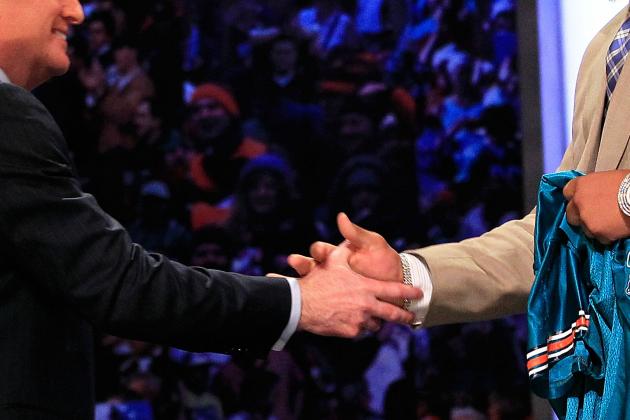 Chris Trotman/Getty Images

Every year the draft is full of surprises—twists, turns, changes, trades and sometimes downright stupidity.
Predicting these actions can be tough, but I had a good run at gauging the talent and draft position of the players in 2011, and I'm hoping for a strong repeat performance. Whether it be the new rookie wage scale, the "Suck for Luck" campaign or the fact that a lockout isn't looming over the draft, I'm looking forward to this draft more than I have in years' past.

Throw in a couple elite talent CBs, QBs, and WRs, and we have ourselves an interesting 2012 NFL Draft. Here is one sports writer's thoughts on how it will all go down.
Begin Slideshow

»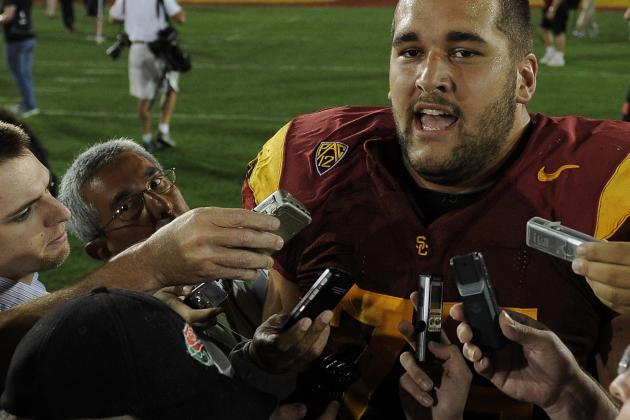 Harry How/Getty Images

Matt Kalil makes a ton of sense here.
The Colts are terrible, and they have a lot of holes to fill. Throwing Luck into a terrible situation, with all of that pressure and those expectations, he will fall pretty flat. You don't want him to get David Carr-ed.
Instead, you need that franchise LT to make it all work. There is talent at the QB position in next year's draft with Matt Barkley and Landry Jones. Passing up on a cornerstone piece will be a huge regret for this team.
This pick won't be traded. Kalil is a slam dunk prospect.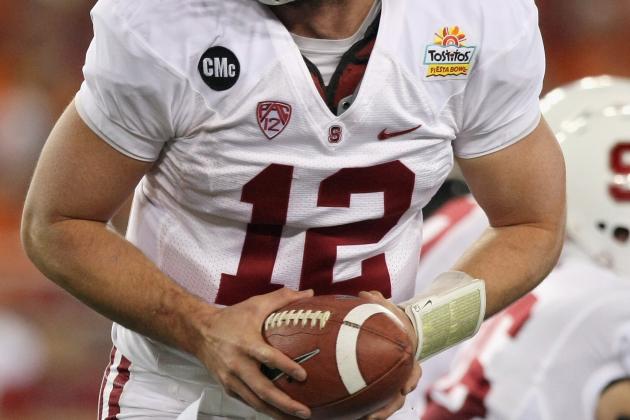 Donald Miralle/Getty Images

I predict a trade here, so let's break down the trade details first:
Cleveland Browns Receive: Rams' 2012 first-round pick, 2012 fifth-round pick and 2013 third-round pick
St. Louis Rams Receive: Browns' 2012 first-round pick, 2013 second-round pick, 2012 fourth-round pick and Falcons' 2012 first-round pick
The Browns were desperately trying to trade for Sam Bradford when he came out in the draft, and now they have the ammunition to get their guy. Andrew Luck would excel in a West Coast offense. Aside from having no offensive weapons, the Browns have a solid O-line and can use their second-round pick on a weapon for Luck to throw to.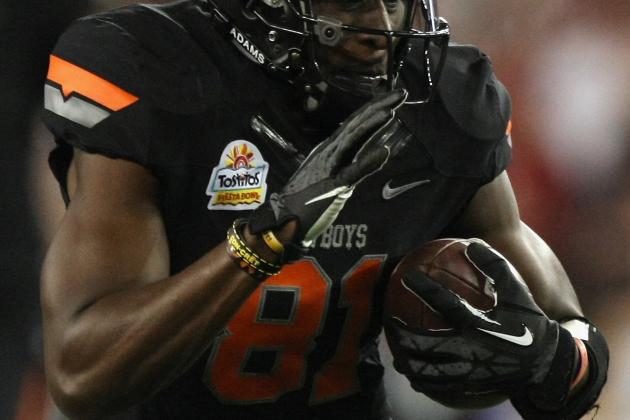 Donald Miralle/Getty Images

If Calvin Johnson hadn't basically taken the Lions to the playoffs this year, this pick wouldn't have happened.

The Vikings need another threat for Ponder. I think taking Claiborne here is a possibility, but ultimately I believe the Vikes go with Blackmon, who is an absolute stud player.
Blackmon, Harvin, Peterson, Rudolph and Ponder give the Vikings a young, explosive offense in an offense-friendly league. They will need to match the Packers' and Lions' scoring abilities if they want to compete in this division.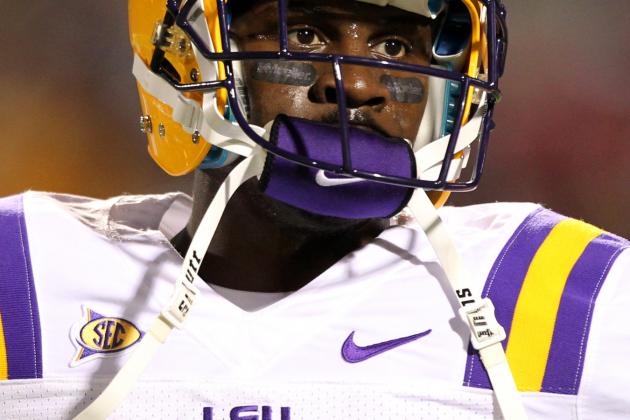 Joe Murphy/Getty Images

The Rams seriously need CB help.
They were playing Al Harris, who at one point was probably their best active CB.
They get about 10 guys back from IR, but this position was a need for them before the injuries anyway. The Rams watched a former LSU DB beat them twice this year. This team needs some explosion on that defense.
Quinn and Long can both get to the QB, but Skelton, Smith and Jackson can just lob it up there and beat whomever St. Louis has playing DB. You draft to beat your division, and none of those QBs are elite. You cannot let them beat you week in and week out.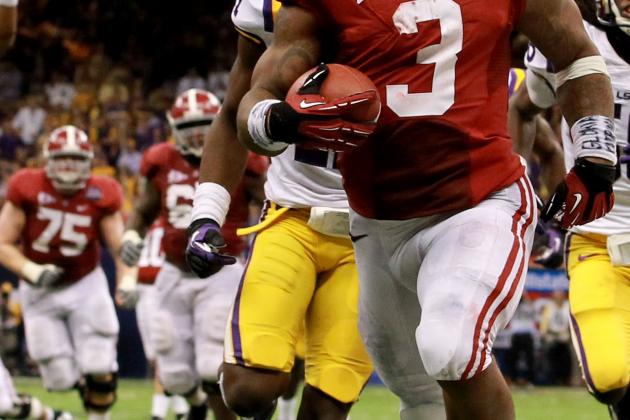 Ronald Martinez/Getty Images

I would love this pick if I were a Bucs fan.
Richardson is the best RB prospect since Peterson. He is a dynamic RB with elite skills across the board.
And pairing him up with Blount would give the young Buccaneers' offense some serious firepower.
Blount has a habit for fumbling the ball away anyway, and he shouldn't be the head horse carrying that ball. Richardson is too good to pass up here; I think Tampa Bay gets great value and a great player out of this pick.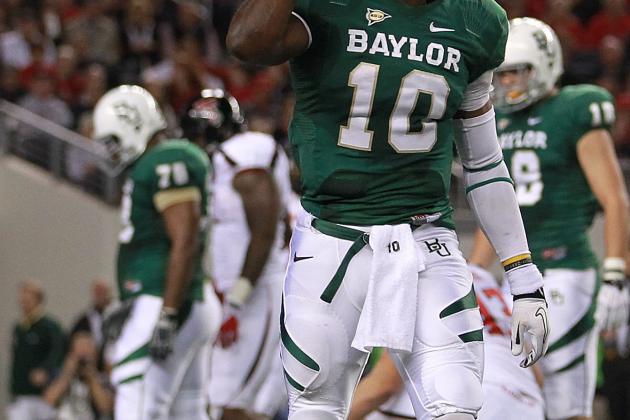 Ronald Martinez/Getty Images

This buys Shanahan some time and actually gets Washington a competent QB; another year of Beck/Grossman is unbearable.
Snagging the Heisman winner and a good West Coast QB at No. 6 is a good deal. The Redskins have Trent Williams in place, and Shanahan likes to pull his RBs out of thin air. This offense might do well if they can get a serious receiving threat, which I'm willing to bet they spend their first pick of Day 2 on.
When you look at the recent QB selections, they almost always take a player to complement or help the QB develop. Just as I believe the Browns will draft a WR, so will the Redskins.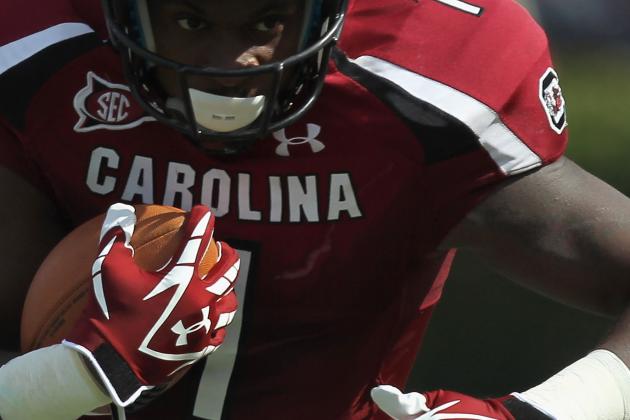 Streeter Lecka/Getty Images

While I believe this is too early for Jeffery to be taken, I think this is where he'll be taken.
Jeffery is an elite talent, the Jags just hired Mularkey—an offensive-minded coach—and they have Blaine Gabbert. The defense is just fine, but the Jags need to find a way to improve that offense.
Jeffery is the kind of talent to stretch the field and help MJD get some running lanes.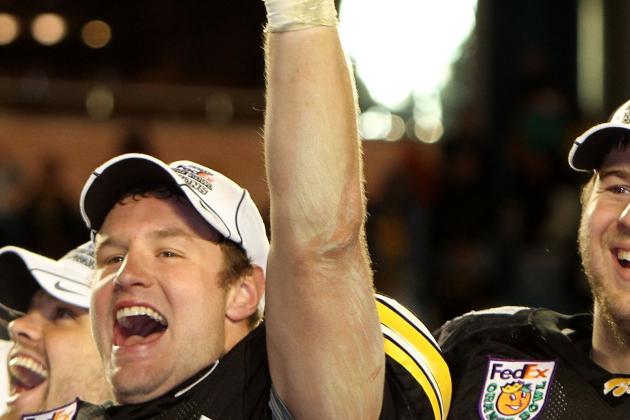 Doug Benc/Getty Images

Plain and simple: The Dolphins have a good defense and there is no tight end nor wide receiver worth taking this high, so they can improve their offensive line for Matt Moore.
Reiff is a talented player, and Marc Colombo is aging—and he isn't that good to begin with.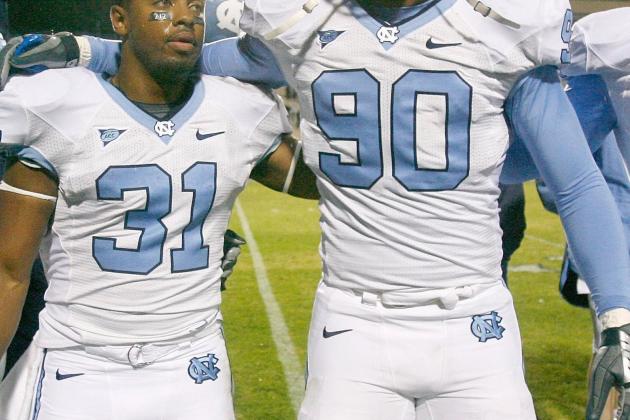 Kevin C. Cox/Getty Images

The Panthers struck gold with Cam Newton, and now they need to fill the pass-rushing void left by Julius Peppers.
Coples is a stud pass-rushing DE. To get to Brees, Freeman and Ryan, they need an elite talent. Coples fits that need.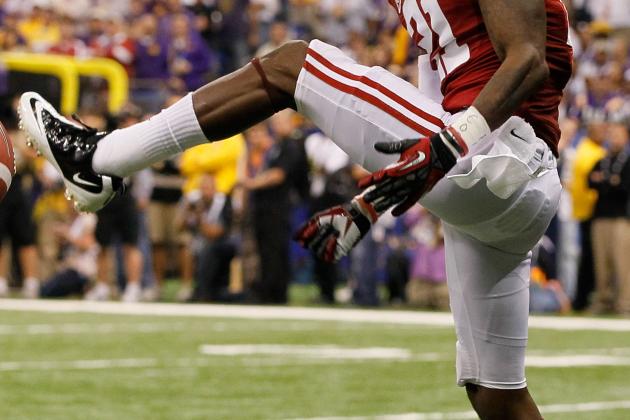 Kevin C. Cox/Getty Images

Kirkpatrick is an elite talent who is tall, fast and strong.
The Bills desperately need help on the defensive side of the ball, as they have some young talent on the front seven that needs to develop. They need to cover Brandon Marshall, Santonio Holmes and all of the Patriots' weapons, so they need a shutdown CB to help them.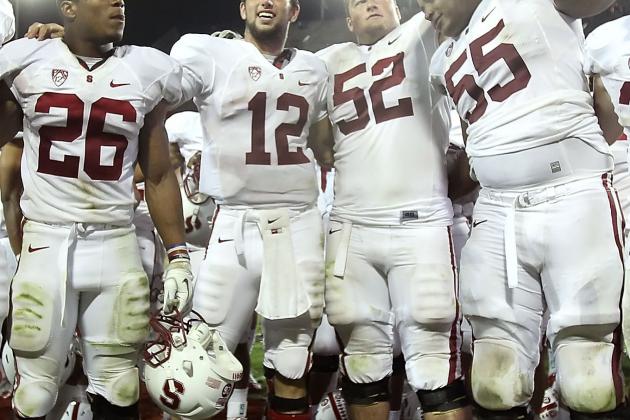 Christian Petersen/Getty Images

The Chiefs need someone to protect whomever their QB may end up being. Jonathan Martin is good value at this spot and fills their biggest position of need.
Match made in heaven.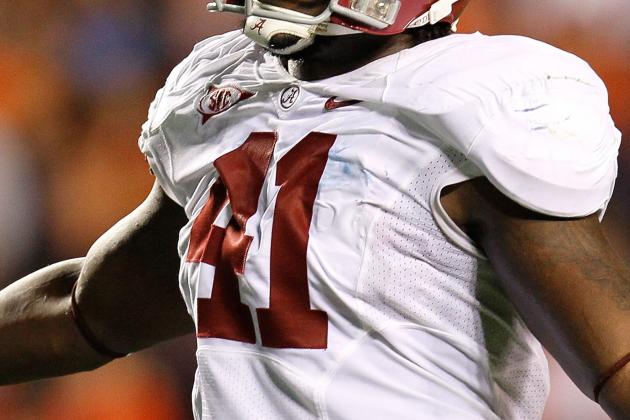 Kevin C. Cox/Getty Images

The Seahawks need a pass-rusher to go along with their emerging CBs.
If they can rattle Smith, Bradford and Skelton with pressure each game, they have a great chance at the division. There isn't a great QB available here, unless Ryan Tannehill is on Carroll's radar.
I think Upshaw will be the pick.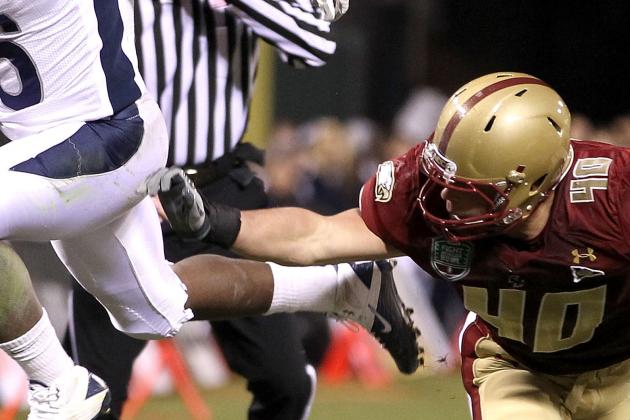 Ezra Shaw/Getty Images

The Cardinals are abysmal at the LB position. They signed Stewart Bradley to a big contract, but he was absolutely terrible this year when he played—which is wasn't often.
Kuechly and Washington could make a really good LB duo in the 3-4. Putting together a solid front seven is essentially in the NFL.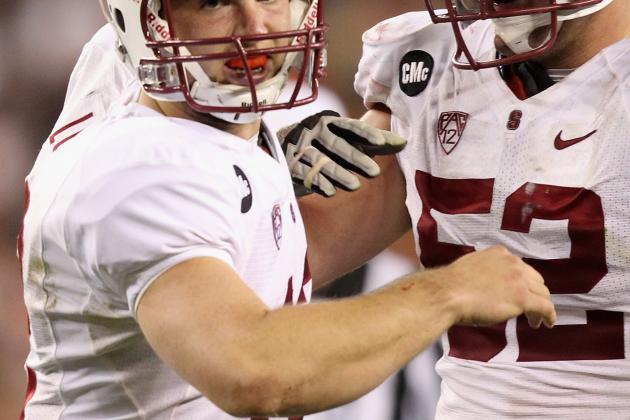 Christian Petersen/Getty Images

The Cowboys' offensive line is terrible. They really need to protect Romo, and open lanes for Murray and Jones.
DeCastro is a better prospect than the Pounceys are. The Cowboys would absolutely get great value here; DeCastro is the top player available and their biggest need.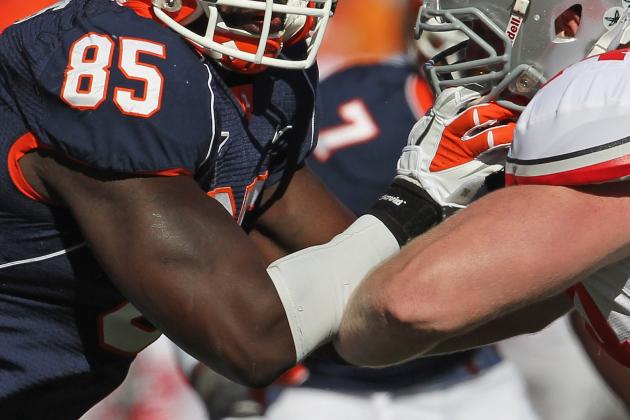 Jonathan Daniel/Getty Images

Babin was an animal who tore up the NFL last year, and so did Trent Cole. The Eagles have stud players in place, but really lack LBs.
I think Mercilus can stand up and play OLB or put his hand in the dirt and pass-rush if need be. This is ideal to have if Philly plans on landing Steve Spagnuolo.
Mercilus can stop the run and pressure the QB. He would make a great addition to an Eagles team that just came on a bit too late.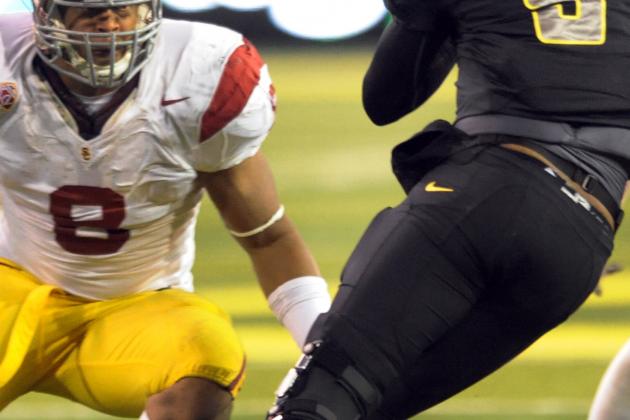 Steve Dykes/Getty Images

The Jets need to improve their pass-rush if they plan on winning a Super Bowl anytime soon.
Nick Perry is a high-upside guy who has a Jets personality. If anyone can get the most out of him, it's Rex Ryan. This is a great pick for New York.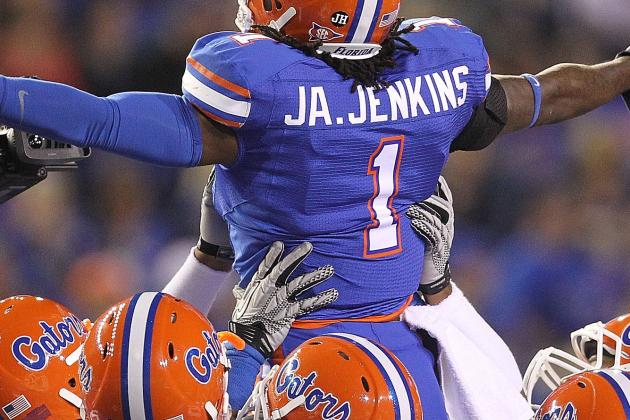 Mike Ehrmann/Getty Images

Before getting kicked off the Gators, Jenkins was an absolute stud.
The Bengals have never had a problem with characters, and I think they now have a good core of young players and veterans to keep this one under control.
They need a CB badly, and Jenkins fits the mold.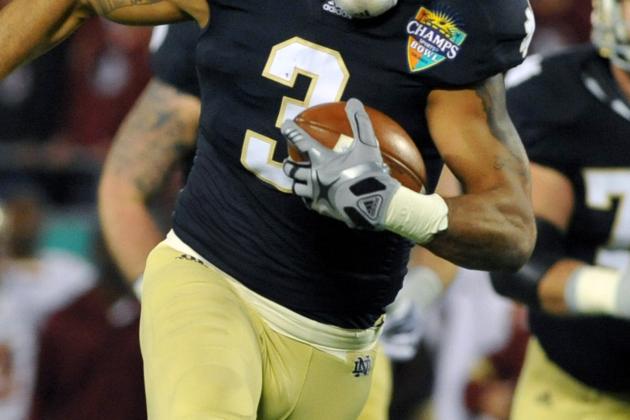 Al Messerschmidt/Getty Images

Since Norv Turner is back, the Chargers can't afford to draft a player who won't make an immediate impact.
They may lose Vincent Jackson this offseason, but they can replace him with a very talented WR from Notre Dame for Rivers to throw to for years.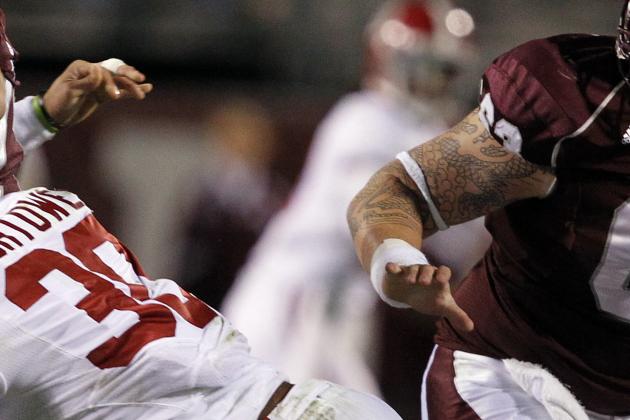 Butch Dill/Getty Images

The Bears' once-elite LB corps has dropped to being a good LB corps.
Hightower is explosive, and he reminds me of a young Ray Lewis (or, more recently, Patrick Willis). Hightower could take over for Nick Roach and slide to the middle when Urlacher retires.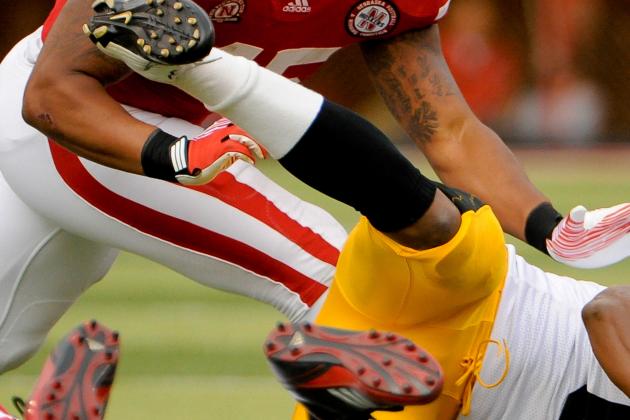 Eric Francis/Getty Images

The Titans need some secondary help. I believe they drafted Derrick Morgan too recently to draft another pass-rusher, and all the good ones are gone.
Dennard is a good talent at a position of need for them.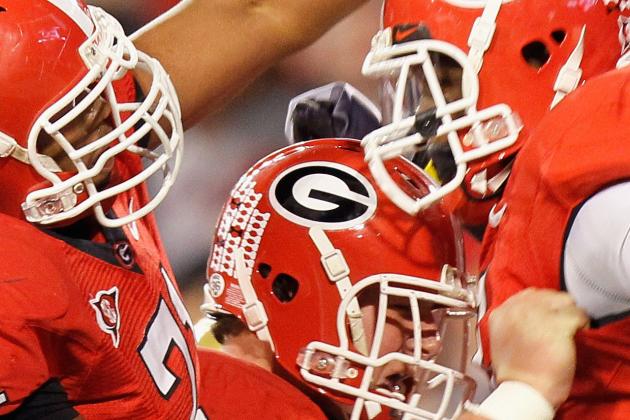 Kevin C. Cox/Getty Images

As a Bulldogs fan, I loved watching Glenn play. I think he is a great guard who would really open holes for the offense and give Dalton a little more protection.
I wish there was an elite RB to send to the Bengals here, but Lamar Miller isn't that great, and they don't need one so badly that they need to reach.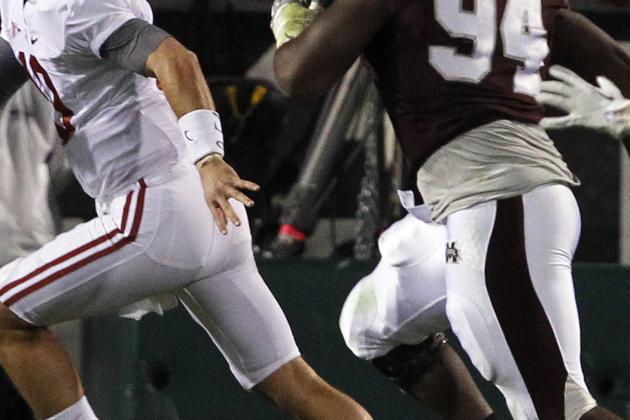 Butch Dill/Getty Images

The Rams need some sort of push in the middle of the field; they have absolutely nothing to speak of at the DT position.
With the addition of Claiborne in the earlier part of the round, the Rams now have a revamped defense.
Jonathan Daniel/Getty Images

The Lions were a great surprise team this year, but they still need help on the OL.
Having a good center is crucial—just ask the Jets. Konz reminds me a lot of a young Matt Birk, whom the Lions faced for a very long time.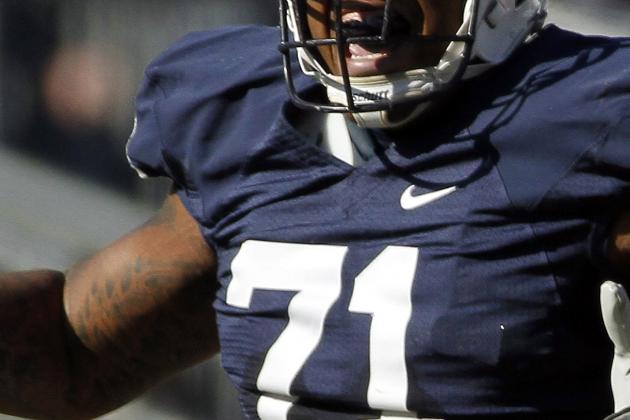 Justin K. Aller/Getty Images

The Steelers need to get younger, and they always take top players off their board.
Devon Stills, paired up with Cameron Heyward, gives the Steelers a good, young defensive front three in their 3-4. They can draft a LB in the later rounds.
Stills is a fantastic value at No. 24, as many have him as a Top 15 player.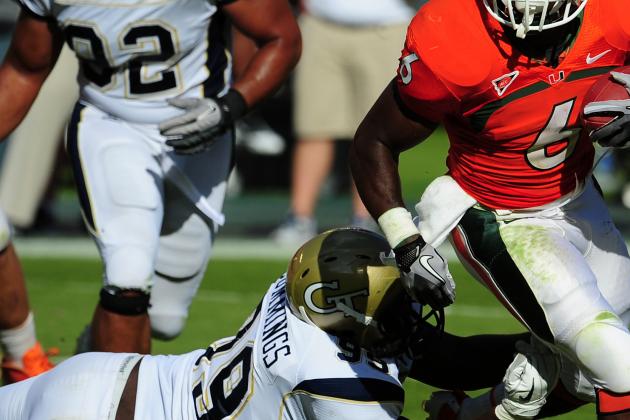 Scott Cunningham/Getty Images

John Fox drafted DeAngelo Williams and Jonathan Stewart. The Broncos are a run-first—and second, AND third team.
Knowshon Moreno is always hurt and is above-average at best. McGahee is getting older, and they can replace one Miami RB with another.
Having a three-headed horse isn't a bad problem to have—especially considering how often the Broncos run the ball.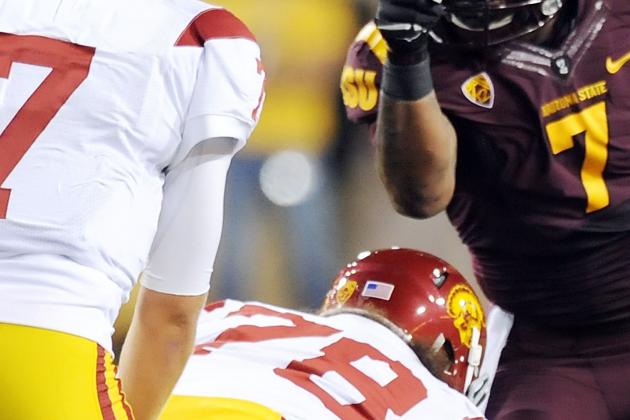 Norm Hall/Getty Images

Burfict is tough, cocky, explosive and strong. He fits entirely with the New York Giants, and they can use some LB help.
Burfict is sort of a headcase. The Giants didn't like that with Plaxico Burress, and New York might be a dangerous place to be.
But Coughlin is a tough coach and a defensive-minded coach. I believe the leadership is in place for Burfict to succeed in taking this Giants team and making them consistently good on the defensive side of the ball.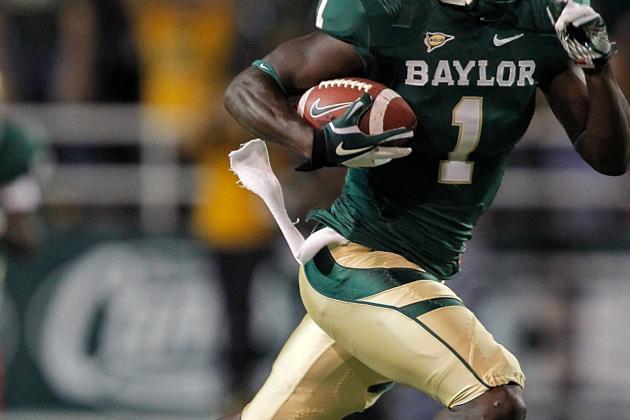 Sarah Glenn/Getty Images

One of these years the Texans are going to HAVE to put someone across from Andre Johnson.
Kendall Wright doubles as a kick returner, and he can add some explosion to that offense. Wright can help take away from Andre Johnson, and open lanes for Foster and Tate.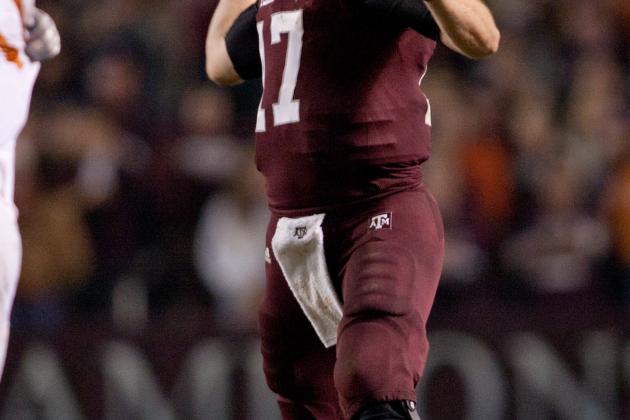 Darren Carroll/Getty Images

I'm predicting another trade.
The Seahawks will trade the Patriots their 2013 first-round pick and 2012 third-round pick.
The Patriots will trade the Seahawks the New Orleans Saints' 2012 first-round pick.
Tarvaris Jackson is below-average. Carroll needs to get "his guy," and Tannehill is climbing up boards fast.
This works well, as the Seahawks have drafted a lot of OL and WR help the past two years. Plus, the defense is playing well. Tannehill can sit behind Jackson for a year or at the least provide real competition in camp.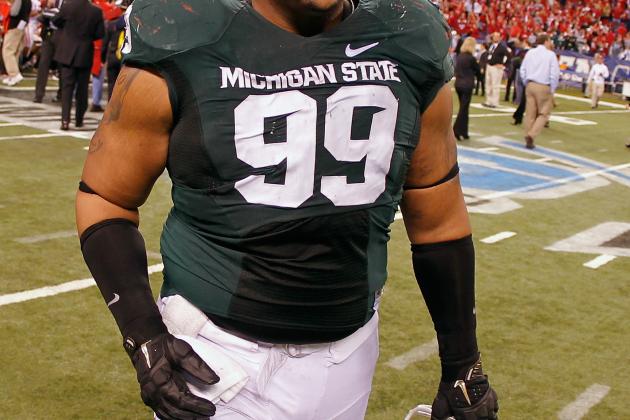 Gregory Shamus/Getty Images

The Pats did not get the player they wanted when they signed Haynesworth.
Worthy is talented, strong and smart. He would fit in well with the Patriot way.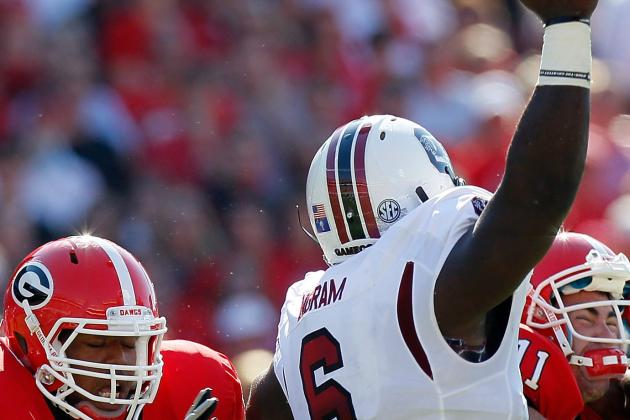 Kevin C. Cox/Getty Images

The Packers have nothing across from Matthews, and Ingram can help provide some pass-rush on an otherwise very bad defense.
They need to get better on defense if they plan on winning multiple Super Bowls.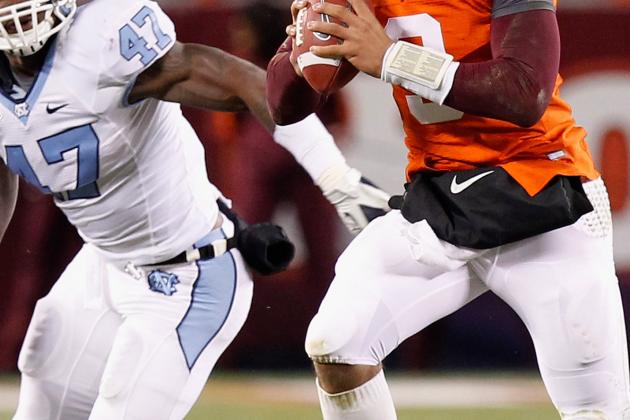 Geoff Burke/Getty Images

Ozzie Newsome said he was looking to draft Ray Lewis' replacement in the years coming.
I think Zach Brown is a talented LB, and if he can get some playing time across from Suggs, he can learn how to play ILB in the 3-4; at the very least, Baltimore gets a great complement to Terrell Suggs.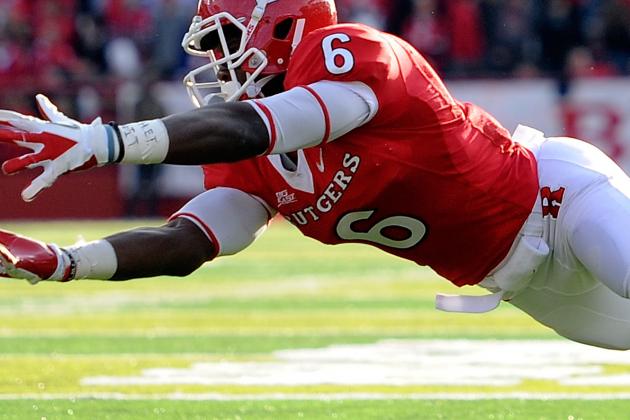 Patrick McDermott/Getty Images

Braylon Edwards didn't work out, but the 49ers clearly wanted a complement to Crabtree.
Sanu can stretch the field and provide a legitimate weapon for Kaepernick/Smith.