NHL: The 5 Best Teams Nobody Is Talking About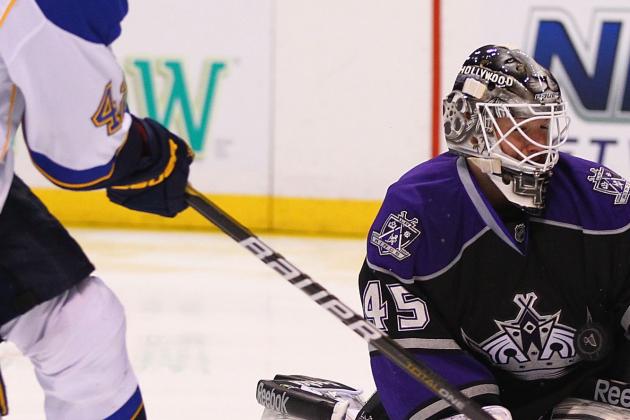 Dilip Vishwanat/Getty Images

As the NHL reaches its halfway point, the perennial contenders are in the spotlight again. Everyone is overly familiar with the Bostons, Vancouvers, Chicagos, New Yorks and Detroits of the world.
But what about those teams lurking around them?
You know the ones. The teams that don't have the household-name stars yet are having good seasons. The teams that nobody expected anything from but are sticking around, annoying everyone.
Who are the best teams of that lot?
These are the teams that are like that tall, awkward girl in high school that everyone ignored. The same girl who went on to be a world famous super model. The one you should have been civil to!
Here are the five best teams that nobody is talking about so far this season.
Who do you want to talk about more?
Begin Slideshow

»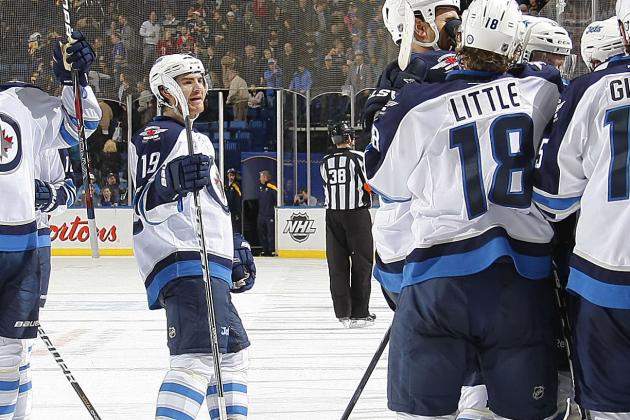 Dave Sandford/Getty Images

The Jets were not expected to do much this season. Existing was enough of a story for their fans and the media that few people have paid much attention to what they've been doing on the ice.
At the halfway point of the season, however, they not only have a winning record but are pushing for playoff contention.
They have a roster loaded with young and up-and-coming players that, if you aren't familiar with them now, you may be soon. The leader of these young guns is Evander Kane.
Kane has started to live up to the potential he showed in juniors, where he starred with the Vancouver Giants.
His 18 goals are one shy of his career high and his 31 points are only 12 shy of his best total of 43 with Atlanta last season. Kane is fast, has a nice scoring touch and has shown he can bang.
Just ask Matt Cooke.
The Jets have stumbled a bit lately and need to right the ship. They are deadly at home but need to show that they can play consistent on the road. If they are still in playoff contention, look for them to try and find some scoring depth at the trade deadline.
Why nobody talks about them: The Jets got a lot of publicity when they were reborn but have faded from the mainstream since.
As wonderful a city as Winnipeg is, it's small and a bit isolated from the big media markets. It will take the Jets getting into the playoffs for them to get national coverage.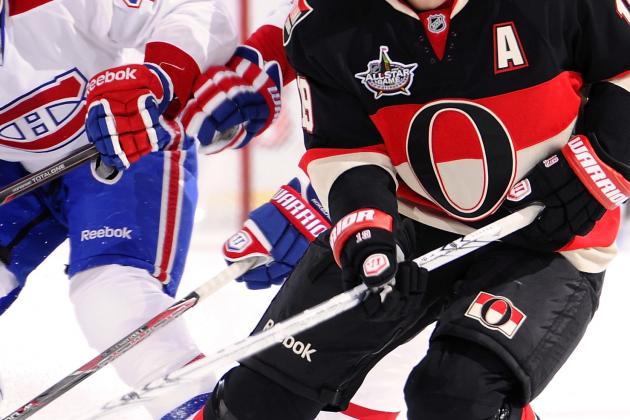 Phillip MacCallum/Getty Images

Before the season started, the only thing that seemed to be happening in Ottawa was the All-Star game. All the pundits pretty much had the Senators written off as hopeless before one puck was dropped.
Those of us, err, the people who did that are cooking up some crow now.
The Senators have been playing well, and if they keep this up, coach Paul MacLean and his mustache will be posing with the Adams Award this summer. They currently are three points behind the Bruins and ahead of Canadian rivals Toronto and Montreal.
A fact that probably doesn't upset too many Senators fans.
They have been led by Jason Spezza, often the subject of rumored trade demands, who is giving them a point a game this season. Defenseman Erik Karlsson is having a career year and is leading all blue-liners in scoring this year.
While it is probably a long shot that they will catch the mighty Bruins, it suddenly looks like Ottawa could end up in the playoffs. If you had them making the playoffs and finishing ahead of Montreal and Toronto, you should be on a bus to Vegas now.
Why nobody talks about them: People don't want to believe that the Senators can keep it up. Since they were not expected to be good, it is better to ignore them, hoping they will go away, thus proving hockey blow-hard scribes correct.
With the All-Star game in Ottawa and several Senators on the roster, it will be harder and harder to not talk about them.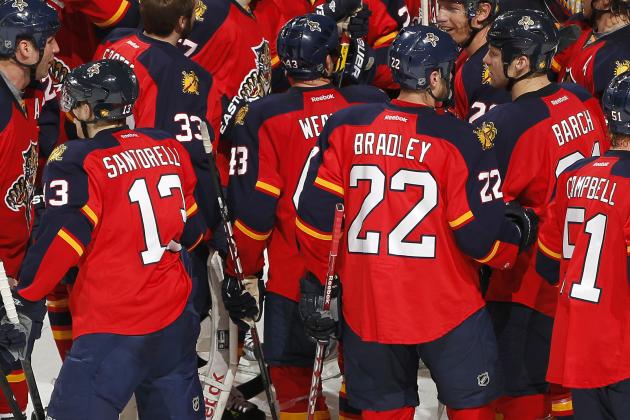 Joel Auerbach/Getty Images

Raise your hand if you had the Florida Panthers in first place at the halfway mark of the season. Be honest.
Okay, that one guy in the back, you're clearly lying.
The Panthers have been one of the big surprises in the NHL as they lead the Southeast Division.
Is this because the Capitals and Lightning have been duds?
Possibly, but to the Panthers credit, they have been playing well with good defense and are getting some good performances out of their high-priced offseason acquisitions.
One of those, and their leader, is Kris Versteeg whose 17 goals and 39 points have him on pace to have a career year offensively. They are also getting a nice season from defenseman Brian Campbell, who already has 30 assists.
The Panthers do struggle to score consistently and will need to pick up the pace if they want to hold off their division rivals and make a splash in the playoffs.
Why nobody talks about them: Well, let's face it: They are the Florida Panthers.
They have no history, very few fans and have had their name mentioned in relocation. If they win their division and make a playoff appearance, the talk will pick up.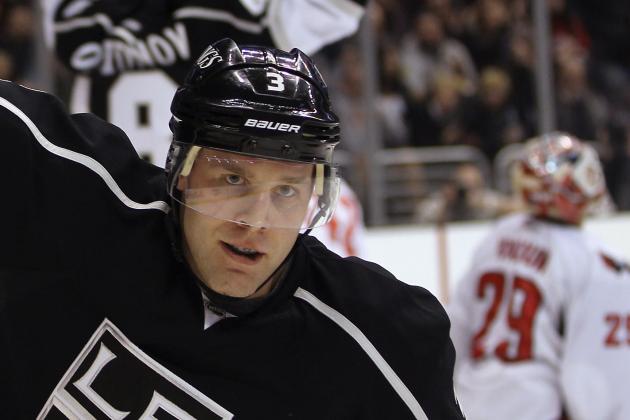 Bruce Bennett/Getty Images

When the season began, the Kings were the chic pick to land in the finals. Then the season started, and they looked disinterested and passionless.
That led to a change behind the bench and the renewal of Darryl Sutter's coaching career.
In case you haven't noticed, the Kings have been as hot as anyone lately. They are 6-1-3 in their last 10 games under Sutter and are back in second place in the Pacific Division.
The Kings were hoping that Mike Richards would help bolster their offense. He has been average and the Kings have struggled to score goals. It would seem unlikely that the offensive talent on this team will continue to struggle.
They are getting excellent goaltending from Jonathan Quick, who has a goals against under 2.0 and a save percentage of .934. If they can get some support for him, they will be back to that contending talk that dominated the offseason.
Why nobody talks about them: When you are one of the preseason favorites, make splashy trades, have a high-profile holdout and then come out of the gates poorly, people are quick to throw you out with the trash.
All the experts who picked the Kings to do well were easy to turn their backs on them. But they are back, and the Western Conference needs to be ready to take them on.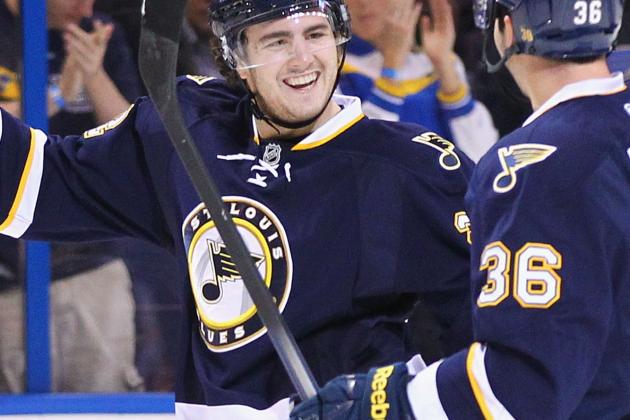 Dilip Vishwanat/Getty Images

For the past few seasons, the Blues seemed like a team that was going to make some noise. Before last season, they signed Montreal playoff hero Jaroslav Halak, which seemed to be the missing piece.
Then the season started.
The Blues struggled inexplicably last year. They suffered some injuries, Halak was inconsistent and they quickly faded out of contention.
This year, however, the story is different.
They are one of the NHL's best teams right now. They are in first place in their division and could be tied for the Western Conference lead if they beat Vancouver on Thursday night.
The early story for St. Louis was the play of backup goalie Brian Elliot. When Halak started slow again this year, Elliot took over for the Blues and has an amazing .940 save percentage.
The really scary thing is now Halak is playing well, giving St. Louis one of the best tandems in the NHL.
David Backes is having another solid year, leading the Blues in scoring. Much like his team, Backes is an unheralded player in the NHL. If he played in a bigger market, you would see his face on every NHL commercial out there. Do yourself a solid and watch him play.
St. Louis could use some scoring depth, and look for them to be in the market come the trade deadline. The Blues will be a very tough team to deal with in the playoffs. Nobody can be too thrilled to face Halak and Elliot for four games.
Why nobody talks about them: When you are in a smaller, Midwest market and share a division with two original-six teams in Chicago and Detroit, you are going to get overlooked.
The Blues have a long and rich history, and after a down year last year, they are back on the track many thought they would be on a couple of years ago.
Is this the year they finally arrive?